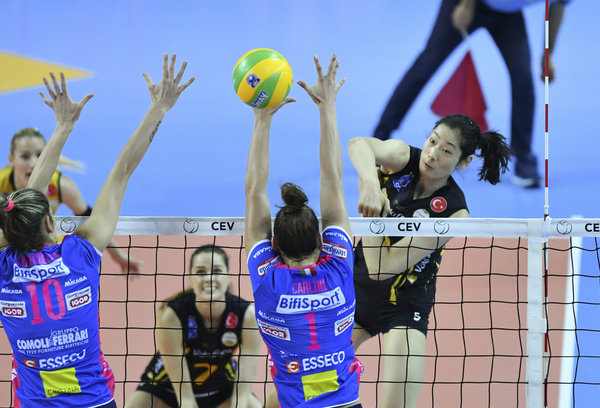 Chinese star Zhu Ting unleashes a spike for Turkish team Vakif-Bank Istanbul during a 3-0 European Champions League semifinal loss to Italy's Igor Gorgonzola Novara in Istanbul on April 4. [Photo by Xinhua]
All-conquering Chinese superstar Zhu Ting has spoken about the biggest influences on her life and her hopes for the future.
In an interview with fivb.com, the website of volleyball's world governing body, the 24-year-old Olympic champion paid special tribute to her parents, who supported her when she attended a sports training school in her home province of Henan.
"My parents were very supportive of me taking up volleyball," Zhu said. "My first coach was probably the next person who influenced me and sparked my interest in the sport."
Zhu named legendary Team China coach and 1984 Olympic champion Lang Ping as her most influential mentor.
"Lang Ping is my idol," she said. "I knew about her since I was young and she is a legend in China. She gave me the opportunity to further my career and she taught me to see things in a broader perspective.
"She helped me a lot - she has been my biggest influence in volleyball and in life. She made me who I am now and she is my greatest mentor."
Team China captain Zhu has won medals at all the main international tournaments for her country and has helped Turkish club VakifBank Istanbul win back-to-back world championships, bagging two MVP awards in the process.
She said VakifBank is the perfect place to further her volleyball education.
"I am surrounded with great people and I have learned a lot playing with many great players here in Turkey. I am very happy here because everyone is friendly," said Zhu.
"This is my first overseas club and I like the system very much. Giovanni (Guidetti) is very dedicated to volleyball. He is a great coach and he is fascinating."
Zhu is also relishing the added responsibility of captaining her club team.
"I'm happy that my coach and my teammates have given me this recognition as captain," said the 6-foot-6 spiker.
"I believe that we are able to be where we are right now because everyone is constantly and consciously working hard. My role is to get the team to constantly communicate on the court."
Beginning in May with a game against Brazil in Brasilia, Zhu will lead Team China at the Volleyball Nations League, which will conclude in July in Nanjing. As always, fans can expect her to leave everything on the court for her country.
"I always tell myself not to be tired and keep believing that I can always play volleyball," she said.
As for life after playing, Zhu is already considering her next move.
"Maybe in the future I will conduct summer camps for kids," Zhu said. "I want to teach children to play volleyball. I believe that there will be many other ways for me to help develop the sport."
(Source: China Daily)