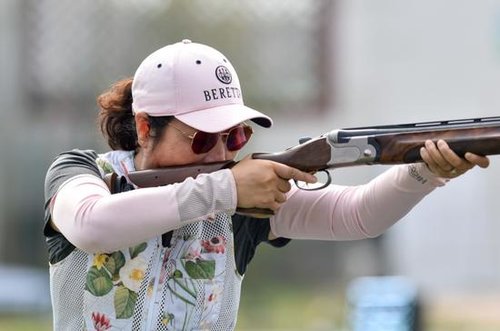 Zhang Shan competes during the 13th Chinese National Games. [Xinhua]
Skeet athlete Zhang Shan, 49, savored her Olympic crown in Barcelona on July 26th, 1992, and she got a silver medal at the Chinese National Games on the same day 25 years later.
In the Barcelona Olympic Games, Zhang got 223 of 225 targets to win the gold medal. More importantly, Zhang beat all the men athletes, as both men and women were then competing in the same event of skeet, which was the only one in history.
Zhang had a good shooting on Wednesday, as she got 73 of the 75 targets for the first place in the qualification round, then lost only one target to 28-year-old Wei Meng from Shandong province in the final.
"I'm satisfied with my performance today, it's very good for me in recent years," said Zhang who has been shooting for more than 30 years, and won the 1998 World Cup title as well as the team crown in the 2007 World Championships.
"It's not me to decide when I would retire, but the young athletes who would eliminate me and stop me from qualifying for the games some day," Zhang said.
"When I stand on the field, I must do my best, because I feel many young athlete are looking at me, and I want to be their model," Zhang added.
The 13th Chinese National Games will officially run from Aug. 27 to Sept. 8 in Tianjin, but trap and skeet shooting events were being held at Yiyang, a little county in central China's Henan province.
Zhang competes during the 13th Chinese National Games.[scol.com.cn]
Zhang competes during the 13th Chinese National Games.[scol.com.cn]
Zhang Shan (L) [scol.com.cn]
(Source: Xinhua)