Chen Ruolin at this year's NPC annual session [China.org.cn]
Aged just 25, diving coach Chen Ruolin is the youngest deputy to the 12th National People's Congress (NPC) at this year's "Two Sessions" meetings.
Recently, during the just concluded NPC annual session, she called for increased participation in niche sports and improved benefits for retired athletes.
"Athletes take hard training every day and need to overcome the threat of illness and injury," she said.
"Competitive sports are somewhat cruel because only a small number of contestants can reach the peak. Many of the players who fail to capture a medal face uncertainty in their later life."
Meanwhile, Chen suggested that senior athletes should improve their education and communication skills.
Chen is a native of east China's Jiangsu Province. She started diving at the age of five and won five Olympic gold medals in three Games. She announced her retirement in October 2016 due to a neck injury.
"One day in 2013, when I was taking training, my leader told me I had been elected as an NPC deputy. I was stunned for I was just 20 at that time," Chen recalled.
Although she was young, she was already a world-famous figure due to her outstanding achievements.
Chen won gold in the women's 10-meter platform and 10-meter synchronized platform at the 2008 Beijing Olympics, and then duplicated the double gold in London in 2012.
Since the annual session of the NPC coincides with the new competition season for world diving, before her retirement she had to give training while attending NPC meetings at the same time each March.
She said it is "one of her biggest regrets" that she was unable to take part in all of the NPC meetings during the Two Sessions.
"I used to come here [the Great Hall of the People] to attend awards ceremonies honoring Olympic medalists in a relaxed mood," she recalled.
"But attending the session is like taking politics classes. I feel more of a sense of responsibility."
After her retirement, Chen has entered the "hall of fame" with her impressive sports record.
At 14, she became a world champion. At 19, she became the first Chinese female diver to claim gold in all the grand slam events including Olympic Games, the World Cup and the World Championships.
At 23, she caught up with Chinese "diving queen" Wu Minxia to become China's youngest five-time Olympic champion.
However, few people know that Chen has suffered serious neck injuries, illness and pain caused by long-term training. In addition, three fingers on her left hand have no feeling at all.
Each time when Chen stood on the 10-meter platform, she prayed silently: "Don't get injured!"
Despite her fear of injuries, she still walked out on the platform one time after another.
"If I give up, it will affect the score of the whole team," she said.
Chen chose to teach at a university after her retirement, exploring more potential in her new identity.
"Now what people are concerned about are not gold medals but the spirit of sports and the positive energy of athletes," she added.
After achieving her career transition, Chen has experienced many feelings for the first time. She suggested that athletes should improve their comprehensive qualities and enhance their study of fundamental knowledge.
"Actually, many schools are enrolling retired athletes, but not many people really have time for study," she explained.
Moreover, Chen said if she has the opportunity, she also wants to be a spokesperson for the younger generation.
"I hope I can change Chinese people's discrimination against youth. In fact, many of them are also quite thoughtful, optimistic and looking for help. I'm just such a person," she said.
"Sometimes, young people are direct in expressing their ideas, but it doesn't mean they are egocentric or ignore other people's feelings.
"Instead, if more young people are willing to show their opinions and pay attention to social issues, others will know them better."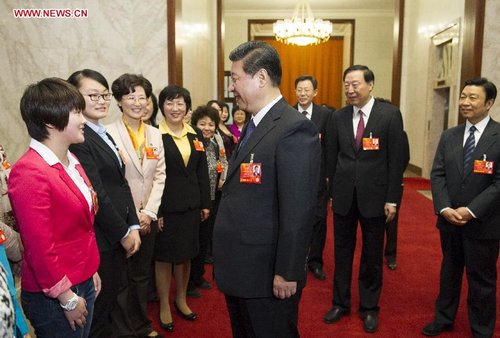 Chinese Xi Jinping (C) talks with Chen Ruolin (L1) on March 8, 2013 during a discussion with NPC deputies from east China's Jiangsu Province. [Xinhua/Huang Jingwen]
(Source: China Youth Daily/Translated and edited by Women of China)