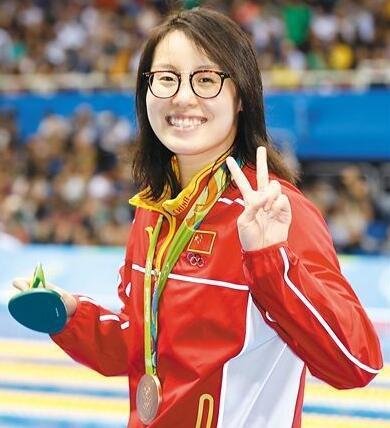 Fu Yuanhui [sports.sina.com.cn]
China's swimming sensation Fu Yuanhui conducted a live stream chat session on Saturday night, her 21st birthday, during which she shared her thoughts and future plans with captivated netizens.
Fu made headlines last August for her uninhibited remarks and zany expressions at the Rio Olympics. Up to now, the number of followers she has amassed on Weibo, China's equivalent of Twitter, has surpassed a whopping 8 million.
Here are some highlights of Fu's remarks given during the live stream.
About Netizens Giving Fu 'Virtual Gifts'
Fu: Such behavior does not have a positive influence. Please give money to welfare houses or homeless shelters if you really want to. They need the help more than me.
I won't exchange virtual gifts into cash now. After my retirement, I will consider withdrawing it and decide how to use it then.
About 'Prehistoric Power'
Fu: Please don't accredit that catchphrase to me. It's not my creation. It actually hails from the ancient Chinese text Classic of Mountains and Seas. According to the book, the power existed prior to the birth of the earth.
Plan after Retirement
Fu: Now I have no idea what I will do after I retire. Maybe I will continue to pursue my studies.
However, I'm going to open a shelter for animals. I've been thinking about it for quite a long time. Although I don't know how, I believe I will figure it out.
Love for Animals
Fu: When I attend training or competitions in other places, I often buy cat and dog food so I can feed stray animals when I see them. But sometimes they're quite picky eaters.
When I saw animals in need of urgent help on the internet, I want go to find them by plane. I can't bear to see the scene of people hurting animals. It makes me especially unwell.
Recent Winter Training
Fu: I have something called thalassophobia. It is a natural fear for the sea. I don't dare to swim in any place where I can't see the bottom.
Cooking
Fu: I'm a good cook. I have gift for it. Recently, I'm especially good at making sticky rice. The rice cooked by me has soul. I'm not bragging.
Canine Teeth
Fu: I have eight canine teeth. I won't get them fixed because they are pretty useful.
About Occupation
Fu: I'm a professional athlete, which is my job and duty. In contrast to sportsmen and women in other countries, we are cultivated by our country and should repay its kindness. While fulfilling our duty, we also feel a sense of honor.
(Source: sports.sina.com.cn/Translated and edited by Women of China)