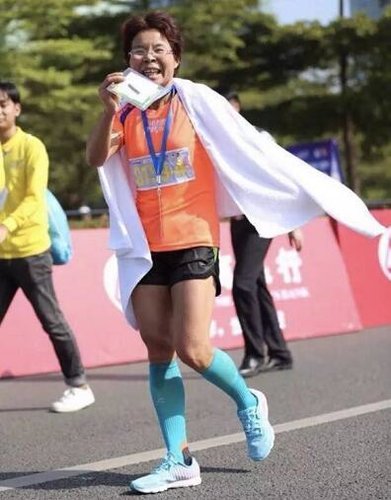 Cen Yuqin [sports.sina.com.cn]
Elite runners from Kenya and Ethiopia swept the top three prizes in the men's and women's categories respectively at Sunday's Shenzhen International Marathon, which left runners in high spirits and a festive mood.
Into its fourth year, the annual event drew 30,000 runners from 30 countries and regions.
Kenyan runner Evans Kipchirchir Sambu clocked 2 hours 10 minutes 28 seconds to break the race record of 2 hours 11 minutes for the men's group. Two other Kenyan runners, Jamin Elai Ngaukon and Joel Kipsang Kositany, took the runner-up and third place prizes.
Tinbit Gidey Weldegebriel from Ethiopia was the champion of the women's race, with a time of 2 hours 35 minutes 48 seconds.
Ethiopians Almaz Negede Fekade and Tsgereda Girma Ayele took second and third place. Ayele fainted near the medical station after completing the race. She was in stable condition soon after receiving simple treatment and finally was able to get on the podium to get her trophy.
The top eight runners each received awards ranging from US$2,000 to US$20,000.
"I am satisfied with the race in Shenzhen and impressed with the pleasant climate and the orderly organization," Sambu told Shenzhen Daily.
Weldegebriel felt the route was a bit difficult and the wind created resistance for her, but she overcame the difficulties and was happy with her finishing time.
The runner-up, Ngaukon, repeatedly use the word "happy" to express his feeling and experience in the city.
"I am happy for this moment, happy about the people of China, and about the weather, climate and the organization," Ngaukon said.
The 28-year-old is not only an athlete but also counts music as his hobby. He hoped he could donate his US$15,000 in award money to help people in Kenya and pursue his music dream.
The first Chinese runner to complete the women's full marathon was Cen Yuqin. The 51-year-old from Guangxi, with more than 30 years of running experience, was clocked at 3 hours 6 minutes. She jumped with excitement when she learned that she had won first place.
In the half-marathon, a college student named Yin Xiaoyu finished with a time of 1 hour 19 minutes 28 seconds to win her second title after winning the event at the Bao'an International Marathon two weeks ago.
This year's event left 14 runners needing treatment at local hospitals due to discomfort during the race including fainting, breathing difficulty, chest distress, twitches and limb spasms. By 7:30 p.m., 11 of them had been discharged while the rest remained in the hospital but in stable condition.
Shenzhen International Marathon has become one of China's top 10 influential marathon events, according to statistics from the Marathon Office of China Athletic Association.
The office lists more than 50 registered marathon events in the year 2016. This year's event was organized by Wisedom Group, which operates around 20 marathon events in the country.
(Source: Shenzhen Daily)