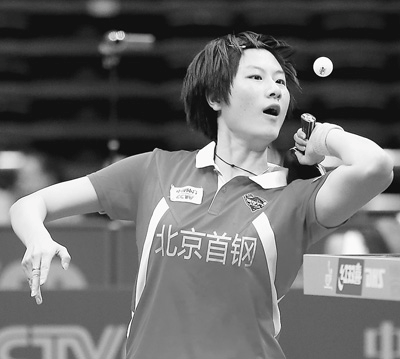 Ding Ning [Xinhua/Wang Lili]
Rio Olympic gold medalist table tennis player Ding Ning, 26, suffered many setbacks before rising to the peak of her sport.
In 2006, Ding's ranking in the national team was last but one. However, within five years of hard practice, the tenacious female had raised her level point-by-point to become China's number one player.
Things did not always go so smoothly.
In May 2010, when taking part in the World Team Table Tennis Championships in Moscow, she was beaten by a duo from Singapore in the women's doubles final. As a result, China lost the event 1-3, which made Ding burst into tears.
"At that time, I was young and couldn't handle the scenario properly, which finally put me in an unfavorable temperament," she recalled.
The experience gave her a heavy blow. She says she spent over half a year overcoming the event's negative effects.
"Due to the support and encouragement of my coach, family members and friends, I identified my shortcomings and made changes," she continued.
Clearing her tears, Ding worked hard to relieve herself from the fear and pressure of failure and analyzed her opponents carefully. After adjustments, she claimed the women's single title during that year's National Table Tennis Championships.
In 2011, well-prepared to make a splash, Ding harvested her first singles world championship during the World Table Tennis Championships held in Rotterdam, Netherlands, which helped her overcome the shadow of the Moscow loss.
However, when she competed during the 2012 London Olympics, one of her playing techniques which she practiced since childhood was repeatedly judged as a breach of rules. At last, she returned with silver.
"The London setback let me suffer a heavier blow," she commented.
"She never shrank back when encountering difficulties. Such spirit is more valuable than her technical skills," says Kong Linghui, head coach of the national women's table tennis team.
During the 2015 World Championships held in Suzhou, east China's Jiangsu Province, Ding won the event regardless of lagging behind early on and suffering an injury in the final.
"These setbacks and difficulties are my most precious resources. They have given me a lesson about table tennis, life and healthy growth," Ding concluded.
(Source: People's Daily/Translated and edited by Women of China)