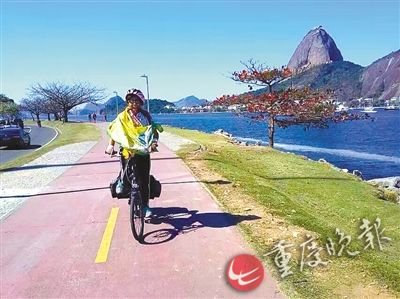 Xie Houguo rides on a road in Rio earlier this year. [Chongqing Evening News]
To 68-year-old retiree Xie Houguo, cycling is much more than just a means of transport - it is also a source of physical exercise and of great spiritual benefit, too.
This year, Xie, an amateur cyclist from southwest China's Chongqing Municipality, embarked on a solo journey of riding across the U.S. and nine South American countries.
Last month, she returned home.
"I never shed any tears during any of my previous trips. On this one, however, I burst into tears many times," says Xie.
She calls herself "Iron Granny" due to a 30 centimeter steel pin inserted in her pelvis after a road accident
Hit by Storm
On May 19, Xie set out with a fellow traveler from northwest China's Shaanxi Province who she had met through social media.
On their first day in Seattle, they spent night at a motorhome base and paid 20 dollars each for the accommodation.
The next morning, she found her companion had left without notifying her. In addition, her email account was hacked and the travel guide she had stored there went missing. "I felt as if I was in the hell," she said.
As a result, whenever she reached a new place, she bought local Chinese newspapers, where she found contact information about Chinese hotels.
One day, she cycled to a village. "It became darker and darker. There was nobody nearby except myself. The wind roared and heavy rain poured down. I was scared by the raging storm, tears running out of my eyes. I kept riding to find a shelter. I feared that I might never see my family members again," she recalled.
After a long ride, she found a village grocery store, where she learned after a lengthy period communication that there was no hotel nearby.
"Later, a foreign couple passed by. I sought help from them, which they hesitated over at first but agreed after reading an English report on one of my former cycling trips. That night, they let me sleep in their jeep and sent me back to Seattle the next day," she continued.
Witnessing Olympic Victory
"I got to Rio on July 26. My original intention behind the journey was to get to the 2016 Olympics," Xie explained.
The second day, she found staff members of the Chinese consulate in Rio and purchased tickets for three volleyball competitions with their assistance.
But none of these tickets were for a final. "I thought that maybe some foreigners were not interested in the final so I hung around outside the venue an hour in advance to see if I could get one," she said.
Finally, she bought one for 600 yuan (US$ 90) from a foreign young man.
"I cheered 'Come on, Lang Ping!' and 'Fight, Chinese women's volleyball team!' almost throughout the whole match. Maybe due to my loud voice, Chinese volleyball player Zhu Ting ran to the front of the row of spectator seats and hugged me," she recalled.
"That moment, I couldn't withhold my great excitement and I cried!" she added.
Stung by Poison Bee
After watching the Summer Olympics, Xie arrived at the Iguazu Falls on the border of Brazil, Argentine and Paraguay on August 30.
That night, when she got up from her bed to go to the washroom, her left hand was hit by a shooting pain.
"I was stung by a bee. I found its sting in my hand. My hand swelled up quickly and the pain gradually reached my arm, which soon bulged too. The burning pain drove me to tears," she said.
The next morning, staff members of the hotel found her a doctor.
"My arm did not recover until more than 10 days later. This suffering filled me with a greater sense of awe at nature," she commented.
Helped by Kindhearted People
Xie now has a notebook where there are a lot of names and contact details. Xie said that was the friendship she harvested during her journey, calling it "her greatest wealth."
"A young Chinese man living in Los Angels gave me an American phone and a SIM card; the Chinese owner of a Las Vegas hotel insisted to provide me with free lodging; overseas Chinese students in Toronto helped me find a charity shelter," she remembers.
Xie said she saved over 50,000 yuan (U.S.$ 7,500) for the self-funded journey. "Without the assistance of these kind people, the money would be far from enough to fulfill my plan," she added.
Xie's trips also drew attention from foreign media. Whenever she was faced by foreign journalists, she always told them proudly "I am from Chongqing, China."
"Some people asked me what I do this for at such an advanced age. I just wanted to show people that they can fulfill their dream through their own efforts. Next time, I will cycle to Japan to watch the 2020 Olympics in Tokyo," she concluded.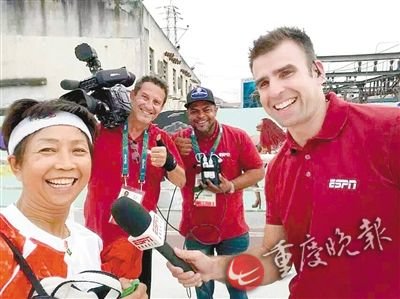 Xie Houguo (L1) gives an interview to foreign media. [Chongqing Evening News]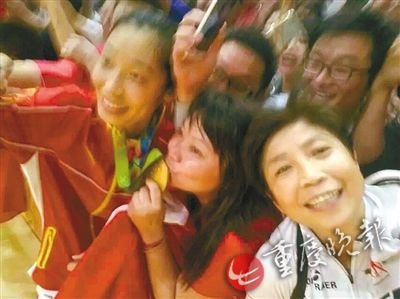 Xie Houguo (R1) cheers for the victory of the Chinese Women's Volleyball Team in Rio this August. [Chongqing Evening News]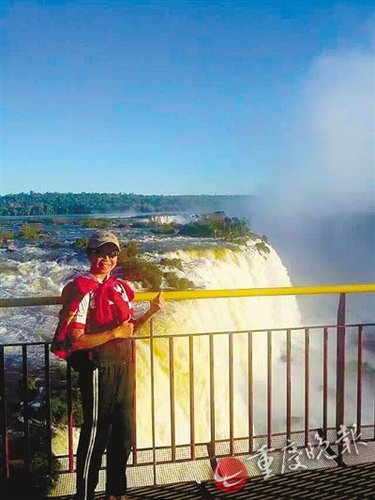 Xie Houguo at the Iguazu Falls [Chongqing Evening News]
(Source: Chongqing Evening News/Translated and edited by Women of China)