Zhang Changning [sports.sina.com.cn]
Chinese player Zhang Changning has shown a deep love of volleyball and overcome great difficulties over the years to become a world champion.
Zhang, 21, was the youngest female volleyball player to take part in the Olympics as a leading player and won a gold medal for China.
Zhang was born into a family of volleyball players. Her elder brother plays in the country's men's volleyball team while their father retired from the sport and is now the assistant coach of the provincial men's volleyball team in east China's Jiangsu Province.
Influenced by her family, Zhang followed their lead and naturally became a volleyball player.
A "Difficult" Sport for a World Champion
In 2008, Zhang entered Nanjing No.3 High School, a junior high school. She was already 1.92m high when she attended first grade in the school, which made her well-known.
Her legs were too long to use a normal skipping rope, so she had to watch her classmates play in P.E. class.
But Zhang always finished first in the 100m sprint at the school's sports meeting, beating the second-place runner by over 20m.
Later, after Zhang left for the national team, her fellow students always missed her whenever they held a sports meeting.
An Artistic Straight-A Student
After graduating from primary school, Zhang was first admitted into a leading middle school in Nanjing, where the competitions was quite fierce.
Later, she was transferred to Nanjing No.3 High School, which was stronger in sports.
Zhang only took classes in the morning and spent the rest of the day at the training ground. Nevertheless, she always got high scores during exams, especially in math. She often achieved full scores in math.
A powerful person on the racing track, Zhang was also an artistic girl in her daily life, recalled one of her former classmates.
"She would sit in the corridor, singing pop songs or chatting about film stars with her friends during class intervals," he said.
"Moreover, she loved music and writing poetry. She was honest and frank, which made us enjoy her company."
Road to Becoming an Olympic Champion
In 2009, Zhang entered China women's beach volleyball team at the age of 14, due to her excellent physical abilities and a solid foundation in volleyball. Then she began to train and join competitions as a member of the team.
In 2013, Zhang was determined to transfer to indoor volleyball. Her request was turned down and she was shut out from competitions for some time. Although many overseas universities invited her to enroll with them, Zhang told them that she liked volleyball and would not leave Jiangsu.
Later, after her ban was removed, she took part in the National Women's Volleyball League in its eighth round and showed great offensive and defensive potential. Her outstanding potential left a deep impression on Lang Ping, coach of the national women's volleyball team.
In March 2014, Zhang was selected for an intensive training organized by the national volleyball team. That year, she made three great leaps (AFC Asian Cup gold medalist, Asian Games silver medalist and National Volleyball League bronze medalist) and was acclaimed as a "dark horse."
In 2015, she joined China's national volleyball team. She competed in that year's Asian Games as a substitute for the main attackers and claimed a gold medal. Later, Zhang worked with her fellow players during the World Cup and finished in first place.
This august, Zhang and her teammates won China's 26th gold at the Rio Olympics. This was the third gold medal that China's national women's volleyball team claimed at the Olympic Games, after the first in 1984 in Los Angeles, the U.S., and the second in 2004 in Athens, Greece.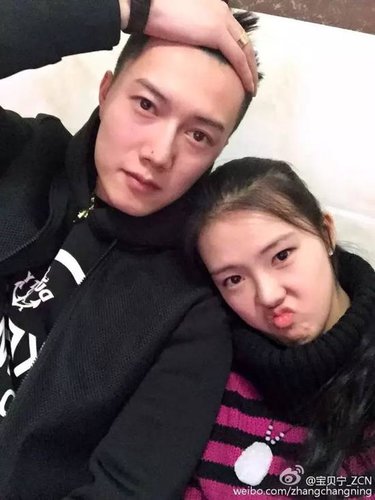 Zhang Changning (R) and her brother [sports.sina.com.cn]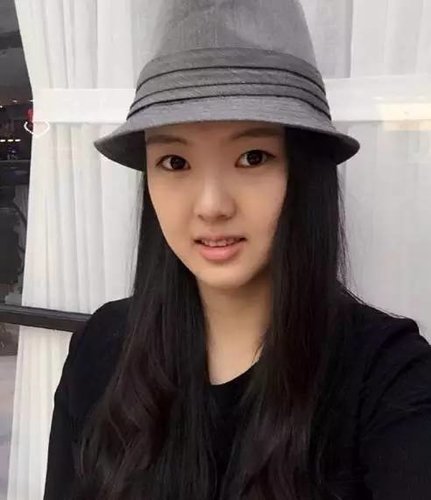 Zhang Changning [sports.sina.com.cn]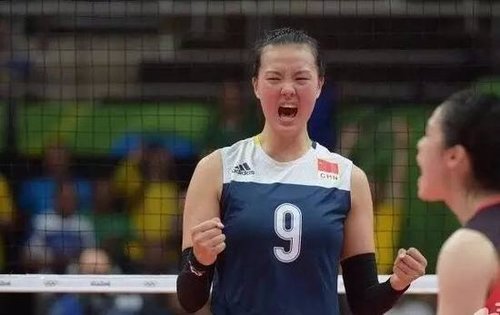 Zhang Changning cheers during a competition. [sports.sina.com.cn]
(Source: sports.sina.com.cn/Translated and edited by Women of China)