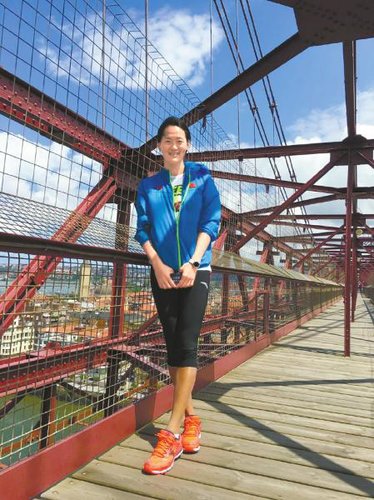 Zhang Weiwei [West China Metropolis Daily]
A 26-year-old Chinese water polo player from the city of Chengdu in northwest China's Sichuan Province excited her fellow townsmen as she raced in Rio De Janeiro on August 9.
Zhang Weiwei started playing water polo at the age of 13 and became a member of the Chinese women's water polo team years later. In 2015, when competing with her team at the Kazan World Swimming Championships in Russia, they finished in fifth place, the best score for Zhang personally up to that point.
In 2016, Zhang passed the postgraduate entrance examination and was admitted by the Chengdu Sport Institute (CSI), where she continued her studies while practicing water polo.
Zhang's height, 1.83 meters, gives her a natural advantage, while her weight, 64 kilograms, makes her appear a little thin and weak, given the fierce fight in water.
Therefore, Zhang tried many methods to gain weight, including eating more and adding albumen powder to her diet, but none of these helped much.
Li Shuwei, Zhang's coach at CSI said the player was quite demanding of herself during regular training. Zhang insisted on practicing in water even after taking painkilling injections and never asked for leave regardless of injuries or pain.
"It was a great regret for Zhang to miss the London Olympics," Li stated. "At the age of 26, she is older than most athletes; however, Zhang still manages to play water polo while pursuing her studies, a tough task for many of her peers."
"Zhang's dream of taking part in the Olympics is her source of power that has helped her overcome a lot of difficulties. We will watch her performance on television and cheer her on."
Zhang Weiwei competes during a contest. [West China Metropolis Daily]
(Source: West China Metropolis Daily/Translated and edited by Women of China)