Chinese women who contributed greatly to society in the 20th century [hunantoday.cn]
There was a famous group of Chinese women in the 20th century who never married or had children, but committed themselves to pushing forward culture, social advancement and female liberation.
Some of these women include: Zeng Zhaoyu, the first Chinese female museum director; Zeng Baosun, the pioneer of Chinese women's education; Wu Yifang, president of the first women's university in China; Yang Yinyu, the first female university president in China; Lin Qiaozhi, the country's first female academician; and, Lü Bicheng, the country's first female journalist.
Zeng Baosun, pioneer of female education
In China's recent history, there has been a family that has cultivated talents for more than 200 years: the Zeng clan of the central province of Hunan. Their line started with Zeng Guofan, who won the title of the First Perfect Man in Modern China.
Zeng Baosun was the eldest great-granddaughter of Zeng Guofan. In 1907, the 14-year-old girl was admitted to Zhejiang Provincial Women's Normal University. However, her father chose a broader road for her and asked her to study abroad.
In 1911, Zeng enrolled at the University of London and became first Chinese female there to obtain a bachelor's degree. During the period, she and her younger cousin promised each other that they would stay unmarried their whole life and strive to contribute to their country and the world.
She said to her relatives, "If I get married, I can teach only 10 children at most; if I pursue a career in education, I can influence thousands." After returning to China, they established the famous Yifang Women's School in Changsha and cultivated numerous talents.
It became the most prominent women's school in Hunan by 1949.
Zeng Zhaoyu, first female archaeologist and museum director in China
The best known graduate from Yifang Women's School was Zeng Zhaoyu, nephew of Zeng Baosun. Her aunt carefully planned the road for her.
After graduation, Zeng Zhaoyu enrolled in the Department of Chinese at Central University and then studied archaeology in London. She was the earliest female student of archaeology in China.
After the Anti-Japanese War broke out, Zeng Zhaoyu refused employment in London and returned to China. She cut a picture from the front page of a local newspaper in Shanghai and kept it until the war ended successfully. The picture showed a baby crying amidst ruins, beside her dead mother who was killed by the Japanese bombing.
Zeng Zhaoyu donated all her savings from the UK, along with her gold ring, to Chinese soldiers. She only kept enough for a travel ticket to return to Nanjing.
Back in Nanjing, she worked as a special design committee member for the Central Museum. As the war spread to Nanjing, she and other staff worked day and night to register cultural relics and number them for their transport to western China.
Over 10,000 boxes of treasures from the Palace Museum in Beiping (now Beijing) were sent. In 1943, she and Li Ji co-authored the book Museum, which was a significant job that laid the foundation for Chinese museum studies.
In 1948, due to the collapse of the Kuomintang armies on the battlefield, her superiors planned to transfer cultural relics to museums in southeast China's Taiwan. Zeng firmly disagreed.
After the founding of the People's Republic of China on October 1, 1949, the Central Museum was renamed as Nanjing Museum. Zeng was appointed as director, where she lived and worked in a moderate way. There was an unwritten rule in the museum owing to her that any archaeologist working in the museum was forbidden from collecting antiques in private.
She wrote influential reports on royal tombs in South Tang Dynasty and ancient portraits.
Wu Yifang, president of Jinling Women's University
The UN Constitutional Convention in San Francisco closed on June 26, 1945. After two months of negotiation and disputes, the UN Charter, the first of its kind in human history that aimed to preserve international peace, was officially approved.
A total of 153 official representatives from 50 countries in the world signed the charter. The first signature country was China. Dr. Wu Yifang, the only female in the delegation, thus became the first global female to sign the UN Charter.
President Roosevelt was so impressed that he praised Wu as the Oriental Goddess of Wisdom. Thirty-five years later, 86-year-old Wu returned to her alma mater – The University of Michigan – to be awarded the Prize of the Wisdom Goddess, which was established for outstanding women across the world.
In 1919, Wu had graduated from Jinling Women's University, China's first women's university. She was one of only five graduates then.
November 3, 1928 witnessed the moment when Wu became president of the institute herself. Hundreds of guests attended the ceremony. Wu was 35 years old that year.
Wu worked as president for 23 years. She set the university motto as improving people's lives. She explained, "It's our life goal to contribute to society by helping others with our wisdom and capabilities."
Yang Yinyu, president of National Women's Normal University
Several months preceding New Year's Day of 1938, the city of Suzhou, east China's Jiangsu Province, had been occupied by Japanese invaders.
According to the story, two Japanese soldiers knocked on the door of a yard. A Chinese woman over 50 years old opened the door. She could speak fluent Japanese.
The soldiers chased her out of the yard and one shot her as she crossed a bridge. They threw her into the river. They did not leave until the river turned red after firing more shots.
In the evening, a carpenter salvaged the body from the river and made her a coffin.
Many people in Suzhou knew her as Bodisattva Yang. She had rebuked the Japanese commander to his face and taken in girls to shelter them from the invaders.
However, few people knew that the woman to be buried was the first female university president in China.
Yang Yinyu got her master's degree in education at Columbia University in the U.S. In 1924, she became president of Beijing National Women's Normal University, succeeding Xu Shoushang.
Yang was an outstanding educator. She insisted that students should focus on academic research and get away from politics. Even detractors praised her cautiousness and simplicity and recognized her qualification as a university president.
Lin Qiaozhi, first female academician of Chinese Academy of Sciences
In August 1949, Lin Qiaozhi was director of the Department of Gynaecology and Obstetrics at the Peking Union Medical College (PUMC) Hospital.
When she received an invitation letter to attend the founding ceremony of the Peoples' Republic of China at Tian'anmen Square, she did not go because she had to work a whole day at the wards of the hospital.
Several years later, Lin was selected as one of the first batch of academicians of the Chinese Academy of Sciences. She was the only female among the 254 scientists. From 1928-1980, Lin was the only female academician on Chinese mainland.
When she was 20, Lin applied to work at the newly-built PUMC. Her friend fainted from sunstroke during the exam; Lin immediately stopped writing and helped her.
The examiner was so amazed at her action that he helped her gain admission regardless of her score.
On April 20, 1983, after delivering six babies, Lin fell into coma because of severe illness. Two days later, she passed away.
Lü Bicheng, China's first female journalist
Traditionally in China, it was believed that women should be illiterate. Lü Bicheng strongly disagreed with this custom.
Still a teenager, she left home for Tianjin in northern China in 1903. There, she met Ying Lianzhi, founder of the newspaper Ta Kung Pao, and became the first female journalist in modern China at 20. Lü spoke up for female rights in the early 20th century, like thunder flashing across the sky.
In 1906, Yuan Shikai appointed Lü as president of China's first women's teaching university, namely, Beiyang Women Normal University. She expected a lot and hoped that women could also contribute to a civilized society.
In 1907, a female revolutionary called Qiu Jin was killed. Under massive pressure, all newspapers chose to ignore the story and remain silent. As Qiu's close friend, Lü reported overseas on her revolutionary stories in English and published The Biography of Qiu Jin: A Female Revolutionary.
Zeng Baosun (1893-1978) [hunantoday.cn]
Zeng Zhaoyu (1909-1964) [hunantoday.cn]
Wu Yifang (1893-1985) [hunantoday.cn]
Yang Yinyu (1884-1938) [hunantoday.cn]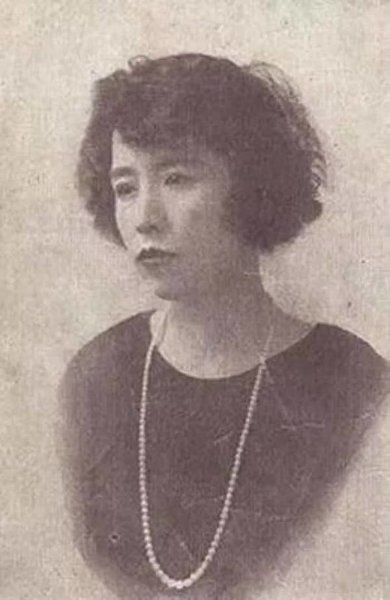 Lü Bicheng (1883-1943) [hunantoday.cn]
Lin Qiaozhi (1901-1983) [hunantoday.cn]
(Source: hunantoday.cn/Translated and edited by Women of China)