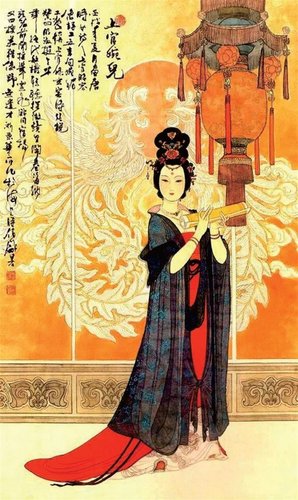 Shangguan Wan'er [Shanghai Daily]
Shangguan Wan'er (AD 664-710), often known as the "female prime minister" to Wu Zetian, the only female emperor in the Chinese history, influenced both the political and the literary world in the Tang Dynasty (AD 618-908), which is a rare case in Chinese history.
Born into an influential noble family, her grandfather, Shangguan Yi, was prime minister during the reign of Tang Emperor Gaozong (AD 628-683). Wu Zetian was then Gaozong's empress. Shangguan Yi was involved in a plot with Gaozong to depose Wu as the emperor was angry over the ever-growing political power of his wife. But when Wu Zetian discovered it, Gaozong denied his guilt and blamed Shangguan Yi for the failed action. Shangguan Yi and his son Shangguan Tingzhi were both executed in AD 664. Shangguan Wan'er, who was then an infant, was sentenced to be a servant in the imperial palace, along with her mother.
During her early years as a humble royal servant, Shangguan Wan'er showed her talent in both literature and politics. She was said to be familiar with all the administration regulations in the royal court and good at writing poems. At the age of 14, Shangguan Wan'er was summoned by Empress Wu and asked to write an essay on a given theme right on spot. She completed the task successfully. Impressed by her excellence, the empress immediately appointed Shangguan as her personal secretary.
She was in charge of writing imperial edicts, dealing with important government matters and giving advice to the empress, who later became the empress dowager and eventually the emperor. Shangguan Wan'er disobeyed Wu on one occasion during Wu's regime and was supposed to be sentenced to death. But as Wu cared for her too much, she was spared, and her face was tattooed as a punishment instead. Thereafter Shangguan Wan'er made more efforts in pleasing Wu and became more influential in the royal affairs.
In 705, Wu Zetian's regime was overthrown in a coup and the throne was returned to Emperor Zhongzong, Wu's son. Shangguan Wan'er became Zhongzong's concubine with the rank of Jieyu. It is unclear whether she became his concubine before or after he took the throne. Zhongzong put her in charge of royal edicts and imperial business again. Later Zhongzong established a royal academy to select officials with literary talents. Shangguan Wan'er was given the responsibility of critiquing all poems submitted to the academy and judging the ranking of officials. With good taste in literature, Shangguan Wan'er contributed to the prosperity of Tang poems. She was promoted to the rank of Zhaorong, the sixth level among imperial consorts.
As a sophisticated poet and writer herself, Shangguan Wan'er was said to be able to write several poems simultaneously with different styles. She had written 20 volumes of poets, but most of them are lost. Today only 32 of her poems are collected in the Complete Tang Poems.
In 710 after the sudden death of Zhongzong, Shangguan Wan'er was killed in a coup by Li Longji, who later took the throne as Xuanzong.
(Source: Shanghai Daily)