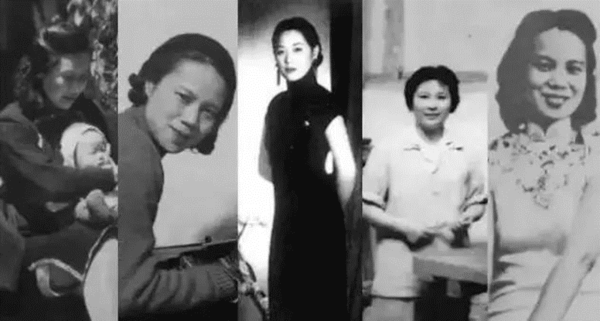 Talented wives of China's modern painting masters [sohu.com]
Standing beside many famous male painters in modern Chinese art history, was a selfless wife who, more often than not, was a talented artist in her own right.
With their own sensibilities and dedication to art, these wives have made their way into the history books as well.
Hu Baozhu
Hu Baozhu (1902-1944) was the second wife of modern Chinese painter Qi Baishi (1864-1957).
Hu married Qi when she was 18 and took diligent care of her husband's daily life and painting business for over 20 years.
Hu was so intelligent and studious that later she could even make nearly exact replicas of her husband's paintings.
Zou Peizhu
Zou Peizhu (1920-2015) was the earliest female sculptor in contemporary China and the wife of famous painter Li Keran (1907-1989).
Zou worked harder to support the undertaking of her husband and took care of his life for many years.
Zou herself was a versatile female artist with high achievements in sculpture and ink painting.
Liao Jingwen
Liao Jingwen (1923-2015) married Xu Beihong (1895-1953), a master of arts and an outstanding educator, in 1945.
After Xu's death, she wrote a long biography of 260,000 words for her husband.
Liao spared no efforts to promote Xu's contributions to Chinese art in the 20th century; she loved painting and calligraphy throughout her life.
Chen Peiqiu
Chen Peiqiu, 95, is the widow of famous Chinese painting master Xie Zhiliu (1910-1997). She excels at both traditional Chinese realistic painting and freehand brushwork.
Chen went beyond the traditional painting style and created new forms by applying both color and ink.
Chen kept herself independent from her husband's fame and pursued her own painting career successfully.
Pan Su
Pan Su (1915-1992), the wife of renowned collector Zhang Boju (1898-1982), studied bird and flower painting in her early years; landscape painting during her mid-career; and, excelled in blue-and-green landscape painting and snow landscape painting in her later years.
Pan also delved into the colors of the traditional Chinese realistic painting from the Sui, Tang and Song dynasties. She started to make a reputation for herself in the 40s and was especially adept at multi-hued landscapes.
Zhang Daqian (1899-1983), a prestigious Chinese painter, thought highly of Pan, saying her talent equaled that of painters from the Tang Dynasty (618-907).
Pan Jingshu
Pan Jingshu (1892-1939) tied the knot with Wu Hufan (1892-1968), an influential Chinese painter and calligraphy expert, at an early age, as part of an arranged marriage.
While the couple shared many hobbies, such as reading, practicing calligraphy, writing poetry and painting. Their love saw no fault and they led a happy and romantic life, according to historians.
Xiao Shufang
Xiao Shufang (1911-2005) was a famous Chinese contemporary painter. She was the wife of Wu Zhuoren (1908-1997), painter and former president of the Central Academy of Fine Arts.
Xiao and Wu married under the witness of their mentor Xu Beihong in 1948.
Xiao was famous for her flower paintings. She was also adept at drawing scenery, still life and portraits in a vivid and natural way.
Yu Zhizhen
Yu Zhizhen (1915-1995) and her husband Liu Lishang, 99, were a couple who learned about Chinese painting directly from Master Zhang Daqian.
From their paintings, it can be sensed that the couple respected and complemented each other well, according to critics.
Hu Baozhu (front) and Qi Baishi [sohu.com]
Zou Peizhu (left) and Li Keran [sohu.com]
Liao Jingwen (left) and Xu Beihong [sohu.com]
Chen Peiqiu (left) and Xie Zhiliu [sohu.com]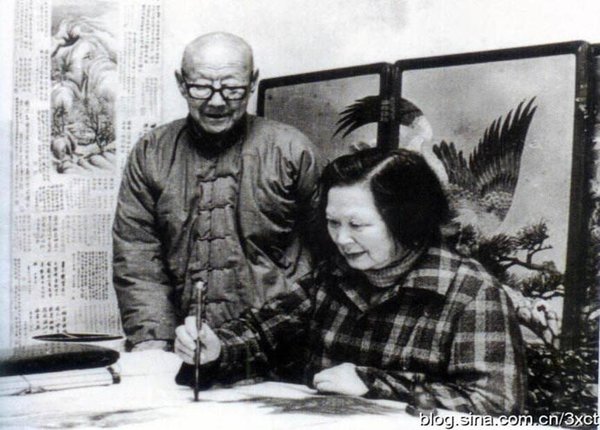 Pan Su (right) and Zhang Boju [sohu.com]
Pan Jingshu (left) and Wu Hufan [sohu.com]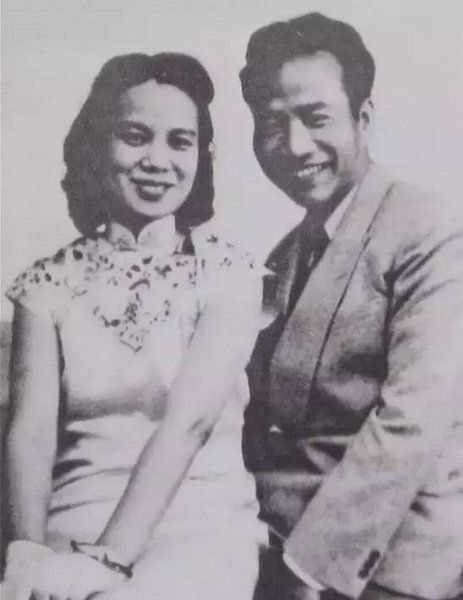 Xiao Shufang (left) and Wu Zhuoren [sohu.com]
Yu Zhizhen (left) and Liu Lishang [sohu.com]
(Source: sohu.com/Translated and edited by Women of China)