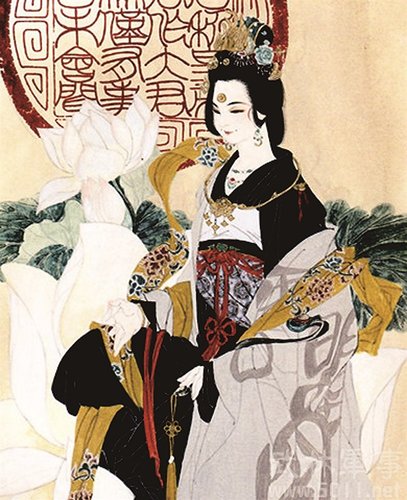 A painting of Wu Zetian, the first and only female emperor in the Chinese history [Shanghai Daily]
In Qian Tomb of the Tang Empire in northwest China's Shaanxi Province stands the first Wordless Memorial Tablet in the Chinese history. It belongs to the only female emperor in the Chinese history — Wu Zetian (AD 624-705).
There are much conjecture about why the only female emperor left her memorial tablet wordless while other emperors in history recorded all of their significant achievements there.
Some suggest that Wu considered it a good way to show her great achievements beyond words; some suspect that Wu made the choice as she was shamed of her huge guilt; a more widely-spread version believes that Wu was such a wise governor who chose to leave all her merits and demerits to the judgement of later generations.
Some scholars are open to the conjecture that her later governors found it hard to identify Wu and ended up in leaving the memorial tablet empty. The royal family felt embarrassed to identify a woman as an emperor of the Tang Dynasty (AD 618-907), and not proper to simply identify her as a queen after her 16-year rule of the country.
Born as the daughter of an official in Tang Dynasty, Wu was selected for the imperial harem for emperor Taizong (AD 598-649) at first, yet became a concubine of emperor Gaozong (AD 628-683, son of Taizong) and then the queen after beating all of her opponents in the harem.
Wu took part in a ruling against the traditional value of no women in state affairs, even when she was still a queen. She made herself the emperor at 67, after taking charge of the state affairs as queen mother for seven years, and called it the Zhou Dynasty (AD 690-705). She returned power back to her son and the restored Tang Dynasty after dying at 82. Wu was the emperor who had the longest life in the Chinese history.
Unofficial histories were widely-spread on how Wu gained her throne step by step. That includes her love affair with Gaozong when he took care of her seriously ill father, her killing her own daughter so as to impute it to the queen of Gaozong, and dethrone her sons who did not approve of her order.
Yet the female emperor did achieve a stable. Wu improved the imperial examination, hired talented people regardless of their status and fired those unqualified. She adopted loose policies on taxes and corvee, and encouraged agriculture, handcrafting and business.
However, Wu was also notorious for her killing. Many key officials were executed due to improper accusation, especially in her later years when she put a number of cruel officials like Zhou Xing and Lai Junchen in high positions. Her order of building numerous Buddhist temples and palaces burdened the ordinary people. And she was also despised by many historians for keeping toy-boys in the patriarchal age.
Despite that there were still positive assessments on Wu in Tang Dynasty, her images were discredited since Song Dynasty (AD 960-1279) with the rising of Neo-Confucianism that undervalues women. Wang Fuzhi, a thinker in late Ming Dynasty (1368-1644) even described Wu as intolerable by both gods and ghosts, resented by both officials and ordinary.
(Source: Shanghai Daily)