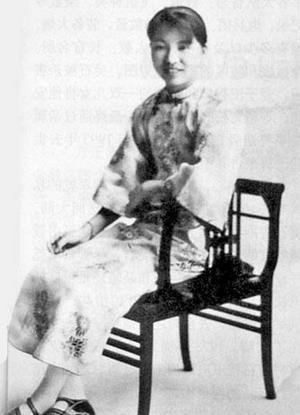 Zhu Feng [gmw.cn]
Zhu Feng (1905-1950) was an intelligence agent working for the Communist Party of China (CPC).
She was sent to Taiwan in southeast China on a secret mission in November 1949, having completed several important tasks before getting arrested in the spring of 1950.
Zhu was killed in June that year at the age of 45. Her ashes remained in Taiwan until December 2010, when they were sent to Babaoshan Revolutionary Cemetery in Beijing.
Taking Part in Revolution
Zhu was a native of Zhenhai County, near the city of Ningbo in east China's Zhejiang Province. Her father headed the local fishery trade association while her grandfather did business with foreigners.
In 1927, she married Chen Fuliang, chief engineer at an arsenal in the city of Shenyang, in northeast China's Liaoning Province, whose wife had died.
One year after Zhu gave birth to their second daughter, Chen died of an illness, so she returned to Zhenhai with her children.
Later, she remarried CPC member Zhu Xiaoguang and they had a son.
When attending a women teachers' college in Ningbo, Zhu got acquainted with a group of progressive students, taking part in many patriotic movements.
In 1937 when Japan began its full-scale invasion of China, she joined the nation's anti-aggression efforts, rescuing soldiers wounded by plane bombings.
In 1945, under the recommendation of two Party members in Shanghai, Zhu joined the CPC. She then began to work at Jianhua Trading Company and Dingyuan Private Bank run by underground Party members, managing the finances of CPC's local intelligence department.
In the autumn of 1948, she was assigned to a post at Hong Kong Hezhong Trading Corporation in south China.
Before departing for the city with her son, she sent her daughter to a place in the northern part of east China's Jiangsu Province, which had already been liberated.
Carrying out Intelligence Work in Taiwan
In 1949, after the liberation of China's mainland, the People's Liberation Army (PLA) took part in battles to liberate Taiwan where the Kuomintang (KMT) government had fled. However, due to inaccurate information, the PLA continuously got into unfavorable conditions.
Therefore, Zhu's leaders decided to send her to Taiwan to obtain important military information from the KMT government, under the cover of visiting her ex-husband's daughter Chen Lianfang and her child.
In November, she reached the city of Keelung and was living at the home of Chen and her husband, two KMT officials with little idea of Zhu's real identity.
As per CPC's arrangement, she could only contact two people — Cai Xiaoqian, secretary of Taiwan CPC Working Committee, and Wu Shi, a CPC intelligence worker serving at a high-ranking post in the KMT government.
On her second day in Taiwan, she met with Cai, transmitting instructions of CPC leaders to him. Cai reported that they had organized an armed force in secret to assist the PLA. Meanwhile, he passed some top secret intelligence to her as well.
One week later, Zhu gained contact with Wu. In his house, Wu gave her a small iron box which contained a microfilm.
"Keep it carefully! All the information in it is top secret information such as maps and KTM military layout," he said. "I hope you can send it back to the mainland as quickly as you can."
Three days later, she passed the first batch of intelligence to a CPC member working on a ship as a cover at Keelung Port. The information soon reached the intelligence department of the CPC East China Bureau.
After that, Zhu met Zheng and Wu several times each, sending more important intelligence back to the mainland.
In 1950, Zheng was exposed and arrested. Under the torture of the KMT, he betrayed Wu. Soon, Zhu was also exposed after the KMT found a special pass Wu signed for her.
She was killed on June 10, 1950 and was named a revolutionary martyr by the CPC.
In 2010, having been missing for 60 years, her ashes were found in Taiwan and sent to Babaoshan Revolutionary Cemetery in Beijing.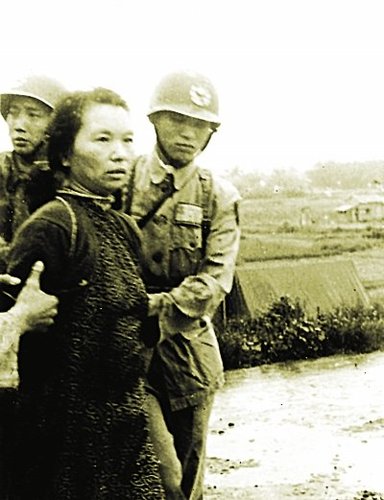 Zhu Feng (front) before her death [sohu.com]
(Source: Chongqing Daily/Translated and edited by Women of China)