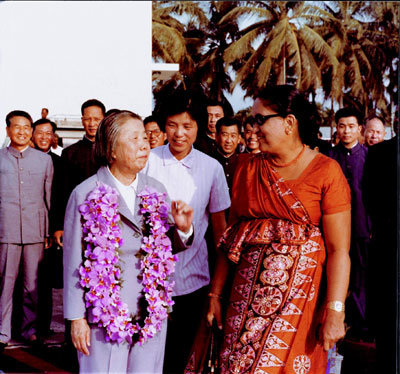 Deng Yingchao (L) and Sri Lanka Prime Minister Sirimavo Bandaranaike (R) at the airport [People's Daily]
The historical TV drama Hai Tang Yi Jiu (which translates as "Crabapple Flower As Usual") recently hit China's small screens, evoking people's memory of late Chinese Premier Zhou Enlai and his wife Deng Yingchao.
Deng Visiting Sri Lanka
On April 17, 1977, 73-year-old Deng – who at that time was vice-chairperson of the National People's Congress of China – visited the picturesque island country at the invitation of then Prime Minister Sirimavo Bandaranaike.
Upon her arrival, Deng received the full State-level treatment: Bandaranaike and the country's president were waiting at the airport to welcome her.
As Deng stepped off the plane, she gave Bandaranaike some crabapple flowers that she had picked from Xihua Hall – Deng's living quarters in Beijing.
Taking the flower from Deng's hand, Bandaranaike felt excited and happy, according to accounts of the time. The scene was photographed by Deng's secretary, the flower's bright color being retained forever.
"Deng is an extraordinary woman. Bringing us a flower from such a faraway place is just an expression of her sincere friendship with Sri Lanka," said Bandaranaike later to staff around her and visiting delegations from other countries.
A welcoming banquet was held at Bandaranaike Memorial International Convention Hall – the grandest modern building in the country.
The hall was built under a joint construction agreement signed by Enlaiv during a visit there in 1964.
At the banquet, Bandaranaike recalled past times and talked with Deng about Zhou's trip, speaking highly of his great contribution to the friendship between the two nations.
Deng listened with a smile, her face lighting up with vigor, and gave a speech on the further development of their relationship.
Later, she visited Peradeniya Botanic Gardens. To show welcome and admiration, the host named an orchid after Deng.
There, she also saw a luxuriant local shrub variety planted by Premier Zhou in 1957, which was in full blossom. Beside it, she placed a sapling of the same plant.
The principal of the garden was overwhelmed with excitement at Deng's coming, according to records.
"I thought that, as the wife of a Premier, she must be noble and proud. However, when I saw her, she was so amiable," he recalled later.
During her visit, Deng gave the principal a traditional Chinese lacquer painting as a present, in which were shown several carp swimming in water.
"I'm very grateful to Deng. The gift she gave me often let me remember the scene of that year. When I saw it, I felt as if I was the free and unrestrained fish. It's a kind of healthy and positive feeling," he added.
(Source: People's Daily/Translated and edited by Women of China)