Wang Huanyu [diyitui.com]
The historic nursery founder Wang Huanyu has long been remembered as a woman who took care of and selflessly raised a large number of children on behalf of war-time revolutionaries during the 30s and 40s.
Hailing from Yinan County in China's eastern Shandong Province, Wang ran a safe home for kids during the anti-Japanese war. Due to her great contributions and sacrifice, she has been called by her compatriots the "Mother of Yimeng."
Joining the Party
In 1888, Wang was born into a poverty-stricken family in Quanli Village, Andi Town. Due to the society's strong preference for male children, her parents did not even give her a name.
When she was 19, they married her to a man surnamed Yu, after receiving a few bags of grain as a gift from his family.
Since then, her name became Yu Wang Shi. According to local customs, married women took their husband's family name plus their own name, plus the fixed suffix "Shi".
After the Chinese People's War of Resistance Against Japanese Aggression (1937-1945) broke out, an anti-Japanese upsurge rose in the Yimeng Mountain area where Wang lived.
In 1938, due to her progressive ideas and outstanding abilities she was admitted by the Communist Party of China (CPC) at the age of 50.
When adding her name to local Party members' roll, an official got into an awkward situation. "How can we enroll an 'anonymous' person as a Party member?" he said.
After asking about her experiences, he said: "Since you were exchanged by the Yu family with grain, just let us call you Wang Huanyu," since huan means "exchange" in Chinese.
After joining the CPC, she became more active in her work and was soon elected president of her village's Women's Salvation Federation and deputy head of Aishan Township.
Under her influence, her second son, Yu Xuerong, her eldest son, Yu Xuecui, and his wife, Zhang Shuzhen, all joined the CPC.
Tending to Revolutionary Offspring
In June 29, 1939, the Eighth Route Army commander Xu Xiangqian and a group of military officials came to Yu's village to coordinate fighting in the region. Xu was designated to live with her family.
In turn, alongside these leaders, also arrived 27 children (later increasing to 41) – all daughters and sons of anti-Japanese heroes. Of these, the youngest one was only three-days-old and the oldest was 8.
Often accompanying the troops, and lacking any proper nutrition, most of the kids had suffered poor development. At the sight of them, Wang was hit by stabs of pain, she recalled.
One day in September, Wang found Xu and said: "It won't be a long-term solution if these kids follow you around all day. Being busy fighting the invaders, how can you find the time to take care of them?"
"As far as I can see, it is better to establish a nursery and entrust them to the care of reliable villagers. In this way, you can concentrate on the war while the kids can get better supervision.
"Moreover, it will be more convenient for hiding the youngsters when enemies invade the village."
In October, the Dongxinzhuang Wartime Nursery was officially established. Since then, in addition to related work, Wang also shouldered the great responsibility of bringing up the offspring of revolutionaries.
To fulfill her mission, she mobilized female villagers bereaved of their infants to nurse the youngsters. In addition, she arranged her two daughters-in-law to help raise seven of the kids.
Losing Grandchildren
Wang tended to each attendee of the nursery with great care.
Once, when visiting a six-month-old baby in Xixinzhuang Village, she saw that it was malnourished, so the middle-aged lady took it home with her.
At that time, her daughter-in-law Chen Hongliang was nursing a newborn.
Wang said to Chen: "This child is the offspring of a martyr. Let us feed our own kid some gruel and save milk for it."
"If we lost our own kids, we can still have another one. We can't let martyrs lose their only heir."
Due to poor living conditions, Chen's milk was not even enough for nursing one baby. She tried her best to nurse the youngest and weakest children in the nursery in turn.
Sometimes, when her own child felt starved and cried out for her milk, she felt as if a knife were piercing her heart. But when she thought of the soldiers who were risking their lives killing the invaders on the frontline, she gave her milk to others' children resolutely.
Chen's sister-in-law Zhang Shuzhen also did the same. Over time, their own children were pale and underfed.
In the autumn of 1940, Chen's son got diarrhea. Due to a poor constitution, his illness deteriorated.
However, being busy managing the nursery, Chen did not set aside time to find a doctor. As a result, the boy suffered serious dehydration and died on the third day.
In November 1941, Zhang's 8-year-old son Chunhai caught a cold. One day, the Japanese troops invaded their village.
Learning of the news, Wang's family began to transfer children in the nursery immediately to a nearby cave. Chunhai also went to help.
On his way home, heavy rain poured down from sky suddenly, wetting him entirely. When he crossed a river, a bomb landed nearby. Overwhelmed with fear, he ran.
After reaching home, he kept trembling and soon after died of a serious fever.
Later, Chen gave birth to two more children, Qiuxiao and Dongmei, but they both died of malnutrition.
Losing four kids, the family was hit by a great sadness. They made a great sacrifice of their own for the safety and soundness of revolutionary offspring, said a commentator.
From 1939 to 1942, the family helped raise 41 children. Under their tender care, none of these children died or were injured during the war. Later, they were taken away by their natural parents or the Party.
After 1943, another 45 soldiers' children were entrusted to Wang's care, until the last one left in 1948.
In 1947, when giving a report on the behalf of Chinese women during the 1st World Conference on Women, Cai Chang, pioneer of women's movements in the nation, introduced Wang's stories.
Since then, Wang's name has become well known across the world.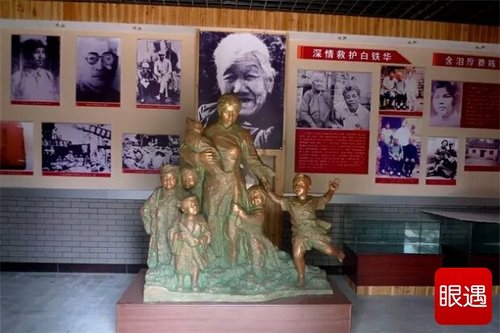 A statue of Wang Huanyu and revolutionary offspring at her memorial [dahe.cn]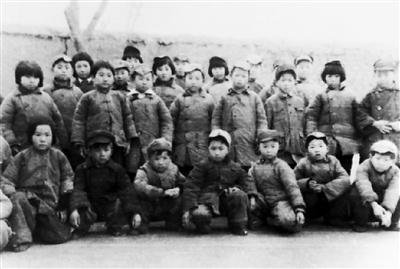 Soldiers' children who lived in the nursery during the wartime [chinamil.com.cn]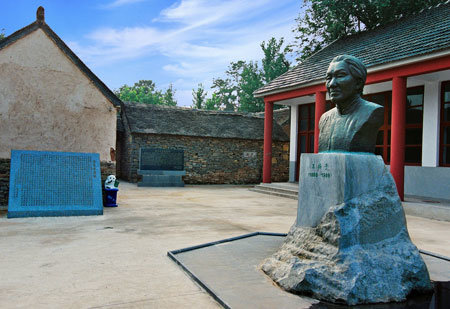 A statue of Wang Huanyu outside her memorial[dzwww.com]
(Source: People.cn/Translated and edited by Women of China)