Jiang Zhujun (1920-1949), an underground member of the Communist Party of China (CPC), devoted her whole life to the liberation of the country. Due to her heroic action and untimely death, she later became a nationwide household name.
Jiang, more famously known as Sister Jiang, refused to reveal Party secrets regardless of being brutally tortured by the Kuomintang, and was killed at the age of 29 shortly before the liberation of southwest China's Chongqing.
Childhood
Jiang arrived into the world amid numerous conflicts among Chinese warlords.
Her family lived in a small house made of mud and grass in Zhujiagou Village near the city of Zigong in southwest China's Sichuan Province.
When she was 8, a severe drought struck her hometown, claiming the lives of many people in the subsequent famine. Therefore, Jiang, her mother and younger brother traveled to her maternal uncle Li Yiming in Chongqing for help.
A sugar peddler in the past, Li at that time served as the president of a local Red Cross Hospital and a shipping company, as well as the dean of a middle school. Moreover, he also opened a private hospital. For the three refugees, the close relative apparently belonged to a different class.
Li's wife often glanced at these impoverished relatives with cold dislike and contempt, it was reported. However, the aunt did not kick them out because Jiang's mother was tending to Li's sick mother.
Upon the death of Jiang's maternal grandmother, they moved out of Li's home into a rented small apartment. At that time, Jiang's father worked on a ship, sending money home now and then. Her mother found some sewing work. She was barely able to afford to send Jiang and her brother to a church primary school.
"The opportunity did not come easily, so you must study hard," Jiang's mother told them. The obedient girl listened to her teachers carefully and got high scores in the half-year evaluation exam. However, she had to drop out shortly after because the shipping company her father worked for went bankrupt.
After losing his job, Jiang's father deserted them and went back to their hometown on his own. He died from an illness several years later.
To support her family, Jiang and her mother worked at a sock factory, where they toiled for 12 hours every day. Too short to reach the machine, the 10-year-old had to stand on a stool that the factory made especially for child workers. Learning techniques conscientiously and working hard, Jiang soon caught up with adults in her output. Nevertheless, her boss still paid her meager wages in accordance with payment standards for child workers.
Coming into Contact with New Ideas
In 1932, when Jiang reached 12, her health cracked under the strain. Later, her mother caught a serious cold, so they both quit their job at the factory.
At the time, Li's youngest son needed someone to look after and educate him. An educated woman and a close relative, Jiang's mother was entrusted with the work. As a reward, Li agreed to send her children to an orphanage primary school.
Returning to school, Jiang was overwhelmed with happiness and treasured the opportunity. She skipped forward a grade three times due to outstanding academic results and completed her studies at the school in just three and a half years.
As Jiang grew, her thirst for knowledge became stronger and stronger. She often borrowed books from her teachers, where she read about the stories of many historical national heroes who had risked their life to protect the country. These stories exerted an imperceptible influence on Jiang, stimulating her patriotism.
Meanwhile, she met Ding Qiaofu, a Chinese and history teacher and a Party member. Ding concealed his membership of the CPC to prevent himself from the persecution of the Kuomintang government.
At Ding's class, Jiang learned that the modern history of China was a history of humiliation, which stimulated her sense of justice. In addition, the teacher guided her to tell right from wrong and encouraged her to pursue truth.
In 1935, Ding was imprisoned after his CPC identity was exposed. "Ding is a good teacher. He joined the CPC regardless of death. It must be an organization pursuing truth," she thought.
Devoting to the Revolution
In 1936, Jiang was admitted by Chongqing Nan'an Middle School, a junior high school.
In July 1937, the Lugouqiao Incident (or Marco Polo Bridge Incident) took place in Beijing, announcing the start of the Second Sino-Japanese War (1937–1945). Jiang and her fellow students marched on the streets, appealing for resistance against the Japanese. In addition, they sang patriotic songs, performed dramas and pasted slogans on walls. The baptism of the anti-Japanese movements sped up the growth of the progressive youth.
In 1939, due to the constant bombardment by Japanese forces, Jiang's school had to be relocated to the city's Jiangjin District. Jiang did not move with it but continued to study in the district at a senior high school affiliated to the National University, one of the earliest private universities in modern China where many teachers and students committed themselves to the Chinese revolution. That summer, she joined the CPC under the recommendation of her classmate, an underground Party member.
In the autumn of 1940, Jiang's school closed, so she was transferred to an accountant training class of Zhong Hua Vocational School to learn skills and take charge of the Party organization in the school.
The next year, the 21-year-old was assigned to the Party committee of the city's Xinshi District, contacting local female CPC members in secret. In addition to constant bombardment, the spy agencies of the Kuomintang government were located nearby. Under such hostile conditions, Jiang grew in maturity.
In early 1943, she began to work at a cooperative affiliated to a Kuomintang political department in Chengdu, capital of southwest China's Sichuan Province, under the arrangement of her CPC leaders. But soon she went back to Chongqing to fulfill a new mission - to act as the "wife" of her fellow Communist Peng Yongwu, the first member of the Chongqing municipal Party committee, as a protective cover. Their "family" became a study center for underground Party members.
Peng already had a wife and a son in his hometown. Their own relationship was actually as revolutionary comrades. But with the common pursuit, they gradually developed deep affection for each other, which they tried their best to repress out of morality.
In 1944, she was chosen to study at Sichuan University in southwest China, engaging in Party work secretly. She not only stood out among fellow students in academic study but organized many student movements. Moreover, she learned Russian and read many books and newspapers from the Soviet Union.
However, Jiang's leave brought a lot of inconvenience and trouble to the work of her "husband" Peng. As required by the Party, she and Peng actually got married during the summer of 1945. Jiang was filled with excitement and happiness, as well as deeply sorry for Peng's wife Tan Zhenglun.
One year later, Jiang gave birth to her son.
Keeping Secret in Front of Brutal Torture
From the end of 1946 to early 1947, Jiang participated in and led the Chongqing students' Anti-riot Movement and did much work at the newspaper of the municipal Party committee.
In 1947, Jiang went to Xiachuan in eastern Sichuan with Peng, who was ordered to carry out armed uprisings there.
In January 1948, Peng died in an uprising. Bearing the pain, Jiang took up her husband's position and said that "she will continue fighting at the place where he died."
On June 1948, being sold out by a traitor, Jiang was captured in Wanxian and put into Zhazidong Concentration Camp in Chongqing. She endured all types of torture, including beatings with a steel whip, electrocution, and having bamboo sticks placed under her finger nails.
The Kuomintang wanted to find out from Jiang where their underground organization was located. But being subject to these brutal tortures, the strong Communist never yielded. "You can cut off my hand or knock off my head, but I won't tell you anything," Jiang said.
"Tortures are too small tasks for the Communists. Bamboo sticks are made of bamboo, but the will of the Communists is made of iron and steel," she wrote in a letter during her imprisonment.
On November 14, 1949, just 16 days before Chongqing's liberation, Jiang was killed at Geleshan, sacrificing her 29-year-old young life for the Communist ideals.
Jiang's story has been included in textbooks and widely told by the Chinese nation.
Peng Yongwu (L), Jiang Zhujun (R) and their son (C) [81.cn]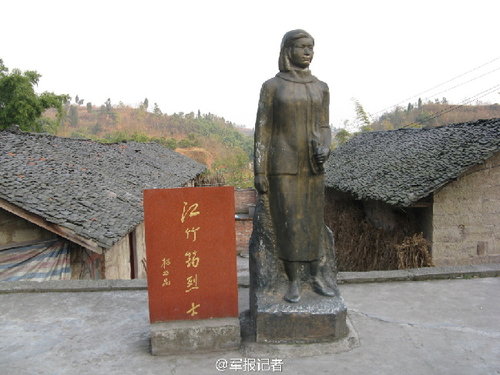 A statue of revolutionary martyr Jiang Zhujun [81.cn]
A letter Jiang wrote to her son during her imprisonment [81.cn]
(Source: China Youth Daily/Translated and edited by Women of China)