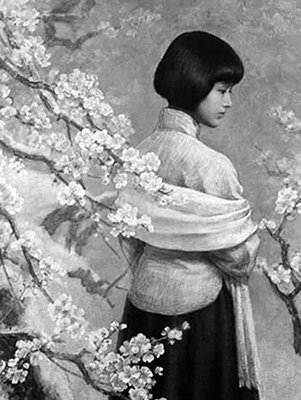 Yang Buwei at a young age [Nanjing Daily]
Born into a wealthy Chinese family in the late 19th century, academic and medical pioneer Yang Buwei was the president of a women's school before she entered college and later became the first female in the country to run a private hospital.
This woman, who dared to challenge old practices in a male-dominated society and lived a life in accordance with her own will, has been widely acclaimed as a role model for women in the new era.
Childhood
On November 25, 1889, Yang arrived into the world as the latest member of an influential family in Nanjing, east China's Jiangsu Province, which boasted over 100 members.
Yang's grandfather was a famous master in Buddhism and the founder of the Jinling Scripture-Engraving Institution. Her father was the eldest son of his family whilst Yang had eight older siblings.
Although it was uncommon at the time, Yang had the same opportunity to receive education as her brothers. She began learning in a private school at the age of 7.
A smart child, Yang often quickly recited quotes from Chinese classics. However, she rarely took the trouble to think about their deeper meanings.
Once, Yang's teacher gave a class about the story of Confucius refusing to eat unless he cut his meat square and upright. The story was intended to teach people to do things patiently and conscientiously; Yang, however, criticized the ancient sage as being wasteful.
"He only ate square-shaped meat. Then who ate the bits and pieces he cut off?" Yang asked her parents during a meal.
Yang loved reading novels, but her calligraphy was average. Her father told her that people would not feel happy to read her articles unless her handwriting improved. Still, the obstinate girl was reluctant to put in more efforts.
As a rebellious young kid, Yang often played tricks on her teachers and relatives. She was even hailed as "a child hated by thousands of people" by the elder members of her family.
Pursuing Study
Nanjing
Yang's father often said that she was "as tenacious as a boy" and that he hoped she would receive more education. He also said that China would set up women's schools one day.
When Yang reached 16, her father's prophecy came true. That year, the Lüning Women's School opened up in Nanjing.
For the entrance exam, Yang was asked to write about the benefits that education could bring to a girl. She wrote on the answer sheet: "Women are the mothers of all citizens." Her article surprised the examiners.
Though the article only contained relatively few characters, she was promptly admitted.
Later, Yang showed special talent in mathematics, history and geography and always finished among the top three of her class.
Shanghai
In 1908, after the U.S. reimbursed the Boxer Indemnity, China planned to dispatch a group of students abroad. One person suggested adding some female names to the list.
At the time, there were only two women's schools in the country. The other one was in Tianjin.
Yang wanted to go abroad, but her grandfather said she would "appear like an idiot" if she was unable to speak a foreign language. Moreover, such opportunities were available annually, so he hoped Yang would wait a year or two.
Later, the Lüning Women's School was turned into a teacher's training institution, so Yang was transferred to McTyeire School for Girls, a missionary school in Shanghai. Yang was not a believer, so she was admitted only after the chief editor of China Book Company (Shanghai) vouched for her.
In 1912, a senior officer opened the Chong Shi Women's Middle School to train over 500 females.
Yang, at the age of 23, was invited as its president. She led trainees to learn textiles, embroidery and medical aid skills. Under her leadership, the school ran in good order.
Japan
Later, Yang went to Japan to learn medicine. In that country, she encountered many matters that made her feel humiliated.
Once, when Yang visited the country's Health Department and a military hospital successively, she saw lots of weapons and medical equipment.
A Japanese man then walked up to her and said with contempt: "You Chinese should follow our instructions and help us in our battles. Our land forces are used to combating Russia and our navy has confronted America. As for China, we need no troops or just a small number of soldiers. It will be conquered in several days."
His words filled Yang with angry resentment.
After Japan put forward the Twenty-One Demands, an unequal treaty, oversea students from China staged strikes. Japanese schools then created difficulties for them on purpose, forcing them to stay down or refusing to give them their diploma certificates.
Overwhelmed with anger, Yang returned to her motherland without taking part in the graduation ceremony. Nor did she claim her graduation papers.
Later, when Yang recalled life during her years of oversea study, she said that excellent Chinese students provoked jealousy while those with poor academic performance were looked down upon.
Marriage
Breaking off an Engagement
Yang was engaged to the son of her father's sister before her birth.
Yang's grandfather was an open-minded man so Yang dared to ask him anything. When Yang reached 16, she talked with him about her marital issue and said that her lifelong choice should be decided by herself. He agreed.
Then she wrote a letter to break off her engagement and gave it to her cousin. Her aunt opposed the break-off strongly while her father shouted at Yang angrily that he would execute her unless she obeyed his arrangement.
Yang fought unyieldingly and brought much stress into the family. At last, she won her freedom.
Getting Acquainted with Her Future Husband
In 1919, Yang, still pursuing her doctoral degree in Japan, received a letter from her father, asking her to return to Beijing.
When she came back, her father had already passed away from illness. Later, Yang and her female classmate Li Guanzhong established the Sen Ren Hospital, which specialized in gynecology, obstetrics and paediatrics. Yang was among China's first group of doctors practicing Western medicine in these departments.
However, her doctor's career did not last long because she met her future husband Zhao Yuanren, a famous Chinese linguist.
One night in 1920, Zhao attended an academic meeting. It was too late for Zhao to go back to Tsinghua University, so Zhao went to his cousin's home to stay over.
When he arrived, his cousin and his wife were receiving guests, all of whom had study experiences in Japan. Yang and Li were among them.
After the dinner, the two female doctors invited the host to join a meal in a park the next day. Zhao, as the guest of the couple, also took part.
After the picnic, they also visited Yang's hospital, where they enjoyed French dessert and American chocolate, and sang songs.
Zhao, ever since, became a regular visitor of the hospital.
Wedding
Several months later, Zhao and Yang got married at the age of 29 and 32 respectively.
The manner of the wedding of the couple was hailed as a "new fashion" at the time.
They did not hold a complex ceremony but invited two old friends, including Hu Shi, a well-known scholar in China, to have a dinner at their place. Yang then cooked four simple dishes.
The next day, they took many photos in a park and sent them together with 400 cards to their relatives and friends, informing them about their good news.
In addition, they declined all gifts unless they were either books or music.
Their wedding was commented on by a local newspaper as "a new-style wedding for people in the new age."