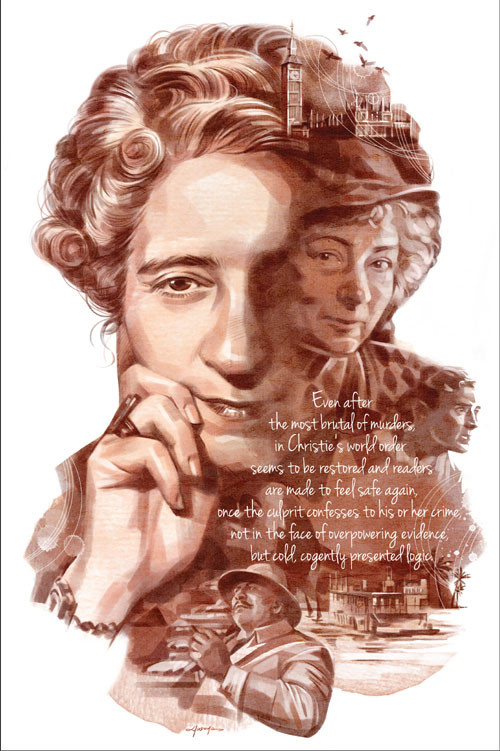 The woman who gave us Hercule Poirot and Jane Marple is still going strong 40 years after she died. [China Daily]
Like many top criminals, she has a string of aliases. Call her Lady Mallowan, Mary Westmacott, Agatha Christie or plain old Dame Agatha Mary Clarissa Christie, and in so doing you will have fingered she who done it.
What she has done is gain a legion of loyal readers in China, and as with all good detective novels there is a fiendish twist: she has achieved all of this from beyond the grave.
The first witness for the prosecution is Shen Yijie, 29, from Shanghai, who works in the IT industry and who has lived in Hong Kong for more than 10 years since attending university. She has attended two events at Tongji University in Shanghai in recent months marking Christie's death 40 years ago on Jan 12, 1976.
Shen, the head of an online Chinese forum devoted to Christie, was pleasantly surprised by how many people showed up in Shanghai to talk about the writer, her fiction and her reception in China since the 1940s "because these days Chinese prefer Japanese detective stories to those written half a century ago".
But, these latter-day masters of the genre come nowhere close to Christie in terms of sales. Her devotees say that if you tot up book sales through the centuries, her only competitors are the Bible and the works of Shakespeare, her sales totaling 2 billion copies in various languages. Her fiction has been adapted for the screen 180 times, says the news magazine Sanlian Weekly, and a new movie adaptation of Murder on the Orient Express is said to be in the works and due to be released next year.
It needs to be remembered, too, that while Christie's popularity has gone off the boil in China in recent years, Agatha Christie was once a household name in the country. However, even though far fewer people now read the books that represent classic detective fiction in its halcyon days of the 1920s and 1930s, her devotees never seemed to be able to get enough of the genre and its acute observations of human nature in a world in which neat, predictable order, which now seems to be a thing of the past, is the norm.
Even after the most brutal of murders, in Christie's world, order seems to be restored and readers are made to feel safe again, once the culprit confesses to his or her crime, not in the face of overpowering evidence, but cold, cogently presented logic.
"Detectives like Hercule Poirot and Jane Marple are supremely confident about their intellectual prowess, and faced with that murderers are only too willing to admit their deeds," the writer Wang Jinwen says. "Such an age is gone forever."
The Chinese writer Zha Liangyong (Louis Cha), the contemporary master of martial arts fiction who writes under the name Jin Yong, says Christie is his favorite detective novelist and that he has read almost all her novels. What he finds attractive is her intelligence and logic, he says.
Zha has a knack of creating suspense in his novels, such as the cryptic message that a murder victim leaves about his killer in The Legend of Condor Heroes.
Wang Lin, 31, a public servant, devotes much of his free time to plays and detective stories. He has played a member of the 12-person jury in the Chinese stage adaptation of Christie's Witness for the Prosecution 99 times and says he appreciates her "from a different perspective".
He has read Christie since he was at primary school, he says, and once headed the play section of the Chinese Agatha Christie online forum. In January New Star Press published his translation of her short story collection While the Light Lasts.
"I've read a lot more detective novelists apart from her. I love her because in her novels murders are not that scary, and she sets the stories in exotic countries because she herself visited places in Africa and the Middle East. There are plots involving things like archaeology, and she's really good with poisons, which I find appealing."
Introduction
The first of Christie's works to reach China, in the 1940s, was her novel The Murder of Roger Ackroyd, published in a detective fiction magazine. But it was not until after she died that she became hugely popular in the country.
In July 1979, in the aftermath of the "cultural revolution" (1966-76) and as China began implementing the policy of reform and opening-up, the 1978 movie adaptation of Death on the Nile was screened in the country and was a phenomenal success. Overnight Detective Hercule Poirot became a popular figure in China.
In November of that year the foreign literature periodical Yilin was founded, and with it was published Death on the Nile, the editor regarding the novel as far superior to the movie. Four hundred thousand copies of Yilin were sold, exhausting stocks in some cities so that it became highly sought after.
About the same time China Film Press published a book that included both Murder on the Orient Express as a novel and the screenplay of a 1974 movie adaptation.
As the fame of Poirot spread across China, many of Christie's works were translated into Chinese in the 1980s. Between 1980 and 1981 more than 20 of her novels were published, featuring not only Poirot, but also the popular Jane Marple, such as in the novels Nemesis and Sparkling Cyanide (also published under the title Remembered Death.)
In 1998 Guizhou People's Publishing House published 80 of Christie's works, but not all of her detective works. In 2013 New Star Press bought the copyright from Mathew Prichard, her grandson, to publish all the 85 detective works.
"We are the first Chinese publisher to publish all her detective works," says Wang Huan, editor in charge of the project at New Star Press. Forty-three books have come out and the plan is to publish the rest of her works by the end of next year.
"Readers are looking forward to the full collection. Famous titles such as And There Were None, Evil under the Sun, Murder on the Orient Express and Death on the Nile were best-sellers with more than 100,000 copies sold."
However, Shen says, few Chinese read Christie's books these days, most being aware of her fiction from watching TV series and movies.
Even among the Christie devotees at Tongji University, Shen's mention of some of the writer's less popular titles drew blank stares, but everyone seemed to be aware of the new BBC TV adaptation of And There Were None screened in Britain late last year. Many Chinese watched it online.
"Life's different to what it used to be, and few people have the patience to sit down hours on end and read a 300-page book, even if it's a thrilling detective novel," Shen says.
Serial killers
In Christie's novels Jean Marple solves cases in the British Victorian countryside and Hercule Poirot brings his classic reasoning to bear as he does his investigative spade work, but in the Japanese detective stories that are now in vogue the overwhelming mood is one of darkness. Authors create thrills to appeal to the imaginations of readers who have become accustomed to psychopathic serial killers created and developed over the past 40 years.
Guo Yi, 34, a diehard fan of Christie, says she read all her works within about three months when she was at university.
"In general, classic detective fiction fails because the narrative is extremely slow. Agatha Christie is a combination of Conan Doyle and Jane Austen; so many male readers don't like it. But she has created almost all the murder models of detective fiction. It's very difficult to create new ones."
Guo says that what attracts her to Christie's novels is their gentleness and kindness. Christie explains in a very classic way why people murder, and, drawing on her insights of human nature and social relationships, she can cast suspicion on every character in a novel, Guo says.
Shen says: "She is full of sympathy for human nature."
Christie's intriguing stories with their cool logic take many readers on a nostalgia ride to a time when everyone in a community knew everyone, when life was slower, when everything seemed to be in perfect order and indeed when everyone seemed to have the time and the patience to spend hours solving a mystery in a book.
Shen says she started reading Christie when she was in middle school, her father being a detective fiction aficionado. Agatha Christie then led Shen into an interesting world full of puzzles and mysteries. For her, crime stories are an intelligence test in which all you need do is sit in a chair, read the stories and enter a fictional world to solve the riddles, she says.
She has read all Christie's works, she says - 68 novels, 21 short story collections and novellas, 18 plays, one autobiography, two poetry collections and six romance novels.
She has read many other detective novels, too, but always returns to Christie because of her insights into human nature, which is more appealing than other novelists, she says. She writes articles about Agatha Christie for magazines and is now translating Parker Pyne Investigates and Christie's autobiography, which New Star Press will publish.
Shen registered on the Chinese online forum of Agatha Christie in 2006, and became its leader six years later. The forum says it has more than 30,000 registered members.
"We want fans to feel comfortable on the forum, and feel free to speak," Shen says. "At the same time we hope to become a chronicle relating to anything to do with Agatha Christie in China."
The website includes copious detail, in words and pictures, about the publication of Christie's works in China since the 1940s. Between 2003 and 2005 forum members were particularly active; doing their own broadcast plays and writing their own detective fiction.
Plans are now afoot to overhaul the forum so it is more attuned to mobile internet.
Shen says that while fewer people read Agatha Christie these days, her works will endure. That certainly applies to her plays, which are very popular in China.
And There Were None, generally considered Christie's scariest, has been adapted into a Chinese play that has been performed more than 300 times over the past decade.
Wang Lin says plays based on Agatha Christie works will continue to be staged in China.
"And There Were None is staged in Shanghai every year and all the tickets are sold out. Next year there will be a special version marking its 10th anniversary."
Readers who love Agatha Christie's works attend a seminar to share their love for the writer at Tongji University in Shanghai. [China Daily]
(Source: China Daily)