Wang was the first Chinese singer and actress to perform at the White House.
Photo of Wang and President Roosevelt's wife became the symbol of China-U.S. friendship and alliance in the Anti-Fascist War.
Wang's books Two Kinds of Americans and the autobiographical novel Bao Gu (Aunt Bao) were published in the 1980s, a decade after her death.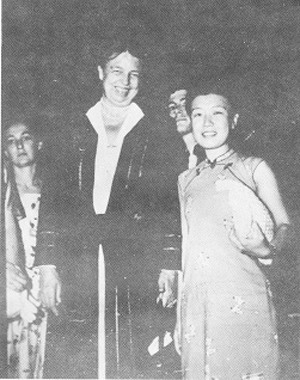 Wang Ying (R) and President Roosevelt's wife at the White House in 1943 [File photo]
Wang Ying, a renowned singer, actress and revolutionary, made special contributions to the Chinese People's War of Resistance Against Japanese Aggression in her lifetime, due to her unique experiences both at home and abroad.
Miserable Childhood
Wang was born in 1913 in Wuhu, east China's Anhui Province, as Yu Zhihua, her original name. When she was a child, her father sold her to a merchant in Nanjing, capital city of east China's Jiangsu Province, as his child bride. For freedom, she escaped to her aunt's home.
She was later arrested for writing a public letter to a warlord named He Jian strongly criticizing the local authority. She then escaped to Shanghai where her life changed completely.
Becoming a Film Star
In 1929, Wang joined in the Shanghai Art Troupe headed by renowned dramatists Qian Xingcun and Xia Yan and became an actress. A female writer called Xie Bingying renamed her as Wang Ying.
In 1932, Wang entered the film industry. She became popular among the public immediately after starring in Women's Cry, Story of Red Tears and The Same Enemy.
Soon afterwards, Wang's close friend Ai Xia, also a star actress, committed suicide due to rumors, which enraged her. She then published two articles in The Evening News, criticizing the hurt that society brought to women. She was determined to break through the dark aspects of the film world.
Wang published an article in a magazine in 1935, calling on people to fight for the nation's freedom and liberation by citing two lines in her last picture "Goddess of Freedom". She also stressed that women under oppression should especially keep these words in mind.
Collecting Funds for Anti-Japanese War Abroad
After the break-out of the Anti-Japanese Aggression War in 1937, Wang moved to southeast Asia to perform dramas with her art troupe, and to collect funds for Chinese people's fight against Japanese invasion.
In Singapore, their performances of the drama Put Down Your Whip turned out to be a huge success, and renowned painter Xu Beihong (1895-1953) drew an oil painting of the same name, with inscriptions praising Wang as a woman winning people's respect.
The painting was immediately printed as a postcard and all the profits were donated to China for the Anti-Japanese Aggression War. And Wang's reputation has spread widely since then.
A photo of Wang who gave an interview with a TIME magazine reporter whilst studying at Yale University in 1944 [File photo]
Seeking International Support in the US
Afterwards, to seek the support of further anti-fascist international forces, Wang set off for the United States to study and publicize the Anti-Japanese Aggression War, commissioned by early Communist Party of China leader Zhou Enlai.
In 1942, Wang and her husband Xie Hegeng attended the World Anti-Fascist Youth Congress, during which, as a representative of Chinese youth, she delivered a speech in English to 50,000 workers in the Ford motor factory, publicizing China's advocacy of fighting against Japanese aggression.
In the US, Wang met Pearl S. Buck (1892-1973) and they became close friends due to their common interest in literature and drama.
At the invitation of Buck, Wang became a member of the council and the director of the Drama Department of the Eastern and Western Society. She then actively assisted Buck in setting up the China Drama Troupe and staged anti-fascist dramas such as Heritage and Depression.
In 1943, at the White House, Wang sang the classic song Searching for Plum Blossoms in Snow and the revolutionary songs March of the Volunteers and Battling Enemy in the Back. She performed the anti-Japanese aggression drama Put Down Your Whip, displaying Chinese people's spirit of anti-Japanese aggression abroad.
Wang's performances won the audience's thunderous applause. Wang was the first Chinese performer at the White House. In addition, the photo of her and President Roosevelt's wife became the symbol of China-U.S. friendship and alliance in the Anti-Fascist War.
Miserable Experiences in Her Later Life
After the founding of the People's Republic of China, the relationship between China and the U.S. deteriorated rapidly. Due to the prevalence of McCarthyism in the US, the government there began its purge of Communist Party members.
In 1954, Wang and her husband were arrested and Buck was also censored. As the couple refused to become American citizens, they were exiled to Ellis Island. They were then set free and returned to China due to negotiations between the Chinese and US governments.
In Beijing, Wang was assigned to work as a screenwriter at the Beijing Film Studio, while her husband worked as an editor at the People's Press.
However, their peaceful life suffered another impact soon afterwards.
In 1957, Xie was labeled as a rightist and sent to reform through labor, exiled in the Great Northern Wilderness in northeast China's Heilongjiang Province. Wang, meanwhile, unable to accept the boundaries between her and her husband, asked for leave and lived in seclusion at Fragrant Hills in Beijing's suburbs.
During that period, she wrote a book called Two Kinds of Americans, in which she recorded the international friends like Buck who supported China's Anti-Fascist War and the McCarthyism zealots who were hostile to Communist Party members and immigrants.
After the Cultural Revolution (1966-1976) began, both of them were sent to prison. In 1974, Wang passed away in prison, at the young age of 59.
In the 1980s, Wang's books Two Kinds of Americans and the autobiographical novel Bao Gu (Aunt Bao) were published, a decade after her death.
(Source: China Women's News/Translated and edited by Women of China)