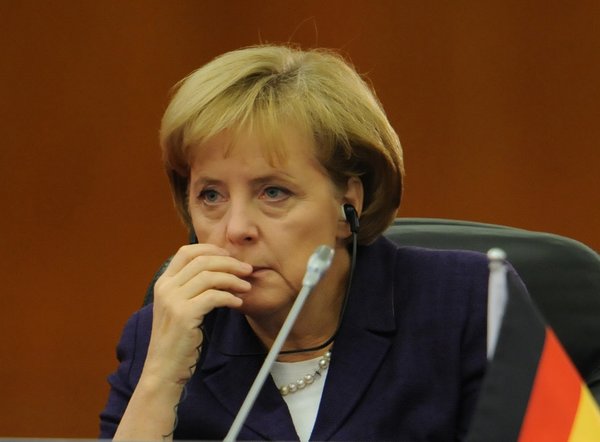 Merkel attends the seventh Asia-Europe Meeting in Beijing on Oct 24 and 25, 2008. [Photo/Xinhua]
Merkel has visited Beijing the most. It is the city that has witnessed the growing connection and expanding cooperation between the two countries.
During her first visit to China after becoming chancellor in May 2006, Merkel had a walk in a Beijing park in the morning and exercised with local residents.
During her first visit to China in May 2006, Merkel visited Shanghai's Urban Planning Exhibition Hall and St. Ignatius Cathedral.
She spoke at a meeting of the German Chamber of Commerce in China and rode the world's only commercially operational maglev rail line.
In August 2007, Merkel visited China for the second time as the chancellor. She visited Nanjing, Jiangsu province, to launch Germany and China: Moving Ahead Together, a three-year campaign, along with provincial leaders.
During her stay, she also visited the Sino-German Law Institute at Nanjing University and the city's Siemens plant. Her reputation in China was somewhat enhanced by her decision to stay in a junior suite rather than a presidential suite at the hotel.
In July 2010, during a visit to Xi'an, Shaanxi province, Merkel held talks with then-premier Wen Jiabao as well as heads of German and Chinese companies.
Wen accompanied her on a visit to Siemens Signaling Co Ltd, a Sino-German joint venture. Merkel also visited the mausoleum of Qinshihuang, the first emperor of China, where the Terracotta Warriors are located.
After a stop in Beijing, Merkel visited Guangzhou, Guangdong province, where she and Wen attended a trade seminar for Chinese and German business leaders.
She also visited the Chinese branch of Herrenknecht AG, a German manufacturer of tunnel-drilling machines.
Merkel was accompanied by then-premier Wen Jiabao on a trip to his hometown Tianjin, traveling via high-speed rail.
Merkel held talks with entrepreneurs from both countries and attended the launch of the 100th Airbus A320.
Merkel chose Chengdu, Sichuan province, as the first stop of this visit and learned how to make kung pao chicken, a well-known local dish.
She also visited the FAW-Volkswagen assembly plant in Chengdu's Longquan district, 12 kilometers from the city center.
Merkel drinks beer brewed by Chinese and German students during their visit to Hefei University in Hefei, capital of East China's Anhui province, Oct 30, 2015.
Merkel also visited a rural family and an elementary school in Dawei town of Hefei, which is a demonstration town for China's new rural construction.
Merkel visited the Shenyang Imperial Palace where she was given a Qing-style royal welcome and was presented a miniature dough figurine that looked exactly like her.
Merkel also visited China Industrial Museum and the Sino-German manufacturing industrial park.
Merkel congratulated China on the success of the summit, adding that the theme and results were echoed by the vision of the Hamburg summit.
Merkel learns how to make kung pao chicken, a spicy Sichuan dish made with chicken, peanuts, vegetables, and chili peppers, at a Sichuan restaurant during her visit to Chengdu, the capital of Southwest China's Sichuan province, July 6, 2014. [China Daily]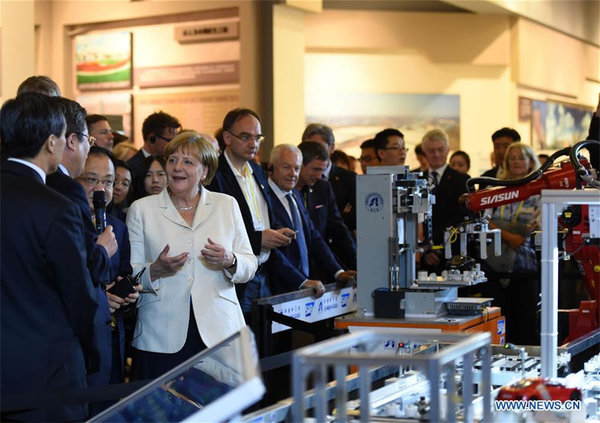 Merkel visits China Industrial Museum in Shengyang, capital of Northeast China's Liaoning province, June 14, 2016. [Photo/Xinhua]
(Source: China Daily)