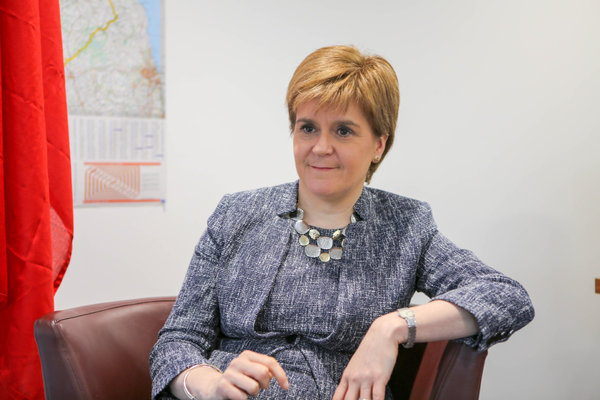 Scottish leader Nicola Sturgeon is making her second visit to China. [China Daily]
Scotland's trade relationship with China should be thought of as "an addition" to the country's existing ties with the European Union, also known as the EU, the first minister of Scotland has said.
Speaking ahead of her weeklong visit to China, Nicola Sturgeon said the UK's pending departure from the EU has made it all the more important for Scotland to strengthen its trading links with China.
She noted that, in the last year alone, Scotland's exports to China have grown at a faster rate than its exports to any other country, increasing by more than 40 percent.
"That says there is a lot of success but also a lot of yet-to-be-tapped potential in that relationship," Sturgeon said, whilst also stating that trade links with China stand on their own and should not be seen as an alternative to relations with the EU.
"I want to protect our trading relationship with the EU and see expanding trade with countries like China as an addition to that, not a substitute for it," she explained.
Her visit, which starts on April 8, will be Sturgeon's second to China and will take her to Beijing, Shanghai, and Hong Kong before it ends on April 13. The trip will include a series of high-level business and government meetings, as well as education showcases and cultural engagements.
"Since my first visit to China in 2015, more Chinese tourists have visited Scotland and more Chinese students are studying in Scotland, so links between Scotland and China are already strong," she said.
"But I hope that this visit will help to strengthen them further, as we explore new opportunities for Scottish companies entering the Chinese market."
Sturgeon noted that the development of China has been dramatic since reform and opening-up policies were introduced four decades ago, triggering opportunities for collaboration.
From a Scottish perspective, she said there is still much potential in the relationship.
"Energy, for example, is an area where there is already significant collaboration between Scottish and Chinese companies. PetroChina is the co-owner of a Scotland refinery," said Sturgeon, who believes there are a lot of opportunities to work together where there is a clear mutual interest.
The Scottish National Party leader said she is concerned that exiting the EU will reduce the attractiveness of the UK, and noted that she is not confident British Prime Minister Theresa May will reach a deal that will please everyone.
The starting point for a good deal should be a greater realism on May's part about what is achievable and what is in the best interest of the UK, she said.
One way to reduce a lot of the complexity around the talks, and the more extreme risks posed by Brexit, would be for the UK to remain within the European single market.
She said many international investments made in Scotland, including those from China, have been made not only because of the country's strengths and attributes, but also because it is seen as an important gateway to the single market.
"If we stay within that, that doesn't take away all of the risks and downsides of Brexit, but it helps to minimize them, particularly for our economy," she said.
Sturgeon said pushing forward with another referendum on independence for Scotland is also on her agenda – voters rejected the proposal in a ballot in 2014 — but it is not something she would do before there is clarity around the Brexit issue.
"I want Scotland to be independent and I think Scotland will become independent. And my view is, the sooner it happens the better," she added.
(Source: China Daily)