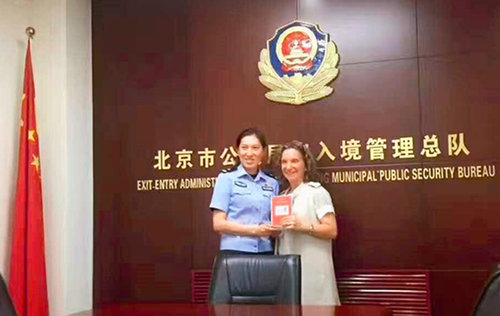 Roberta Lipson (R) receives her permanent residence permit, also referred to as China's green card. [Photo supplied by United Family Healthcare]
"I am very happy that I became a permanent resident of China 38 years after my first visit to this country." Roberta Lipson, board chair and chief executive officer of United Family Healthcare (UFH), wrote the above message, in Chinese, on her WeChat Moments on July 10, 2017. That day, she received her permanent residence permit, also referred to as China's green card. Since Lipson's first visit to China, in 1979, the American woman has witnessed nearly 40 years of vast changes, many of which have taken place in China's healthcare-service industry. In recent years, she has been particularly impressed by the fact Chinese have been paying greater attention — compared with a few decades earlier — to health issues. She was especially glad to see the Chinese Government created an enabling environment for the public to live healthy lives, and that the government provided many supportive policies for hospitals and providers of medical services to develop their businesses.
"We consider your health (to be) extremely personal, and we handle all matters in a highly confidential manner … We strive to treat each patient with respect and dignity, and we ask that you treat your fellow patients as well as our staff in the same manner … We dedicate our lives to caring for others, and we consider caring for you our privilege." The above excerpts were taken from a letter Lipson wrote on the website of her company, UFH, the flagship facility of which is Beijing United Family Hospital.
Thirty-eight years ago, Lipson arrived in China; since then, she has spent more than half of her life working and living in the country. She helped import the B-type ultrasonography technique to China, and she established the first top-quality medical institution run by foreign funds in China.
Lipson considers Beijing to be her "home." She says living in China has given her a chance to make an important contribution, through UFH's network in China, to advance the development and innovation of medical services provided by private hospitals. "I have pursued, over many years, the effective measures to provide high-quality medical services to Chinese patients and their families," she adds.
In November 2014, Lipson received the China Pioneer Award, which was presented by the American Chamber of Commerce in China. She said she was grateful that she was regarded as a "pioneer" in the ever-growing US-China business community. "It has been my honor to lead the way in China's private healthcare sector. I am often asked if there are still opportunities today to be a pioneer in China, and my answer is a resounding 'yes'," she said during her speech at the award ceremony.
Beijing United Family Hospital celebrated the 19th anniversary of its establishment on September 24, 2016. During the celebration, Lipson shared her thoughts on the importance of promoting "high-end healthcare" in China. "People may think a fancy environment and expensive fees mean high-end healthcare. But, for us, high-end healthcare has three important components: First, we want to have care that is continuous and comprehensive, and which starts from prevention; second, we want to do everything based on evidence. If that's the rule (of providing high-end healthcare) in hospital, it means there is no over treatment and no exaggeration; and, third, setting innovative pricing structure … If you put those three things together, that is high-end healthcare," she said at the time.
In Lipson's opinion, Chinese in recent years have paid more attention to the importance of living a safe and healthy lifestyle. For example, many people have quit smoking. The Chinese Government has attached great importance to environmental protection and disease prevention. The rapid development of the Internet and information technology has facilitated communications between patients and their doctors. "The Internet helps patients make contact, more conveniently, with doctors and hospitals. UFH encourages our doctors and experts to use the Internet as an efficient platform to explain healthcare-related information to our patients," Lipson explains.
During a recent interview with China Newsweek, Lipson spoke of Healthy China 2030, a plan to improve public health. The plan was reviewed and approved in 2016 by the CPC (Communist Party of China) Central Committee. "Healthy China 2030 is an important plan approved by high-level leaders of the CPC Central Committee. The plan outlines the country's development goals for improving its medical treatment and healthcare services," she said.
Lipson says she is glad both the Chinese Government and Chinese residents are shouldering their responsibilities in advancing the healthcare-service industry. She says it is not enough to only urge the government to improve healthcare services. "Every person has to pay attention to the food he/she eats to have a balanced diet. It is important to have good living habits, and to have physical checkups on a regular basis," she suggests.
Lipson, who has lived in Beijing for almost four decades, has been impressed by the great changes that have taken place in the city. The traditional quadrangle courtyard, in which she lived 20 years ago, has become a part of a modern commercial district.
"Many people like to compare the United States to 'the land of opportunity.' But I think China has indeed become 'the land of opportunity' during the past few years. Living in such a country, as long as you are willing to do something new, you are likely to have the opportunities to succeed," Lipson says.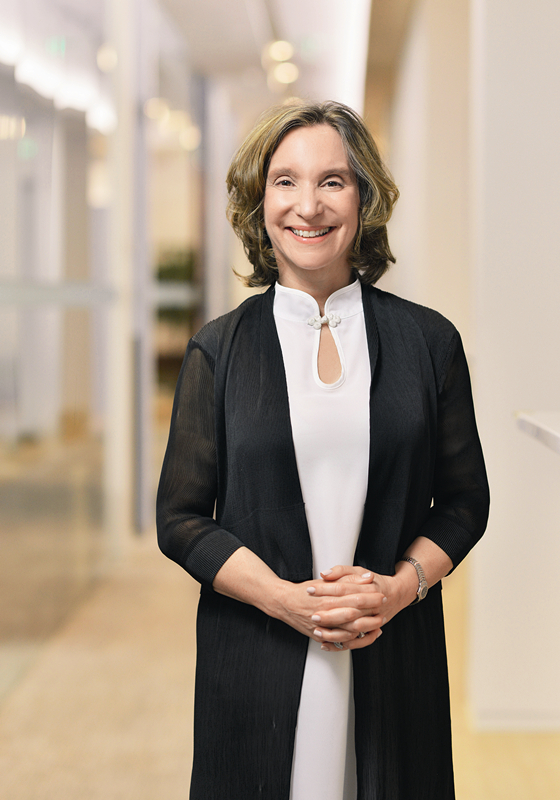 Roberta Lipson [Photo supplied by United Family Healthcare]
Roberta Lipson (L) [Photo supplied by United Family Healthcare]
(Source: Women of China English Monthly September 2017 Issue)