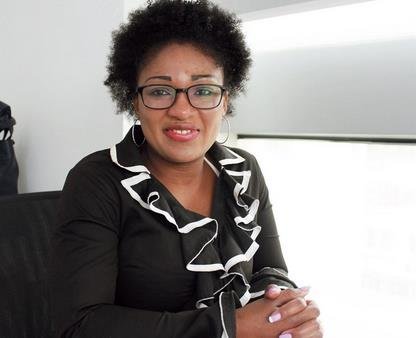 Amehon Essivi [Shanghai Daily]
Amehon Essivi is a fiercely determined, ambitious businesswoman who not only wants success for herself but also tries to help others succeed. And it seems she won't rest on her laurels until that mission is accomplished.
With short, curly hair, the native of Togo in West Africa loves her friends calling her "Sissi," as it was her WeChat account moniker.
After seven years living in Shanghai, Essivi thinks the taxi drivers are one of the most attractive elements of this city.
"I like to talk to taxi drivers. I think Shanghai cabs are very nice," laughes the 38-year-old West African. "I've never met a bad one, maybe I'm just lucky!"
Essivi, a project manager, is also working on her doctoral dissertation at Donghua University. As a businesswoman, she has to juggle with a multitude of business issues which fill her working hours. But, when she's not stressing over the day-to-day problems, reading is her favorite thing in her leisure time.
"I need a quiet place if I want to come up with new ideas. I need to isolate myself," she says.
With present achievements, Essivi is definitely not satisfied. She has big ambitions — to devote herself to the Belt and Road Initiative which will benefit her home nation.
Q: Do you have any impressive stories related to Shanghai?
A: There are always stories because Shanghai is a place of many expats and many businesspeople.
I made a Shanghainese friend who wanted to invest in Africa. And how we met was very unusual because it's on the Metro!
Actually it's his friend who wanted to invest in Africa. They were working on something related to the Belt and Road Initiative, and were looking for market in Africa. But when we met, I was like, "What does he want from me?" I wasn't that confident. Then he gave me his business card and I thought, "Okay, that's fine." And he was very nice, which is rare nowadays because many people are alert to strangers.
He's an old man and tried to comfort me saying that life in Shanghai isn't easy for us expats. At that time I was studying, but also doing research on business management. So, we built up a friendship.
He has helped me a lot and introduced me to a lot of people.
Q: What do you usually do on weekends or in your leisure time in Shanghai?
A: I like to read, so I love going to quiet places where I can read, like Shanghai Library. If I want to have some fun, I will make plans with friends. It all depends.
People who don't know about me think I'm rude, maybe because I just don't laugh all the time. So, when I'm not laughing, or lovely, they are like, "Oh, this lady might be very difficult to befriend."
I get more inspired when I am alone in a quiet place, so I can think more.
Q: Which place in Shanghai do you like best?
A: I like the Bund, and I like the nightclubs. I have two sides — I like being alone and I like being with people as well.
Q: Which road do you like best?
A: I'm not a traveling person, but one road I like is Taikang Road in Dapuqiao area, with many ancient buildings.
Q: Seven years here are not a short time. So what attracts you here?
A: I like the city, it's beautiful, especially at night. I have been learning Chinese for six months and then I did night classes for two years. I completed all their levels.
I like the food here. I'm not picky. And I love the transportation.
Q: What do you hate in Shanghai? I mean, something that makes you feel uneasy?
A: If I had to say something, it wouldn't be about the transportation, which is very convenient!
When you walk on the streets, it's very embarrassing when people are talking about you. You don't feel comfortable. Or taking a picture of you, that's very embarrassing and impolite. And so now kids are doing it even more, and a lot of expats don't like it — it makes them want to get away.
Daily life is very stressful, very difficult. So when you have to face these things on the streets, you will become very angry.
(Source: Shanghai Daily)