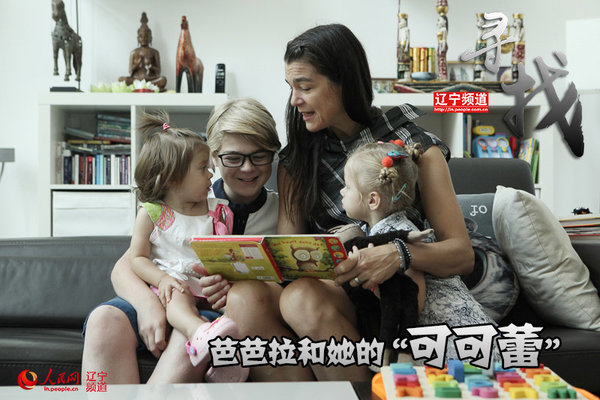 Barbara reads stories to her children. [ln.people.cn]
Barbara Freiman, a woman from Germany, is a mother of three. The five-member family moved to China in January 2015 because of her husband's work.
In many people's eyes, Barbara should enjoy her stable and busy life as a housewife. However, she started her own business only one year after they settled in Shenyang,capital of northeast China's Liaoning Province. She is now the founder and designer of a children's fashion brand "coco & ray." It is known for German design aesthetic and lovingly hand-made features.
After graduation from high school, Barbara was accepted by a university in Germany to major in graphic design. However, she had changed her major to law to satisfy her parents.
Barbara has never given up her design dream. She brought to China a century-old wardrobe. Twenty years ago, she had redesigned and refurbished the wardrobe to its present look. Barbara has many old things at home, for instance, a sewing machine from her grandma and a pair of nearly 100-year-old scissors.
"A good mother and a boss," Barbara's 13-year-old son said when describing his mother. Her youngest daughter is only one-and-a-half years old. Her three children is the reason why she decided to make children's clothes.
"When I came to China, I didn't find the children's clothes here to be beautiful or comfortable," she said.
All "coco & ray" clothes are handmade with selected fabrics and customized buttons. At present, Barbara's studio has six staff, including an experienced pattern maker and tailors. The Liaoning Free Trade Zone opened in April 2017, providing her a good opportunity. One month ago, she registered her own company in the zone.
Barbara hopes to make clothes with unique designs. Therefore, they only make 100 clothes for each style. She will donate the 100th ones to children's welfare houses and encourage consumers to donate their used "coco & ray" products.
Barbara's effort sees gains. On July 1, "coco & ray" held its first fashion show party. She said she would never be able to start her own fashion brand in Europe, because it would be far too expensive to take the risk of starting a new business. In China, she has wonderful tailors to help her designs come to life.
Barbara hopes to expand her studio to a company with 200 staff members in two years. "My husband plans to work here till 2019. However, if my business grows and does well, I will convince him to stay in China, I love this place," she said.
Barbara works in her studio. [ln.people.cn]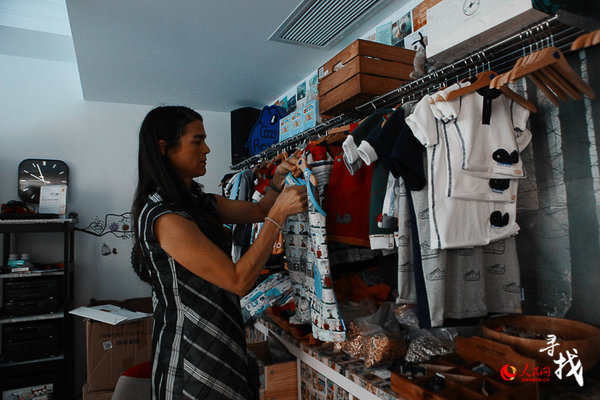 Barbara works in her studio. [ln.people.cn]
Barbara poses in a group photo with her family at the fashion show party. [ln.people.cn]
(Source: en.people.cn)