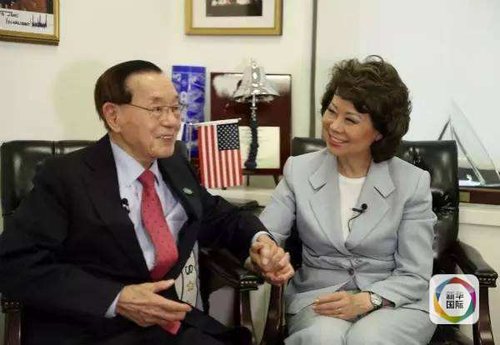 Elaine Chao and her father [Xinhua/Wang Ying]
"I would give him a score of 100 percent," said U.S. Secretary of Transportation Elaine Chao when she talked with Xinhua news agency about her father earlier this month.
Chao is famous among Chinese-Americans as the first in U.S. history to be appointed to the country's cabinet. She previously served under George W. Bush for eight years as secretary of labor.
After Donald Trump assumed office and lead the country, she was entrusted to revitalize infrastructure construction.
In the eyes of Chao's relatives and friends, she is also famous for her virtue of respecting her parents.
Shortly before this year's Father's Day (June 18), she hurried to her home in New York from Washington to celebrate the festival with her relative.
There she was interviewed about her family stories with her 89-year-old dad, James Chao.
Every Day Is Father's Day
The Chao family is famous for its success in educating children. All its six daughters achieved academic success and four were admitted to Harvard Business School.
When talking about his outstanding daughters, the father said: "With six good daughters, for me it is Father's Day every day."
According to him, Elaine Chao – his eldest daughter – gives him a phone call every evening and tries her best to visit him every weekend.
In addition, when taking part in official activities such as going to the White House, boarding Air Force One and giving interviews, she brings him as often as she can.
However, what touched journalists most was the father's feeling when receiving the younger Chao's call.
"Seeing it from the position of a father, she is busy and her duties are heavy, but she still calls me every day. This means she's capable of her work and works methodically," he said.
"Although the calls were just a few minutes long, they indicate she has spent a happy day. This is a great comfort for me."
Everlasting Companionship
When asked about her opinion on the older Chao's rules of conduct as a father, she said: "If I give him a score, I'll give him 100 percent."
"In my memory, he was never absent from any of the important moments of my sisters and me," she explained.
"He's always there, and with my mother. They always put family first."
James Chao did not live a leisurely life. When he first moved to the country, he took three jobs to support his family whilst pursuing his studies.
After he opened a company and went into ship manufacturing and leasing, he became busier.
"Nevertheless, my father has spent lots of time accompanying us," said the daughter.
"He always suspended all the things he was doing to answer our phone calls and solve our questions.
"For us daughters, he's always there. When we need him, he's never away."
Active Interaction
Chao said her father's presence was never a kind of passive and idle existence. Instead, he always created opportunities to interact with them.
When he did housework such as wiping floor, mowing the lawn or repair things, he always asked his daughters to work with him and act as his assistants.
When he met guests and traveled, he also took them with him to show them how to get along with others.
"We began to learn since our childhood how to deliver a speech and have contact with interesting and accomplished people," she added.
"He let us to take part in all of his activities. We saw directly that he acted in good faith, followed his principles and had a correct way of thinking, as well as solving problems creatively."
Loving Wife
Chao said her father loves and cherishes her mother a lot.
"Seeing him respecting her so much, we daughters saw our own value of being women," Chao continued.
"The relationship between a father and his daughters is special. It shapes their view of the world and way of interpersonal contacts."
Chao advised young Chinese fathers to cherish their wives and take good care of their daughters.
"This way, the happiness you obtained for being a father will exceed your expectation," she said.
Elaine Chao and her father [Xinhua/Wang Ying]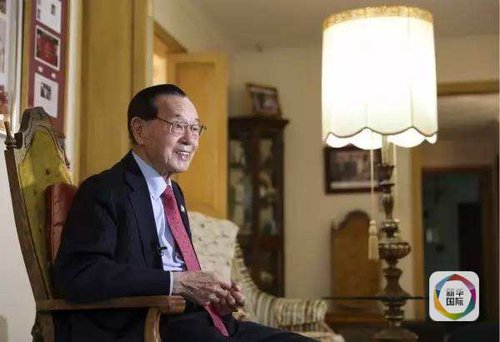 Elaine Chao's father [Xinhua/Wang Ying]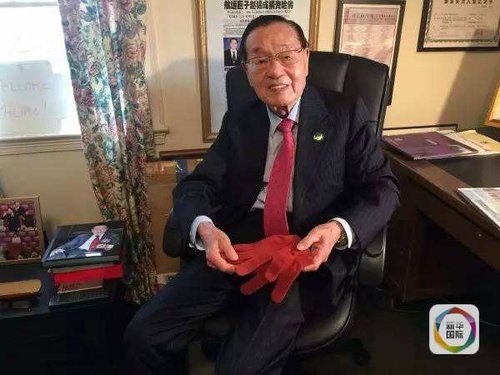 Elaine Chao's father [Xinhua/Wang Ying]
(Source: Xinhua/Translated and edited by Women of China)