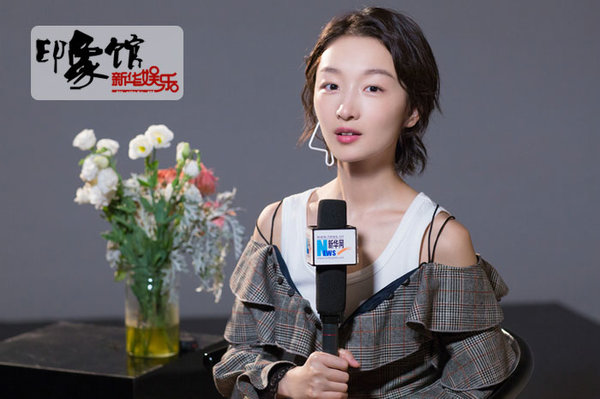 Zhou Dongyu attends the interview. [Xinhua]
"The experience of being an actress for seven years enables me to have access to lots of information and various kinds of people in daily life. Therefore, I have become more mature and self-controlled regardless of what happens," said Zhou Dongyu, 25, a rising star, in a recent interview.
Zhou's debut in the movie industry was her performance in a film Under the Hawthorn Tree, which was directed by prominent Chinese filmmaker Zhang Yimou in 2010 and tells a romantic yet heartbreaking love story between two young people in the 1970s.
During her latest interview, Zhou revealed that the last time she went back to her home in Shijiazhuang, capital city of north China's Hebei Province, was four months ago since she has been preoccupied with various kinds of performances.
To Zhou's delight, all her efforts received positive responses from the public this summer. Her parts in an entertainment show Chinese Restaurant and TV series Shall I Compare You to a Spring Day are proving to be a hit on the screen.
Zhou continued that she has learned a lot from her roles and was willing to challenge herself in the involved shooting stages.
In response to criticism and doubts from the public over her early performance, Zhou chose not to make any explanations but worked hard to consistently improve her performing skills.
Right now, Zhou has become more experienced in her interactions with others and entered into a comfortable state in her life.
In addition, she advises the audiences to give more time and space to young actresses like her to develop.
(Source: Xinhua/Translated and edited by Women of China)