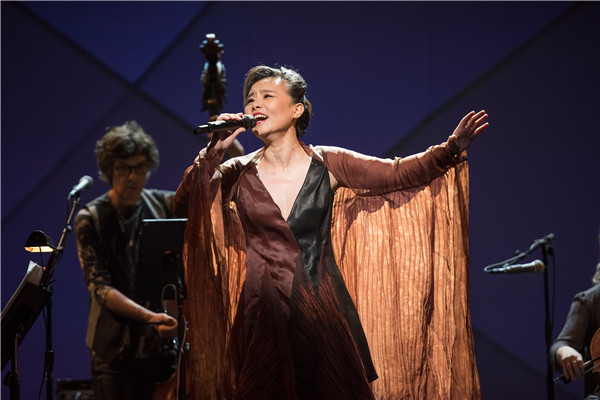 Chinese folk singer Gong Linna. [China Daily]
Cloud River Mountain, a collaborative work by four Western composers, is based on Chinese myths and legends and features the expressive voice of Chinese folk singer Gong Linna. Chen Nan reports.
One day in 2011, while on a tour of China with four other international composers, the American composer Michael Gordon walked into a small music store filled with televisions, all playing different music videos. One in particular caught his attention. It was Gong Linna, a Chinese folk singer known for her expressive voice.
"I had never seen or heard anything like Gong Linna and I was deeply impressed by her performance artistry," recalls Gordon, who, through hand signals, asked the store owner to write down the name of the artist.
A few days later, Gordon attended a symposium on contemporary Chinese music, and one of the speakers was the German composer Robert Zollitsch, Gong's husband.
Gordon and Zollitsch kept in touch and decided to explore the possibilities of cooperation.
Along with fellow composers, Julia Wolfe-his wife-and David Lang, Gordon is the co-founder of Bang on a Can, a New York-based musical organization, which is known for projects such as the annual music festival, Bang on a Can Marathon, and the ensemble Bang on a Can All-Stars.
Gordon and Zollitsch collaborated on a 30-minute set of songs that premiered at the 2015 Bang on a Can Marathon.
This was later expanded into a 70-minute concert, titled Cloud River Mountain, which was performed at the Gerald W. Lynch Theater at John Jay College on July 14 and 15 this year, as part of the annual Lincoln Center Festival, which has been held since 1966.
At the concert, Gong performed 11 songs, with lyrics in both Mandarin and English, composed by Zollitsch, Gordon, Wolfe and Lang.
The four composers also collaborated on an instrumental piece. The music and lyrics were inspired by ancient Chinese poetry and myths, which was an idea initiated by Zollitsch.
"We did rehearsals from 10 am to 5 pm for about a week. With the diverse backgrounds of each composer, we had an amazing experience of cross-cultural musical communication," says Gong.
Born in Guiyang, the capital of Southwest China's Guizhou province, Gong started learning Chinese folk singing at a very young age and enrolled at the Chinese Conservatory of Music in Beijing at age 16.
"I performed not as a singer but also as a storyteller in the concert. Sometimes I sang like one of the mythical figures with sounds of crying and yelling," says the 42-year-old singer.
Since each of the composers has a unique style, Zollitsch gave the composers different materials based on their own styles, Gong says.
For example, American composer Lang, who won the 2010 Grammy Award for best small ensemble performance, composed Moon Goddess, which was inspired by Tang Dynasty (618-907) poet Li Shangyin's work about the goddess who lives on the moon.
Gordon composed the piece, When Yi Shot Down the Sun, which was based on Tian Wen (Asking Questions to Heaven) by Qu Yuan, a poet during the Warring States Period (475-221 BC). The piece tells the Chinese myth of a young archer named Hou Yi, who shot down nine suns to cool the earth.
"It was fascinating to explore Chinese culture and the traditional Chinese vocal performance practices that Gong Linna brings to her singing," says Gordon, adding that Gong is the first Chinese singer they have worked with.
Zollitsch gave each composer the lyrics and a translation of the Chinese myths. "Then they developed their own ideas. It worked much better than I expected," says Zollitsch.
He also brought Chinese sheng (a traditional Chinese wind instrument) player Nie Yunlei to the project for the first time.
"When the sound of the sheng was mixed with Western instruments, such as an electric guitar and clarinet, it functioned as a secret ingredient, powerful and very Chinese," says Zollitsch.
The German composer grew up in Munich, Germany, and came to China on a scholarship to study guqin (the Chinese seven-stringed zither) in Shanghai in 1993.
Before settling down in Beijing, he researched traditional music in the Inner Mongolia and Tibet autonomous regions, while collaborating with a number of Chinese musicians. He met Gong in 2002 and they married in 2004.
In 2009, Gong received rave reviews after she released the song Tan Te (Disturbed) online. Composed by Zollitsch, the song uses sounds rather than words to convey different emotions and moods.
During the past few years, Zollitsch has been working on pieces inspired by poetry of the Tang (618-907) and Song (960-1279) dynasties, hoping to both enliven Chinese music and bring back classical poems to a modern society.
"For years, we have been talking about reviving traditional Chinese music and bringing it to the world. The most important thing is to maintain the unique identity of Chinese music," says Gong.
(Source: China Daily)