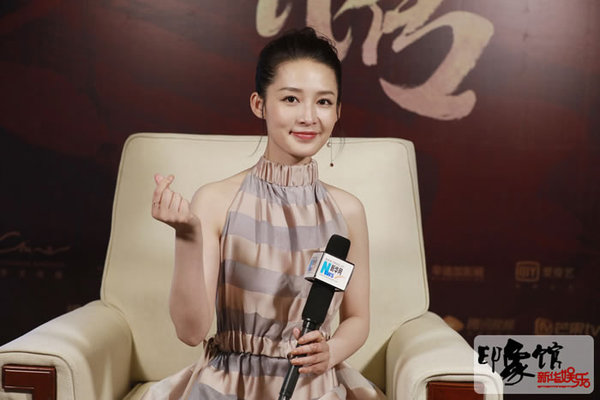 Li Qin gives an exclusive interview to Xinhuanet. [ent.news.cn]
Li Qin, a rising star in domestic movie and TV circles, has never stopped pursuing her goal of playing new roles and presenting a fresh image to the public during each performance.
Li, 27, was born into a family in Suzhou City in east China's Jiangsu Province. She recently gave an exclusive interview about her story to news agency Xinhua.
Li first entered TV circles in 2008, appearing in the small-screen series Dream of the Red Chamber. Back then, she was still a college student majoring in theatrical performance at Shanghai Theatre Academy.
Li said she had never felt regret about her decision to give up theatre and tap her talent in a fresh field.
So far, she has starred in dozens of movies and TV shows, such as White Deer Plain, Princess Agents, Beginning of the Great Revival and Never Gone, all of which continually challenge her abilities in the taking on of different roles.
For instance, during her portrayal of Tian Xiao'e, a principal actress in White Deer Plain, Li gave a pitch-perfect illustration of a rural woman's miserable life, according to critics. The show won her much recognition, and stood in sharp contrast to her previous performances as youthful and innocent characters.
Li noted that the role in various movies and TV series have provided the public with a window to uncover her talent and possibilities, and added that she has greatly enjoyed herself in the process.
(Source: ent.news.cn/Translated and edited by Women of China)