Yang Jie [Women Voice]
Yang Jie, director of the most-watched Chinese TV series ever, Journey to the West, passed away on April 15 at the age of 88.
Born in 1929, Yang was among the very first generation of China's small screen directors, rising to fame after her adaptation of the Chinese literature classic in 1986.
Journey has been re-aired more than 3,000 times in the past three decades.
Yang was born in the city of Macheng in central China's Hubei Province. She worked as a newscaster in Qingdao, east China province Shandong, during wartime, announcing the liberation of the city in 1949.
She was transferred to state broadcaster Central China Television (CCTV) in 1958 and became a director for CCTV's traditional Chinese opera channel in 1961.
A Touching Love Story
Although Yang has a vast number of fans, few of them know the touching love story that took place between the talented director and her husband Wang Chongqiu.
When Yang was in her late 30s, she got to know Wang who had just been transferred from the army. He was also a native of Macheng.
Despite being 14 years younger than her he sympathized with her ideas and feelings, coordinated with her tacitly in work and stood by at her side whenever she felt fear.
They became closer and closer and got married in 1969.
Arduous Shooting Conditions
In 1982, when Yang directed Journey to the West, Wang worked as its sole cameraman.
At that time, the shooting conditions were quite simple and difficult due to the limited budget.
A clumsy TV camera, a heavy video recorder, several ladders, some ropes… These were the entire outfit that the video crew owned.
During the shooting, there was a scene of a princess pursuing a rabbit on a horse. Without telephoto lens nearly 10 crew members had to carry the heavy machine and run after them.
Almost none knew about stunts, nor did they hear about cranes or moving track. All difficulties were overcome with the most basic of old-school methods.
Quiet Life after Retirement
In the next two decades, a successful output at work could not bring its director overnight wealth.
After Journey to the West, Yang also directed many other TV series, all facing budget shortages.
Upon retirement, she and her husband lived a calm and cozy life in an ordinary residential community.
In their daily life they made many feature films with video materials and photos recalling their filming experiences or recording tour journeys.
In 2004, Yang was struck by a serious heart disease and was in a coma for several days due to an infection.
At that time their children were not at their side. Wang tended to his wife in hospital day and night accompanying her through several critically ill moments.
Later, under his encouragement Yang began writing.
In 2012, her book Dare to Ask Where Is Road, which introduced details about how they made Journey to the West, was published.
In 2014, her follow-up autobiography was released as well, receiving further positive reviews from readers.
Yang Jie and her husband [Women Voice]
Wang works during the shooting of the series. [Women Voice]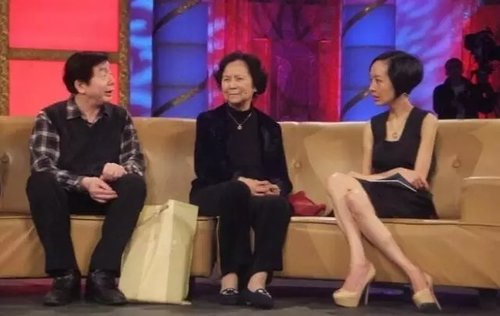 Yang Jie (C) and her husband take part in a TV show. [Women Voice]
Yang Jie (C) and main roles of the series [Women Voice]
(Source: China Women's News/Translated and edited by Women of China)