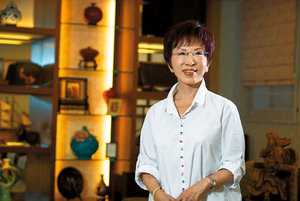 Hung Hsiu-chu was officially selected as the candidate for the KMT to run for leadership. [Photo/Xinhua]
Calling herself the "poorest" candidate in the 2016 Taiwan leadership elections, Hung Hsiu-chu, currently deputy head of Taiwan's legislature, is the only Kuomintang (KMT) candidate to have collected enough signatures to run. On July 20, the KMT officially endorsed her to run for president next January.
Hung, born in New Taipei City in 1948, has kept her seat in the Taiwan's legislature for eight consecutive terms. She is a former deputy chairperson and deputy secretary-general of the ruling KMT. When she was voted as deputy speaker of the legislature, she became the first woman appointed to the post in Taiwan's history. During her tenures, she has mainly focused on educational issues, working unswervingly to promote legislation on education reform, dropout students and benefits for teachers.
In mid-June, the KMT announced that Hung would run for the elections slated for next January after averaging 46.2 percent support within the Party's official primaries. Firmly embracing the anti-independence creed and advocating a peaceful and stable society, she is the only candidate in the campaign welcomed by the Chinese central government.
Adverse Circumstances Throughout Childhood
Hung was born to a family persecuted during Taiwan's "White Terror" and suffered numerous hardships throughout her childhood. Her father Hung Tzu-yu worked for the government Monopoly Bureau on the Chinese mainland and moved to Taiwan with the KMT government in 1946. As deputy manager of a sugar factory affiliated to Taiwan Sugar Corporation, he failed to escape the mass political persecutions in 1950.
Though eventually acquitted on the charge of being related to the Communist Party, he was still sentenced to over three years in jail for so-called "re-education" and failed in finding a job after his release for the ensuing four decades due to his imprisonment record.
With her father doing a part-time ghostwriting job and her mother working laboriously for a factory, the whole family struggled. Hung had to share a single bed with her younger sister until she was 20 years old and the family relied on pawning their belongings to scramble along.
"I remember that the police visited our house frequently when I was a child. My parents sometimes frightened the children by saying that the police will visit if we misbehaved," Hung recalled.
However, her father never complained much about the injustice in front of the family, trying to create a healthy and relaxing environment for his children to grow up in: "Although my father had resentments toward the authorities, regrets within his heart, and guilt for the family and children, he never expressed those feelings. I only heard him complain once to my mother, 'Haven't the KMT hurt us enough?'"
Eloquent Genius at School
While at Dongyuan Elementary School and Taipei Second Girls' High School, Hung was adept at public speaking and storytelling contests at which she won many awards. When she won the first place in a storytelling competition in the fifth grade, a report in The China Times called her "the talkative little genius."
She excelled in speech and writing but did poorly at mathematics. As her father expected her to study law in university because of his own experience of being misjudged, she applied to six law schools all at once and was admitted to the Taipei-based College of Chinese Culture (the present-day Chinese Culture University). She received a tuition-waiver scholarship owing to her top scores and helped support her family by working as a part-time teacher in her spare time.
Unfortunately, upon graduation in 1970, she failed the bar examination on the first try. But thanks to a policy issued by Taiwan's educational authority to extend compulsory education to nine years, she acquired an opportunity to become a teacher. She served for Xihu High School of Industry and Commerce and Taipei County Municipal Xiufeng Senior High School for 10 years altogether. That is one reason why she has always attached importance to the sphere of education during her legislative tenures.
Hung left for Northeast Missouri University (now Truman State University) in the U.S. to seek a master's degree in the 1980s and also engaged herself in continuing curricula at Taiwan-based National Chengchi University and National Taiwan Normal University.
Stepping into the Circle of Politics
Recommended by her Dean as an excellent student, Hung joined the KMT as an 11th grader. She worked at the women's division of the KMT's Taiwan Provincial Branch beginning in 1980 and was at the Taipei-based headquarters for three years.
She participated in the campaign of the first legislative election in 1989. Despite many obstacles, she still managed to get nominated by marginal votes. "My father passed away at the moment when I won the primary. It seemed that he was waiting for the final confirmation.... I was whispering in his ear: bless me with the nomination if you want me to embark on my career in this path of politics," she said. That was the start of her three-decade career in Taiwan's legislature.
During her tenures, she was occupied in the Education and Culture Committee for many years. And in February 2012 she was voted the first female deputy head of the legislative body with a landslide 69 votes.
Meanwhile, she was named vice-president of the KMT to succeed her resigned predecessor Tseng Yung-chuan. When the KMT suffered a crushing defeat in local elections late last year and forced Taiwan leader Ma Ying-jeou to step down from the Party chairmanship, Hung was nominated to be the acting secretary-general by the Party's central committee. She was released from this post in January 2015 shortly after Eric Chu was elected as KMT chairperson.
Advantages in the Upcoming General Elections
Hung is indeed a dark horse among the candidates. The relatively high approval rating of more than 46 percent in primary polls has demonstrated her unique charisma, compared to her powerful rival Tsai Ing-wen, leader of and former vice-premier of the Democratic Progressive Party (DPP).
Hung is known as "little hot pepper" for her frank and bold rhetoric on government bills, the opposition Party and other politicians. Thanks to her abundant experience in Taiwan's political circle, she is qualified for the candidacy of the elections. She has been compared to a refreshing breeze blowing through the island with her clear-cut stand and courageous attitude; some say she has outshone other astute or shrewd politicians.
At a meeting of the KMT's central standing committee in early June, Hung restated her strong position in a speech outlining her idea of running for president. She pledged to overturn the pro-independence brand advocated by the DPP and expressed in an explicit way that she would spare no effort to clinch a cross-Straits peace agreement which, in her words, would help "properly situate cross-Straits political status" and edge Taiwan into effective regional economic cooperation, to attract global elites and inject new vigor to the island's development. Her words and deeds fully demonstrate her courage, decisiveness and frankness, according to commentators.
Hung also envisioned her policy platform for running the island, involving the "four Gs": giving people confidence, giving people hope, giving people convenience and giving people joy. She expects to lead the KMT on a correct path, firmly rejecting populism, vulgarity, and moral bankruptcy, she said.
In addition, Hung's humble background has earned her the favor of KMT voters already fed up with the Party's perennial elite politics. In the eyes of Taiwan residents, most KMT members are sophisticated, slippery and arrogant, said one commentator. In contrast, Hung seems fully capable of dealing with complicated and intertwined relations within the KMT in a simplified way.
"When people think of KMT leaders, they think of the children or grandchildren of rich and powerful families. But Hung looks different… Her image could weaken these negative stereotypes," said Joseph Wu Jau-shieh, a research fellow at the Institute of International Relations, National Chengchi University.
Her meticulous care for disadvantaged groups has helped her win strong endorsement from grass-roots voters. And in the Taiwan local elections, known as the "nine-in-one" elections in November 2014, some said that the fiasco of the KMT's poor results largely came from voters' disappointment at Ma's team instead of the whole pan-blue camp. Therefore, Hung's standing for election will regain the ballot for the KMT, she hopes.
Hung lacks the conventional edge a presidential candidate is supposed to have compared with her tough rival Tsai Ing-wen who comes from a rich family and boasts a respectable educational background, which, however, have been reduced to weaknesses since Hung appeared. Her common family background and approachable style are anticipated by some to win the hearts of young voters resentful of powerful politics dominating the island.
It could be fair to say that Hung, with no money but full of enthusiasm, iron will, courage and insight, is the significant hope of the KMT party to continue its power in Taiwan and further warm its relations with the mainland.
Expectations for the Tough Female Candidate
Despite her personal charm among the masses, Hung lacks the credentials as a provincial leader since she has never led a local administration and has few connections in the southern region, DPP's stronghold. Hence, some say that she needs to display more tolerance to attract the elite from all walks of life and in particular from non-pan-blue camps; further interact with residents in central and southern parts of Taiwan; and manage to get approval and support of the Chinese mainland, the U.S. and the international community at large.