5 Foreign Women Leaders Make Their Mark at Belt, Road Forum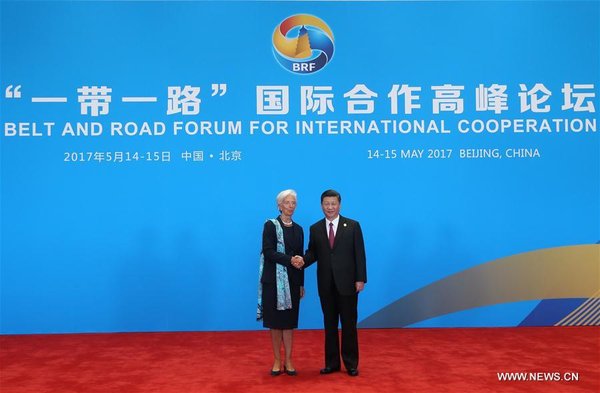 Chinese President Xi Jinping(R) welcomes Christine Lagarde, managing director of the International Monetary Fund (IMF), before the Leaders' Roundtable Summit of the Belt and Road Forum (BRF) for International Cooperation at Yanqi Lake International Convention Center in Beijing, capital of China, May 15, 2017. [Xinhua/Yao Dawei]
Five female foreign leaders stood out at the Belt and Road Forum for International Cooperation on May 14-15 in Beijing.
They included: Chilean President Michelle Bachelet, Myanmar State Counselor Aung San Suu Kyi, Polish Prime Minister Beata Szydlo, Swiss Confederation President Doris Leuthard and International Monetary Fund (IMF) Managing Director Christine Lagarde.
Let's take a look what they said at the big event.
Michelle Bachelet: Belt, Road Initiative Accords with Chile's Development Strategy
"We welcome China's efforts in proposing the Belt and Road Initiative, which has become one of today's most important schemes for promoting world economic cooperation," said Bachelet.
After listening to Chinese President Xi Jinping's keynote speech on May 14, Bachelet stated, "Chile hopes that the initiative can open its markets and facilitate the development of trade and tourism, as well as in other fields."
Although Chile is not on the ancient Silk Road route, it has attached much importance to the scheme. When giving an interview, she claimed that participating in the event is significant for her country as it marks a milestone in the promotion of China's international status.
She believes the initiative well matches the open trade policy that Chile has been committed to for many years. It aims at including all nations into the global value chain by improving infrastructure levels, which agrees with Chile's own development strategies.
It will also usher Chile-China relations into a new phase, no longer limited to the export or import of raw materials but expanding it to new and increased areas of partnership.
China and Chile have always maintained friendly relations over the past few decades. While attending a China-Chile Agricultural and Commercial Forum on May 13, Bachelet noted in her speech that the two sides have kept a close connection in various fields such as politics, the economy and culture.
In 2006, Bachelet became the first ever female president of a South American country. In 2013, she was re-elected as Chilean president for a second time, becoming the only person to have won the country's presidency twice in competitive elections since 1932.
According to Chile's constitution, it stipulates that the president's term of office is four years. Hence, in 2011, between terms, Bachelet was appointed as executive director of the United Nations Entity for Gender Equality and the Empowerment of Women.
With the increasing economic and trade cooperation between the two countries, Bachelet has paid frequent visits to China in recent years. She concluded that Chile hopes to play a leading role in the "new sea route" across the Pacific. This "new sea route" includes virtual routes such as digital connectivity, e-commerce and a financial mechanism for currency exchange, as well as traditional maritime, land and air links, say officials.
In her view, it is important to project the ancient Silk Road onto her continent and open up new areas of cooperation and opportunity for both countries.
Aung San Suu Kyi: Belt, Road Initiative Is Expected to Bring Fruitful Win-Win Results
"When I was a child, I heard about the ancient Silk Road. It was quite artistic and romantic. I hope the initiative can obtain fruitful results favorable for all parties," said Aung San Suu Kyi.
Myanmar is a key section of the 21st Century Maritime Silk Road. It will gain a unique advantage from the construction of an economic zone across China, Bangladesh, India and Myanmar.
At the event, Suu Kyi expressed her hope that both countries can jointly maintain peace and stability on the border. She has always dedicated herself to promoting China-Myanmar relations over the past few years, she said.
As a legendary figure in Myanmar and in Asia, Suu Kyi's life can be roughly divided into two parts.
In 1988, when she returned to her country to see her mother, she played a leading role in setting up a National League for Democracy to fight against government oppression. Due to this, she was arrested for close to 15 years and was released in November 2010.
In June 2015, she led a delegation from the National League for Democracy to visit Shanghai. During her tour, she concluded, "Any country or city's economic development cannot be separated from its social progress.
"Shanghai has made great achievements in its economic area. It must have its own successful experience in social development."
Although her visit to Shanghai was brief, Suu Kyi claimed she learned a lot about China, admiring the Communist Party of China Central Committee's determination and efforts in combating corruption.
"It is believed that China-Myanmar friendly relations and cooperation will become better and better," Suu Kyi said.
Upon visiting China in 2016, Suu Kyi had become Myanmar State Counselor. "To maintain world stability, peace and development, I hope both our countries can have smooth cooperation and make joint efforts in future."
Beata Szydlo: Belt, Road Initiative Helps Facilitate China-Poland Connectivity, Trade
Poland was one of the first countries to establish diplomatic ties with China. When meeting with President Xi on May 12, Beata Szydlo stated the Chinese leader's visit to Poland in June last year had significantly promoted bilateral ties and win-win cooperation.
Szydlo said the latest initiative is of key importance to not only to Poland, but also for the world's balanced and sustainable development.
Poland is willing to actively cooperate under the Belt and Road framework in areas such as infrastructure, and to collaborate with relevant parties in cultural, investment, high-tech and tourism sectors, she said.
Szydlo added that all these will contribute to trade and inter-connectivity between China and Poland as well as Europe at large.
Meanwhile, she hoped to further strengthen trade and economic cooperation. During her visit, she signed an agreement with China in terms of promoting sectors in tourism and environmental protection.
"These have proved that Poland has become an increasingly significant partner for China in the economic area."
According to Xinhua News, Szydlo introduced plans for a new Polish airport project during the forum, regarding it as a priority in future cooperation.
Szydlo entered into a political career in 1998. She was appointed as a member of the Parliament of Poland in 2005. Ten years later, she was elected as Prime Minister, becoming the third female to hold such a position in her country.
Doris Leuthard: Belt, Road Initiative Makes Big Difference in Promoting Regional Infrastructure
Doris Leuthard delivered a keynote speech at a meeting themed "Politics Communication" on May 14, emphasizing its importance in advancing the initiative through an example.
She said European countries used to have different standards of railway gauge and power plugs, which had caused lots of difficulties in connectivity. In the following few years, these countries in Europe have solved this problem through "political communication" while lowering their cooperation cost and facilitating the flow of people and trade.
She believed that it is also of the same significance in carrying forward the initiative, hoping to conduct high-level practical cooperation between two countries.
Swiss forged diplomatic ties with China in 1950. It was one of the first Western countries to recognize the People's Republic of China in 1950, and among the first European countries to recognize China's market economy status.
In addition, it was also the first nation in continental Europe to sign Free Trade Agreement (FTA) with China.
Since 2016 the two nations have quickened its process of development. At the beginning of this year, President Xi paid a state visit to Switzerland. During the tour, the two sides have jointly launch a China-Switzerland Year of Tourism in 2017 while signing around 10 agreements in areas such as innovation, culture and free trade.
"Today's world needs China's support and influence. Improving Eurasian infrastructure and strengthening personal exchanges agree with Switzerland's interest. The initiative will bring more opportunities for Swiss companies," said Leuthard.
On May 13, Leuthard attended the third China-Switzerland Commercial Awards ceremony, saying Switzerland is willing to share its experience with China and contribute its efforts to promote the initiative.
Christine Lagarde: 'Intelligent Economy' to Offer Women More Opportunities
At the forum, Christine Lagarde made a speech and put forward several suggestions about the initiative.
Lagarde said the scheme is a historic move since it will play a vital role in facilitating trade connectivity. She hopes China will continue to exert a leading influence on global business in future.
When attending a sub-forum on the theme of "Finance Connectivity" held by People's Bank of China and Ministry of Finance, Lagarde maintained, "The initiative connects culture, the economy, groups and people, which will help improve living standards and well-being."
Aside from this, Lagarde believes that accomplishing the goal of the initiative can bring huge economic benefits to countries across the globe.
"Building better roads to rural villages in developing countries can increase its productivity and help more children access education. Meanwhile, they can also assist more women to be involved in economy."
In June 2011, Lagarde was named Managing Director of the IMF and she held various ministerial posts in the French government at that time.
She became the only female Managing Director of the IMF in 1944.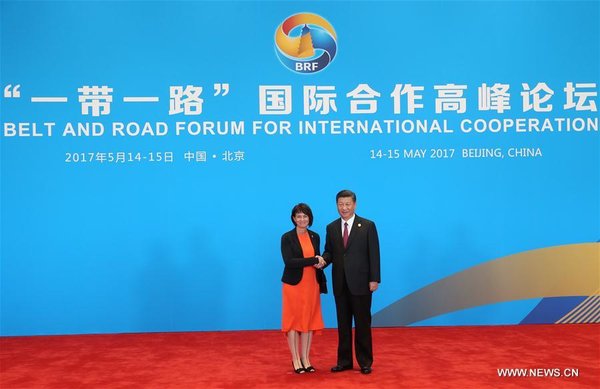 Chinese President Xi Jinping welcomes Swiss President Doris Leuthard before the Leaders' Roundtable Summit of the Belt and Road Forum (BRF) for International Cooperation at Yanqi Lake International Convention Center in Beijing, capital of China, May 15, 2017. [Xinhua/Yao Dawei]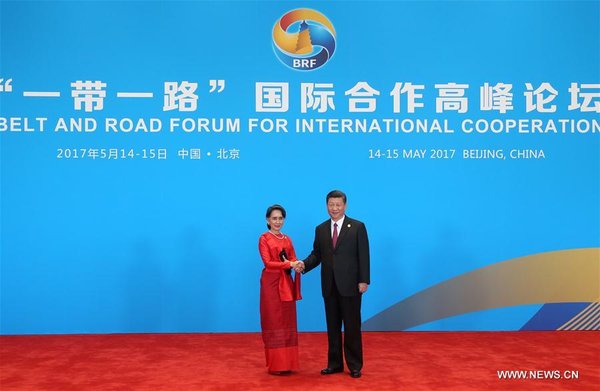 Chinese President Xi Jinping(R) welcomes Myanmar State Counselor Aung San Suu Kyi before the Leaders' Roundtable Summit of the Belt and Road Forum (BRF) for International Cooperation at Yanqi Lake International Convention Center in Beijing, capital of China, May 15, 2017. [Xinhua/Yao Dawei]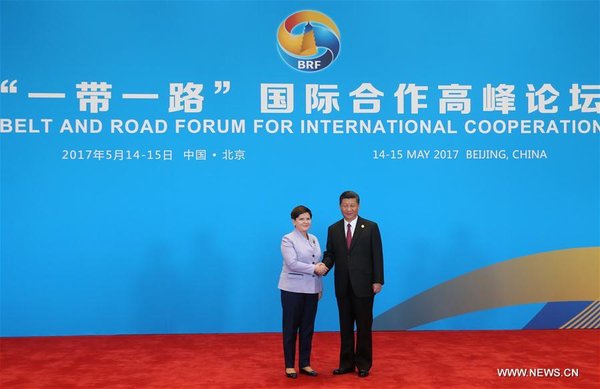 Chinese President Xi Jinping welcomes Polish Prime Minister Beata Szydlo before the Leaders' Roundtable Summit at the Belt and Road Forum (BRF) for International Cooperation at Yanqi Lake International Convention Center in Beijing, capital of China, May 15, 2017. [Xinhua/Yao Dawei]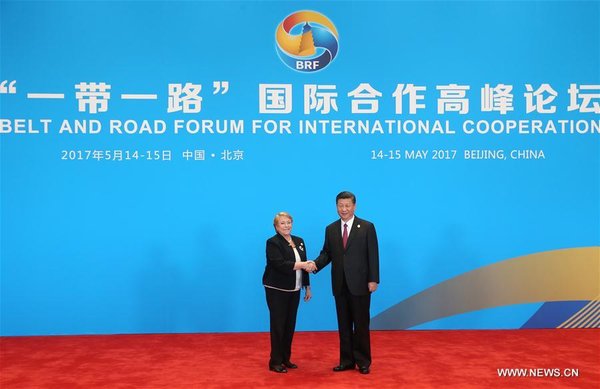 Chinese President Xi Jinping welcomes Chilean President Michelle Bachelet before the Leaders' Roundtable Summit at the Belt and Road Forum (BRF) for International Cooperation at Yanqi Lake International Convention Center in Beijing, capital of China, May 15, 2017. [Xinhua/Yao Dawei]
(Source:China Women's News,Global Times,Xinhua/Translated and edited by Women of China)
Please understand that womenofchina.cn,a non-profit, information-communication website, cannot reach every writer before using articles and images. For copyright issues, please contact us by emailing: website@womenofchina.cn. The articles published and opinions expressed on this website represent the opinions of writers and are not necessarily shared by womenofchina.cn.

Comments