ACWF Donates Sewing Machines to ANCWL of South Africa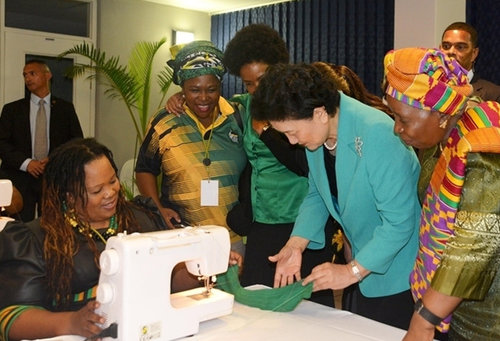 Vice-Premier Liu Yandong attends a ceremony where the All-China Women's Federation (ACWF) donated sewing machines to the African National Congress Women's League in Durban, South Africa, on April 26. [Xinhua]
As a supporting activity of the China-South African High-Level People-to-People Exchange Mechanism, the All-China Women's Federation (ACWF) and the African National Congress Women's League (ANCWL) co-hosted a donation ceremony of 320 sewing machines from ACWF to ANCWL on April 26 in Durban, South Africa.
Those in attendance at the event included Chinese Vice-Premier Liu Yandong; Vice-President and Member of the Secretariat of the ACWF Zhang Xiaolan; ANCWL President Bathabile Dlamini; South African Foreign Minister Maite Nkoana-Mashabane; and more than 100 officials and women representatives from China and South Africa.
At the event, Liu listened to the introduction on ANCWL's sewing machine skills training scheme and watched a demonstration. She said that, despite the remote distance between China and South Africa, the friendship between the two sides is "strong and robust."
Chinese women regard South African women as their close sisters, and exchanges between them are important components of China-South Africa people-to-people exchanges, which plays a unique and active role in promoting the bilateral relationship, stressed Liu.
Chinese women have entrusted their best wishes to South African women to achieve their life dreams through this donation, she added.
Stressing that women's development is a major part of the advancement of human civilization, Liu said, during the process of achieving self-development, Chinese women are willing to make greater contributions to the global women's movement.
She recalled the four proposals on global women's development put forward by Chinese President Xi Jinping at the Global Leaders' Meeting on Gender Equality and Women's Empowerment at the UN headquarters in New York in 2015.
The proposals included: striving for women's development in tandem with social and economic progress; protecting women's rights and interests; jointly building harmonious and inclusive societies; and fostering a global environment conducive to women's development.
Noting that both China and South Africa are major developing countries and emerging market economies, Liu said enhanced bilateral cooperation would not only foster women's welfare in the two nations, but also be of great significance in promoting global gender equality.
China will increase the sharing of its experience with South Africa in terms of women's education, public health, poverty reduction and equal employment, she said.
China also hopes more women will join China-South African people-to-people exchange and make more contributions to women's empowerment across the world.
Zhang Xiaolan said in her speech that the sewing machines donated by the ACWF will be used to conduct skills training and help South African women raise their self-development levels.
The ACWF and ANCWL will continue to strengthen communication and cooperation, inherit fine traditions hand-in-hand, and strive in their efforts for the constant progress of global gender equality, commented Zhang.
Zhang also handed over the list of donated equipment to the ANCWL on behalf of the ACWF, and accompanied Liu to watch the learners' demonstrations.
The South African side commented that China offered South Africa great support and help both in its anti-apartheid struggle and in its construction period, to support African countries' realization of peace and development. They expressed their appreciation to China for its support and help when the country was in great difficulties.
South African women cherish the friendship with Chinese women and hope to enhance cooperation with their Chinese counterparts, added the South African side.
Local women representatives performed at the ceremony to express their thanks.
The China-South African High-Level People-to-People Exchange Mechanism is the first of its kind between China and African countries, covering a wide range of areas such as education, culture, science and technology, health, youth, women's issues, sports, think tanks, press and tourism.
The mechanism is significant for establishing a new people-to-people exchange pattern with multilateral participation, and for the promotion of China-South Africa comprehensive strategic partnership. It is also meaningful for the building of a closer sharing future between China and South Africa as well as other African countries, officials noted.
China and South Africa inaugurated the people-to-people exchange mechanism and hosted its first meeting in Pretoria on April 24, which was attended by Chinese Vice-Premier and Co-chairperson of the Mechanism Liu Yandong and South African Minister of Arts and Culture and Co-chairperson of the Mechanism Nathi Mthethwa.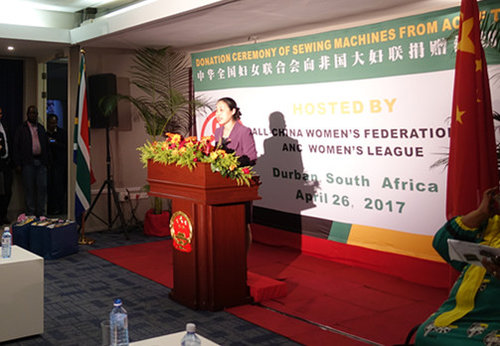 Zhang Xiaolan, vice-president and member of the Secretariat of the ACWF, speaks during the ceremony. [Women of China]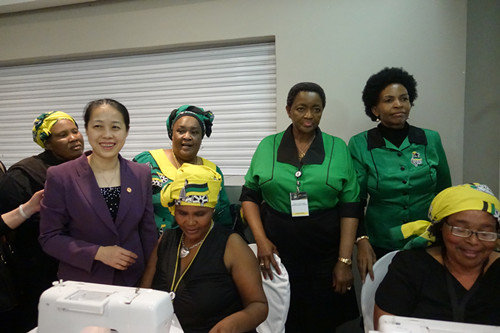 Zhang Xiaolan watches South African women representatives display their sewing skills. [Women of China]
(Women of China)
Please understand that womenofchina.cn,a non-profit, information-communication website, cannot reach every writer before using articles and images. For copyright issues, please contact us by emailing: website@womenofchina.cn. The articles published and opinions expressed on this website represent the opinions of writers and are not necessarily shared by womenofchina.cn.

Comments