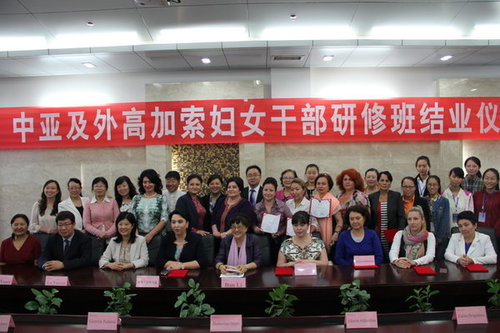 Attendees at the closing ceremony of the seminar [Women of China]
Nineteen female officials, and representatives of women's organizations in nine countries, attended a seminar from September 14-25, 2014 on the theme of "Boosting 'She' Power and Enhancing the Silk Road Economic Belt" in China.
As proposed by China's President Xi Jinping in 2013, the aforementioned "Belt" is designed to facilitate trade and investment; and, improve connectivity, trade, monetary cooperation and people-to-people exchanges.
Chinese experts made presentations on several subjects including the progress of promoting gender equality, women's organizations, the "Chinese Dream", modern China's society and the revival of traditional Chinese culture.
Participants were interested in China's economic development and its family planning policies.
Chinese representatives explained the country's policies in related areas as well as its independent foreign policy of peace.
In addition, officials went to Yinchuan in northwest China's Ningxia Hui Autonomous Region and Xi'an in northwest China's Shaanxi Province to visit local women-related projects.
Representatives also visited several cultural exhibitions along their trip.
One attendee said, "The Belt should bring more cooperation and fruits for countries involved. All countries en route should remember that it was China who initiated this great project."
Attendants introduced women's development in their countries and gave concrete proposals on how to improve women's engagement during the construction of the economic belt.
Furthermore, low-scale dialogues were held to better improve understanding among, with to the joint efforts of the All-China Women's Federation (ACWF) and China Association for NGO Cooperation.
(Women of China)