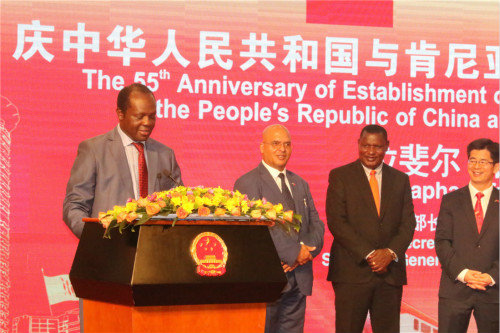 Raphael Tuju, cabinet secretary and secretary-general of the Jubilee Party, says the China-Kenya relationship has weathered all odds. [China Daily/Liu Hongjie]
The Chinese embassy in Kenya on Friday hosted a reception marking the 55th anniversary of the establishment of China-Kenya diplomatic relations.
Embassy charge d'affaires Li Xuhang said the period has brought with it political, economic and social transformation for both countries and has brought both countries closer together.
"China-Kenya relations are at a new historical point, with unprecedented opportunities and broad prospects. Facing the future, we will continue to uphold the principles of strategic mutual trust, win-win cooperation with shared benefits, and push forward the better alignment of the Belt and Road Initiative and Eight Major Action Plans of the Forum on China-Africa Cooperation Beijing Summit with Kenya's Big Four Agenda, to achieve faster and greater development of China-Kenya relations," said Li.
In attendance were Raphael Tuju, cabinet secretary and secretary-general of the Jubilee Party, Aden Duale, majority leader of the National Assembly, Shakeel Shabbir, chairperson of the Kenya-China Friendship Group of the Parliament, Richard Tong'i, vice chairperson of the departmental committee on Defense and Foreign Relations of the Parliament, and Sarah Serem, ambassador-designate to China.
In his address, Tuju said China had contributed significantly to Africa's struggle for freedom against colonialism and that this cooperation has grown and is now witnessed in development projects, including infrastructure expansion, agriculture modernization, industrialization and skill transfer.
"Kenya is investing in growing its cooperation with China. We know this is causing jitters in other quarters but China is the second largest economy globally and this has been achieved in only two decades. There are some invaluable lessons Kenya and other Africa countries can borrow, and we can be successful through serious and concerted efforts," he said.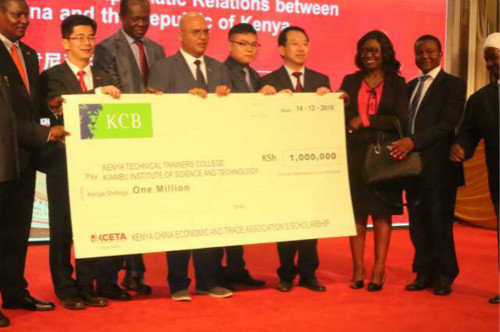 A $10,000 cheque presented to education institutions. [China Daily/Liu Hongjie]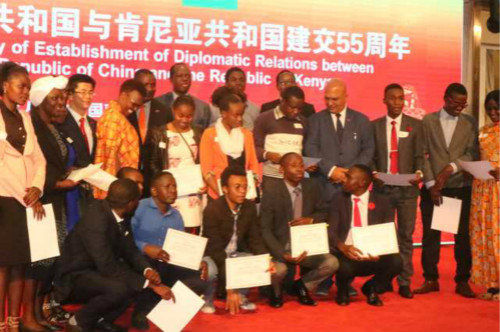 The Chinese embassy in Kenya hands several students government scholarships to study in Chinese universities. [China Daily/Liu Hongjie]
(Source: China Daily)