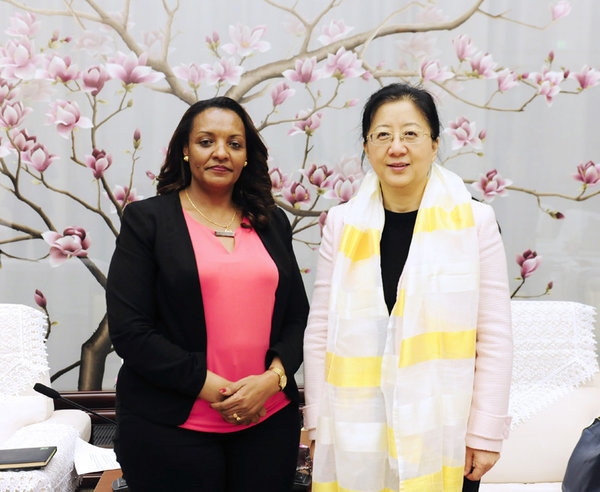 Xia Jie (R), vice-president of the ACWF and Bizunesh Meseret (L), state minister of women and children affairs of Ethiopia [Women of China]
At the invitation of the All-China Women's Federation (ACWF), a delegation of women's officials from Ethiopia paid a friendly visit to Beijing and Tianjin from April 4-9, 2017.
The delegation was led by Bizunesh Meseret, state minister of women and children affairs of Ethiopia.
It was the first delegation sent by the ministry after its new leaders took office at the end of 2016.
Most of the members of the ministry were visiting China for the first time. Officials from the ACWF arranged a schedule to help them learn about China's development and work on women from different perspectives despite their limited time.
First, the delegation went to China Women's University in Beijing to attend the opening ceremony of a campus seminar on the development of social management ability of female officials in developing countries.
Members of the delegation communicated with the students in the training class as well as two Ethiopian postgraduates who were studying for master's degrees.
After learning about the curriculum, teaching methods and students' employment situation, the visitors praised the university for its advanced teaching ideas, focus on practical effects and training of talents useful for society.
Later, they toured China National Museum of Women and Children, where they admired China's outstanding history and abundant cultural heritages.
They also visited China National Children's Center in Beijing and Dream Making Space, a children's maker workshop in Tianjin. They visited various training classes organized for children of different ages and experienced ancient Chinese papermaking and printing technologies.
At the Coastal International Science Park of Flowers and Plants in Tianjin's Dongli District, they inquired about information of the local companies, such as their production and operation models, technological development strength, sales channels, and the ratio and specific posts of female employees.
After the visits, Meseret said she would introduce Chinese experience and advanced technologies to her country and bring such benefits to more women and children.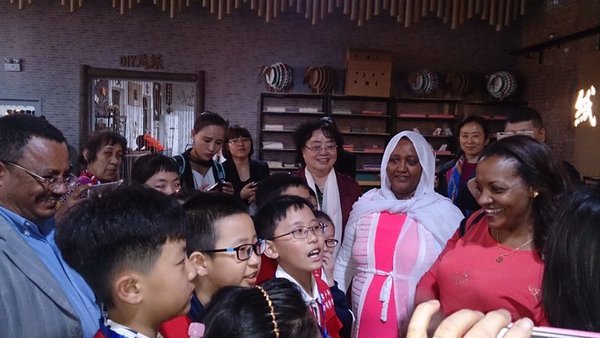 Members of the delegation communicate with children. [Women of China]