A Fascinating Job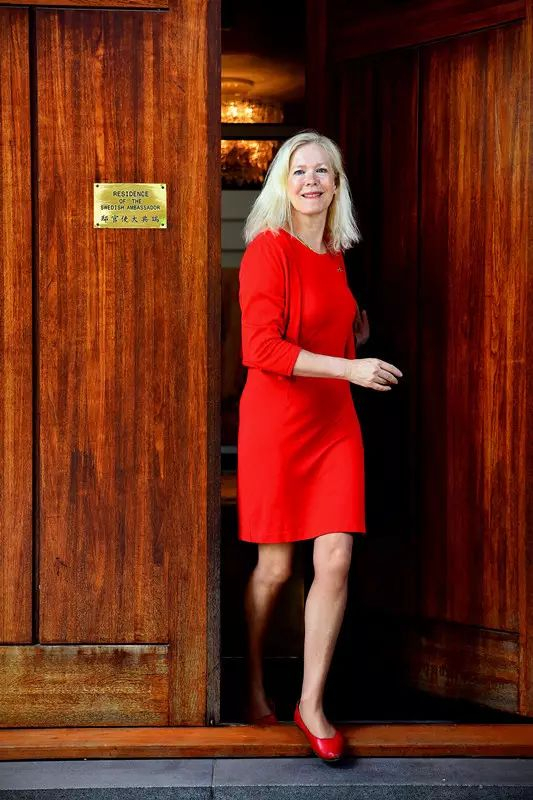 Anna Lindstedt [Women of China/Zhang Ping]
In her residence in the Swedish embassy, ambassador Anna Lindstedt has a big portrait of her family. That painting makes her feel at home even though she is in her official residence in Beijing. Sweden and the People's Republic of China (PRC) established diplomatic relations in 1950. Sweden, in fact, was the first Western country to establish diplomatic relations with PRC. Sweden's National Day falls on June 6.
Women of China (WOC) recently conducted an interview with Lindstedt, who said "it is fascinating to be the ambassador who works in our biggest embassy worldwide, and also in one of the most important countries in the world."
The following is WOC's interview with Lindstedt, in question-and-answer format:
Q: What activities are being planned by your embassy to deepen the long-time friendship between Sweden and China?
A: As the first country in the West that established diplomatic relations with PRC, Sweden has continuously been organizing events, in our embassy in China, to mark our long-time friendship. For Sweden's upcoming National Day celebration, we will host a big reception, during which we will invite a variety of representatives from the Swedish and diplomatic community as well as our Chinese contacts and friends here.
In fact, we organize seminars, workshops and activities to enhance people-to-people exchanges all the time. This year, we will have many activities that will highlight sustainable consumption and the circular economy, which will emphasize the recycling of limited resources, such as dealing with food waste and developing methods to use resources in a more efficient way to save energy.
Throughout this year, we will organize cultural exchange activities, including music, dances, theater performances and art exhibitions. Now, we have a Scandinavian center in Jingdezhen (in East China's Jiangxi Province) and a Nordic center in Kunming (in Southwest China's Yunnan Province).
Recently, we launched a campaign on our social media platform. Between Mother's Day in China (May 14) and Mother's Day in Sweden (May 28), we encouraged followers of the embassy's WeChat account to share stories about their mothers, and to help promote women's empowerment.
Q: Had you visited China before you assumed the post as Swedish ambassador in September 2016?
A: Before I assumed my current post, I was Sweden's ambassador for climate change, between 2011-2016, and I visited China several times. I had close dialogues with my Chinese counterparts, who worked in the climate-change sector. I took part in the negotiations that eventually resulted in the adoption of the Paris Agreement (on December 12, 2015). It was fascinating to work with Chinese people, and to see how China assumed its growing leadership on issues related to climate change.
My first visit to China was in 2005, when I was Swedish ambassador to Vietnam. Since then, I have noticed that China has continuously been developing fast. It is exciting to witness the rapid development of innovative energy resources, and the rising public awareness of environmental protection in today's China.
Q: Sweden has many policies that support environmental protection. Can Sweden share some good practices with China to help us improve our environment?
A: Sweden has set a goal, which has been approved by our parliament. According to the climate-change law of our country, Sweden will have no net emission of green house gas by 2045. We have ambitious policies when it comes to waste management and energy efficiency. We encourage our citizens not to use their cars, but to choose bikes and public transportation, for daily travel. Now, we are working with China on improving polices related to water treatment and waste management.
Shared bicycles are becoming extremely popular in China. I am quite impressed by the fast-developing underground system in Beijing. I often take the subway because the trains are clean, and because it is easy for foreigners to follow the bilingual signs to buy tickets and go to various places.
Q: Does the embassy organize events that advocate gender equality?
A: The Chinese Constitution stipulates that women and men have equal rights. We held a photo exhibition last year in Beijing, with the theme of Swedish Dads. The exhibition is also showing in Shanghai right now. Nowadays, fathers in Sweden share an increasing amount of childrearing responsibilities … We have a system of parental leave, according to which either the father or the mother can choose to stay at home and take care of their children when the family has a newborn. If you walk in our capital, Stockholm, you see a lot of fathers with their babies. The exhibition in Shanghai highlights the daily images of fathers in Sweden. A part of this exhibition is composed of photos of Chinese fathers and their babies. We are impressed by the great interest Chinese fathers have (in participating in exhibition) as they submit photos showcasing their participation in their children's care and early development.
Q: As a mother of four children, do you have a message for your children, or for children elsewhere in the world, to mark International Children's Day (June 1)?
A: I would say every day is "children's day" in Sweden, because our society is very child-friendly. If you walk around in any city in Sweden, you will see children playing happily everywhere. It is natural that children are an indispensable part of our everyday lives. I notice China also has many playgrounds for children, and I think society here is also child-friendly.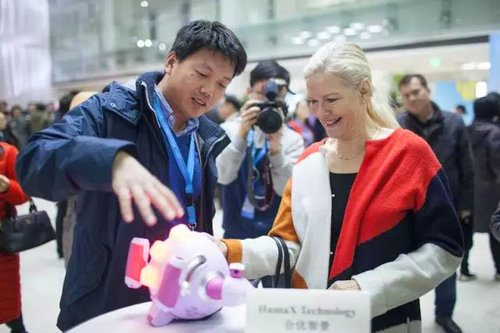 Anna Lindstedt (R) at an exhibition [Photo supplied by Anna Lindstedt]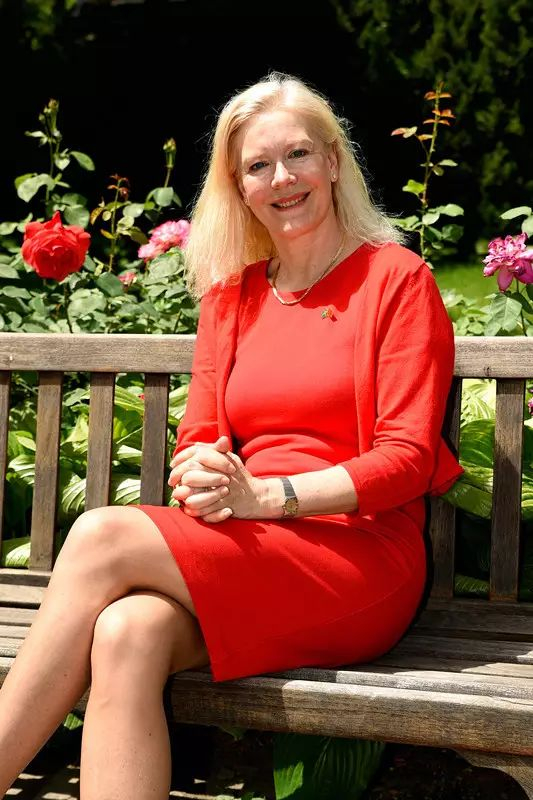 Anna Lindstedt [Women of China/Zhang Ping]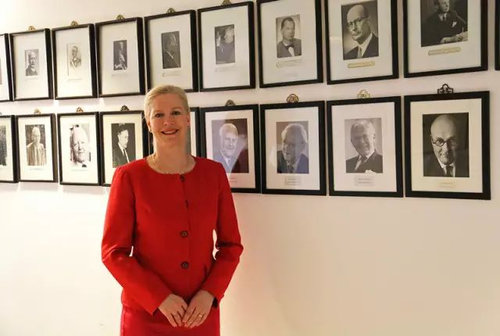 Anna Lindstedt [Women of China/Zhang Ping]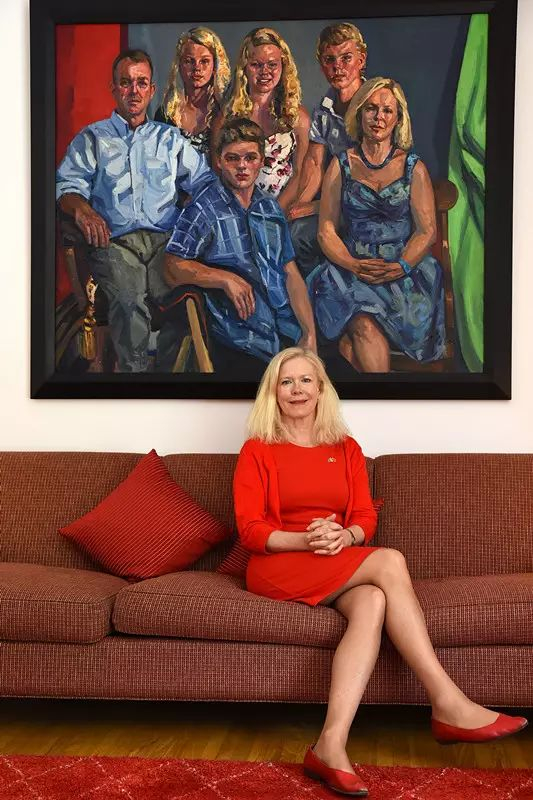 Anna Lindstedt [Women of China/Zhang Ping]
(Source: Women of China English Monthly June 2017 Issue)
Please understand that womenofchina.cn,a non-profit, information-communication website, cannot reach every writer before using articles and images. For copyright issues, please contact us by emailing: website@womenofchina.cn. The articles published and opinions expressed on this website represent the opinions of writers and are not necessarily shared by womenofchina.cn.

Comments