Mix and Match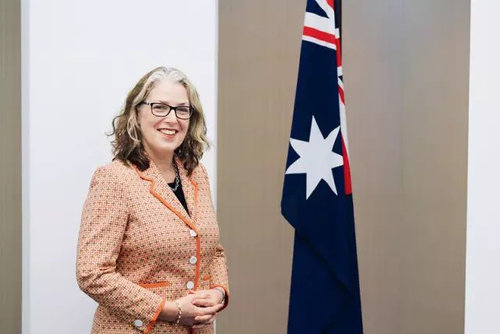 Jan Elizabeth Adams [Women of China]
As a diplomat who has been living and working in Beijing, Jan Elizabeth Adams has had many opportunities to enjoy what she calls "an extraordinary life." During an interview with Women of China (WOC) ahead of the Belt and Road Forum for International Cooperation (BRF), which will take place in Beijing in the middle of May, Adams, currently Australia's ambassador to China, said her country has many companies that are eager to participate in the Belt and Road Initiative.
Following are excerpts of WOC's recent interview with Adams, who says life is interesting as a diplomat in Beijing. The interview is in question-and-answer format:
Q: Chinese Premier Li Keqiang visited Australia from March 22-26, 2017. What effect will Li's official visit have on the deepening of bilateral relations between China and Australia?
A: Premier Li Keqiang and his wife, Professor Cheng Hong, had a successful visit to Australia. They spent quite a lot of time with Australian Prime Minister Malcolm Turnbull and his wife, Lucy Turnbull. They had a private dinner, and they enjoyed some casual time getting together in the beautiful Sydney. I was pleased as I saw reports about the two leaders being friendly, warm and open. Such visits always give you momentum to the relationship. I was very proud that I was able to be part of it.
Q: You were on the team that was responsible for negotiating the Free Trade Agreement with China. That deal was signed in June 2015, after nine years of negotiations. In your opinion, how will this agreement help advance economic development in Australia and China? What challenges must we face together to advance the economic development of both countries?
A: The Free Trade Agreement is important for both countries. For Australia, China is a major trading partner. For China, Australia ranks No. 7 among its trading partners. Australia is an important supplier of resources, including energy, food and agricultural products, and services including education and tourism.
I would say there will be two major benefits derived from this agreement. On the business side, we basically get rid of all of the tariffs and taxes that each government puts on products produced from the other side. About the time when this agreement will be fully implemented, in a few years time, there will be no extra taxes on Australian products (imported) into the Chinese market. It is important for small businesses, in particular, because the agreement gives them new opportunities to take part in the market of each (country).
On the government's side, when you get involved in intense negotiations, you get to know very well those people with whom you have been working. Over so many years, I have developed everlasting friendships with people with whom I have worked during the negotiations to reach this agreement.
Talking about the challenges, I think it is important to match the scale of Australian business with the Chinese market. Australia is a large country, in many aspects, but a lot of our companies are small producers of high-quality things. When you match (those companies) with the huge market in China, you feel it's the mix and match of small producers and big consumer demands. One answer to this challenge is that the booming e-commerce allows small business owners to find a way to engage into the big Chinese market.
The other challenge is something that all countries have to face. When you work with another country, of a different language, culture and system, you have to take some time understanding the regulations of that country, and in finding the right partners. We have a big Chinese population in Australia, including about 135,000 Chinese students in Australia. Mandarin is the second most-spoken language — following English — in Australia. We have almost one million people of Chinese descent living in Australia. Because of the connections between our people, it is sometimes easier for business people to cooperate, even though they have different systems in their home countries.
Q: Since you assumed your post in China, in February 2016, what exchange activities have impressed you?
A: I will give you two examples: One was the visit of the Australian Youth Orchestra, in August last year. The orchestra, which was comprised of 97 young musicians from around Australia, toured China, including performing at the iconic National Centre for the Performing Arts, in Beijing. We had a fantastic combination of audiences, including both Australian parents, who traveled to China with their children in the orchestra, and Chinese, who had an interest in classical music.
The other event was a conference in Guangzhou (held in November), which brought together participants from more than 30 Australian studies centers in China. As part of the reception, there was a dance performance by the Expressions Dance Company, in collaboration with the Guangdong Modern Dance Company. Participants of the conference were truly impressed by the performance.
Q: Beijing will host the Belt and Road Forum in mid-May. What are your expectations for the forum?
A: I am sure the forum is going to be a large and significant event. I think the emphasis on improving infrastructure will be a topic widely welcomed by various countries. We know infrastructure does support the growth of economic development. Belt and Road is an important initiative for many parts of the world. Australia has a lot of companies that would like to know how to find a way to participate in this initiative. Australian service providers, including legal services, services for infrastructure development, finance advices or projects management, these sort of companies are trying to find a way to participate in the initiative. Australia is a big supplier of raw materials, such as iron, coal and other energy resources, which are important for infrastructure construction. We hope we will have an Australian minister come to China to participate in this forum.
Q: What do you like to do during your spare time?
A: Every week, I meet Australian visitors who come for political, business and/or cultural issues. I wish I could have more spare time. I like to read, particularly about contemporary Chinese society, so I can better understand what Chinese people are thinking about their lives. I also like to have foot massages, eat dumplings and purchase delicately made silk products that originate from Hangzhou (capital of East China's Zhejiang Province).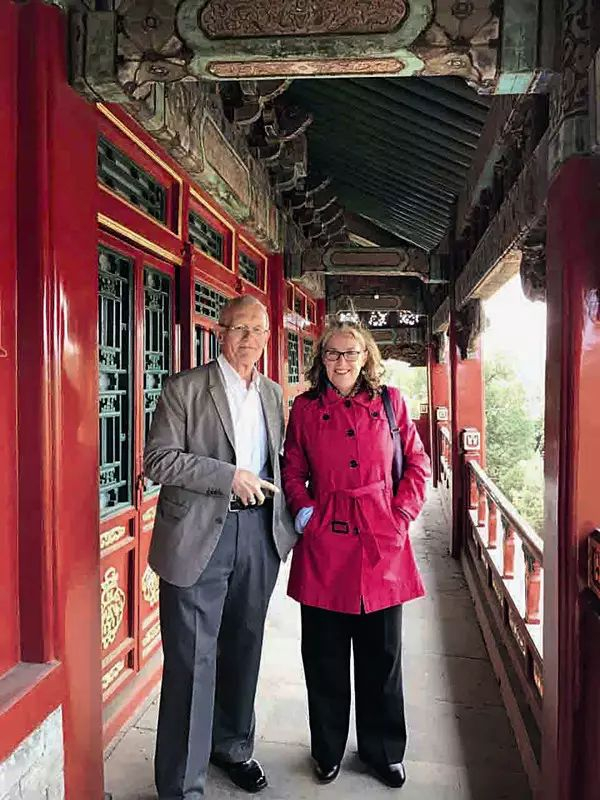 Ambassador Jan Elizabeth Adams (R) and her husband, John Spasojevic, in the Forbidden City [Photo supplied by Jan Elizabeth Adams]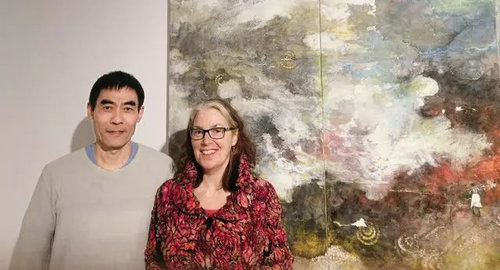 Ambassador Jan Elizabeth Adams with artist Zhou Xiaoping at his exhibition, held in Beijing in April 2017 [Photo supplied by Jan Elizabeth Adams]
(Source: Women of China English Monthly May 2017 Issue)
Please understand that womenofchina.cn,a non-profit, information-communication website, cannot reach every writer before using articles and images. For copyright issues, please contact us by emailing: website@womenofchina.cn. The articles published and opinions expressed on this website represent the opinions of writers and are not necessarily shared by womenofchina.cn.

Comments