A Wonderful Experience
By
Yuan Kang
August 14, 2017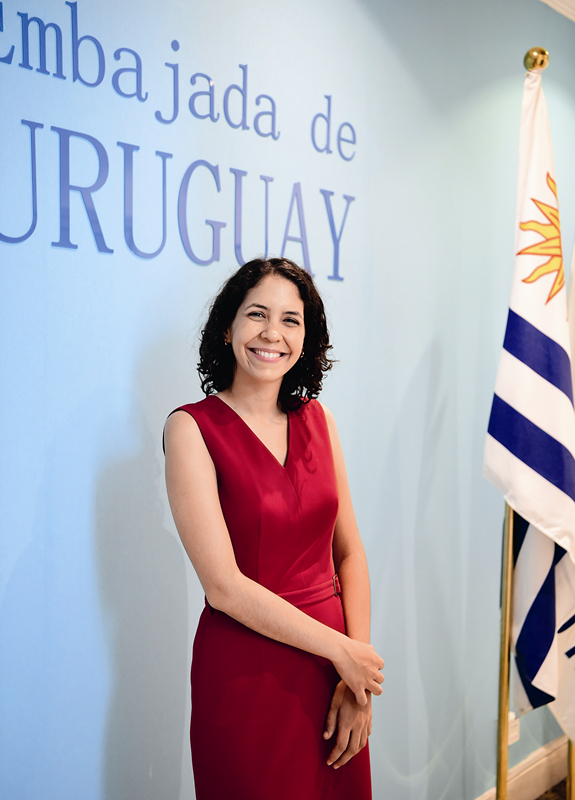 Laura Silva, first sectary of the Uruguayan Embassy in Beijing [Women of China/Fan Wenjun]
"China is my first post. I was pretty lucky to have the chance to work in a country where everything is going on," says Laura Silva, first sectary of the Uruguayan Embassy in Beijing. During a recent interview with Women of China (WOC), Silva talked about her work and life in China.
The following is that interview, in question-and-answer format:
WOC: At the invitation of Chinese President Xi Jinping, President Tabaré Vázquez, of the Oriental Republic of Uruguay, paid a state visit to China last October. The two heads of state decided to establish a strategic partnership based on respect, equality and mutual benefit. What achievements have been made since then?
Silva: A lot. Actually, it was the second visit of our president. He was in China in 2009. But I think there were many differences from his visit in 2009 to his visit last year. Why? China was always important for Uruguay but in the last years it became our number one trading partner. So, it became our best friend. Of course, establishing the strategic partnership will extend our cooperation in different areas. During the visit, about 30 agreements were signed, involving many fields, from energy cooperation, consular issues and production capacity. With China, we have a really big agenda.
We have a lot of cooperation in culture, education and science. Besides the strategic partnership, we also reached a joint declaration between governments that summarizes the priorities and things we want to do in future years.
China is a really organized country. Like every five years, you have plans to stimulate the economy and social development. Uruguay is trying to do the same. The cooperation and association stimulates our bilateral visits.
Since last year, our embassy has received many visits to China from our ministers, and representatives from our trade associations, political parties, artists, and deans of our main universities. Also, China has promoted a lot of visits to Uruguay, and it has helped us achieve a lot of important goals.
For example, the 11th China-Latin America and the Caribbean Business Summit will be held in Punta del Este, Uruguay, from November 30 to December 2. China is supporting Uruguay, to guarantee the success of the meeting, which is an important way for our business community to get to know each other, and to find potential areas of cooperation.
Another important achievement was the establishment of the first Confucius Institute in Uruguay. It will open at the end of this year. We have also had opportunities to have more cooperation with Chinese universities. We have been working in the possibility of having a Uruguayan cultural center in one of China's top universities.
This year, four or five Uruguay governors visited different Chinese provinces, developed strategic partnerships with provinces, and organized exchanges for businessmen, authorities and artists.
WOC: The Belt and Road Forum for International Cooperation was held in May. What are your expectations for the Belt and Road initiative?
Silva: Since 2013, when the initiative was announced by President Xi, we have focused a lot of attention on it. We have identified the initiative as one of the few ambitious and good proposals in the world. As another developing country, as China is, we are pretty much interested in achieving common goals and win-win cooperation. It's really a great framework to understand each other, to build not only connectivity and infrastructure, but also people-to-people exchanges, which is important, especially in a world which sometimes is unstable, and in which people don't know each other much, and don't trust each other much. So, it doesn't only promote trade, investment and infrastructure, but also better understanding of each other, which is really important.
When President Xi announced the forum in Davos earlier this year, we immediately knew that we had to participate. Fortunately, the forum was open to all countries that want to participate. Uruguay was one of the first countries to confirm. We participated with our minister of Livestock, Agriculture and Fisheries. You may wonder why. It's because we are one of the important providers of food to China. I think the initiative is going to become a successful story.
WOC: Can you share with us your personal story about your journey as a woman diplomat? How do you balance work and life?
Silva: I entered the Foreign Ministry of Uruguay in 2012, and I was an assistant in the economic section of ministry's headquarters for two years. I always received support from my colleagues. The first thing ambassadors told me was that it's a job for life. So, as a diplomat, it's hard to balance work and life. Life depends on your career, like where you live, and how many hours you work. However, it's a good opportunity; it's also a challenge because Uruguay is a small country. Sometimes, it's like a blank page. It's good because people don't know anything negative about it, but they don't know anything positive about it either. So, I have a big opportunity, and great potential to do a good job.
China is my first post. I was pretty lucky to have the chance to work in a country where everything is going on. I think diplomats are aware of that, it's good to start your career in a place that any proposal you may have is going to be achieved. Chinese are very receptive, hardworking and would like to integrate with the world. Right now, working in a place with so many things to do is hard to balance work and life. So far, it has been good and it has been worth it. It has been a wonderful experience.
In my personal time, I travel a lot. My dream is to get to know all Chinese provinces. It's a beautiful country. I have been to Xinjiang, Shanghai, Hong Kong, Hebei … My next trip will be to Yunnan. So far, Sichuan is my favorite, as they have pandas. In my free time, I try to study Chinese, play erhu ... Also, with my friends, we get the chance to enjoy Chinese culture, like Peking opera and paper cutting. There are so many things to do, so many workshops to learn. I try to invest my free time into these things.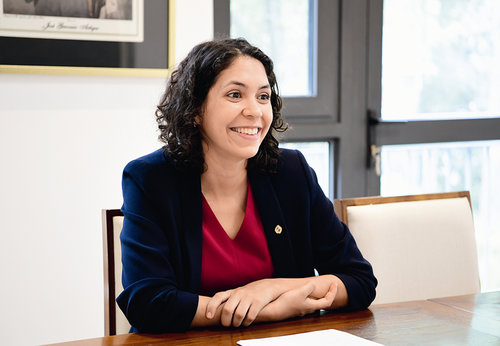 Laura Silva, first sectary of the Uruguayan Embassy in Beijing [Women of China/Fan Wenjun]
(Source: Women of China English Monthly August 2017 Issue)
Please understand that womenofchina.cn,a non-profit, information-communication website, cannot reach every writer before using articles and images. For copyright issues, please contact us by emailing: website@womenofchina.cn. The articles published and opinions expressed on this website represent the opinions of writers and are not necessarily shared by womenofchina.cn.

Comments