Make 'InnoFashion' Shine in China
By
Ye Shan
September 26, 2017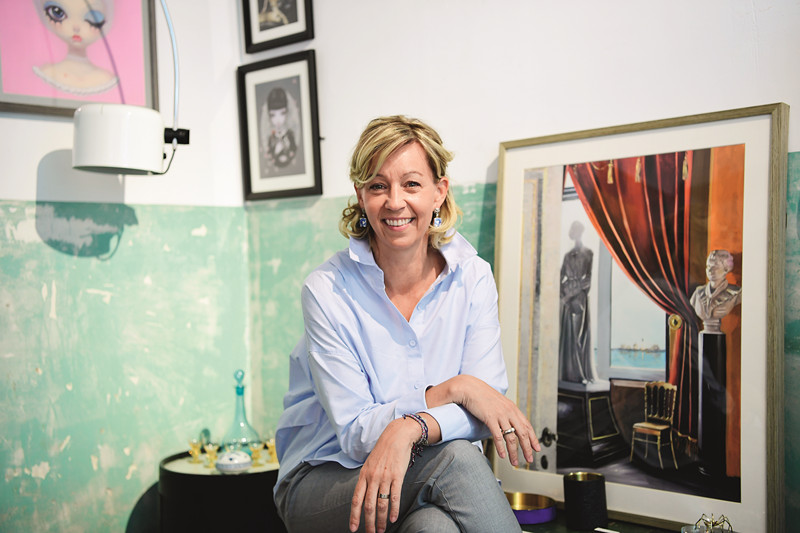 Daniela Gaschen [Women of China/Fan Wenjun]
The Swiss Embassy in China hosted an event, entitled "InnoFashion 2017," during the evening of May 15 in Beijing. During the event, Daniela Gaschen, wife of Alain Gaschen, Minister and Deputy Head of Mission of the Swiss Embassy, had her designed leather bags carried by models, as part of a fashion show. Those bags were finely produced by her Switzerland-based company. Since her first visit to China, two years ago, Daniela has cherished every opportunity to communicate with Chinese designers and artists. She enjoys working with them, as it allows her the opportunity to explore the possibilities of combining Swiss and Chinese pop art and fashions.
Daniela believes walking is the best way for a person to explore an area with which he/she is unfamiliar. Since she moved to Beijing, in July 2015, Daniela has spent a considerable amount of her leisure time walking through and exploring the city.
During a recent interview with Women of China (WOC), Daniela talked about some of her experiences in China. The following is that interview, in question-and-answer format:
WOC: As a participant of InnoFashion 2017, and who had designs displayed during the fashion show, what is your impression of the communications between Swiss and Chinese designers during that event?
Daniela: On the occasion of Swiss President Doris Leuthard's visit to Beijing, during the Belt and Road Forum last May, the Swiss Embassy hosted the InnoFashion 2017 event, which had the theme "Creativity and New Technologies in the Textile Industry." I cooperated with two Chinese designers, who had their designed clothing displayed during the fashion show. I was happy to see the bags of my brand carried by models.
InnoFashion 2017 was an important exchange between fashion designers of Switzerland and China. I think Chinese designers have different approaches (in fashion designs) and your country has a unique type of textile, the silk. Swiss designers, on the other hand, have our famous textiles, such as lace. It was interesting to see that designers from both countries combined their different approaches, and highlighted their works during the event.
WOC: Was July 2015 the first time you visited China? What was your impression of Beijing, or some of the provinces in China?
Daniela: Two months before my husband assumed his post in Beijing, I visited the city for one week … In July 2015, I formally began living in Beijing. Before my life here started two years ago, I had some stereotypical impressions of Chinese people, which many people in Western countries used to have as well. For example, I thought Chinese people were very loud, and as we didn't understand their language, they sometimes appeared to be a bit angry. After I moved to Beijing, I soon found Chinese people were very friendly to us. The Chinese I have come to know are those people who truly care about foreigners' needs. They lend a helping hand whenever they notice we are in trouble and we need help.
In April this year, I visited Guilin (in South China's Guangxi Zhuang Autonomous Region), and I was impressed by the fascinating landscapes there. I enjoyed looking at the varied scenes of the mountains during foggy early mornings, and during shiny afternoons. Swiss people live in beautiful nature, from generation to generation. Now living in a big city like Beijing, I cherish each opportunity that I have to travel to other places and embrace the beautiful nature.
WOC: This year, the governments of China and Switzerland are celebrating Sino-Swiss Year of Tourism. What recommendations would you offer to anyone planning to go sightseeing in your home country?
Daniela: The Sino-Swiss Year of Tourism is a happy event for Switzerland, because we like to welcome Chinese guests. We have 12 tourist sites in Switzerland that have been designated by UNESCO (the United Nations Educational, Scientific, and Cultural Organization) as world heritage, such as La Chaux-de-Fonds, known as "the city of watchmaking." There are many small treasures hidden in cities across Switzerland. It depends on the visitors' interests … For me personally, I like to see architecture, designs and the beautiful nature in our old cities, such as the capital, Berne.
WOC: Are you interested in traditional Chinese art and/or crafts?
Daniela: I love Chinese porcelain. A broken piece of porcelain can be smartly made into an ornament, such as a pair of eardrops. I like the idea of "re-doing" things to create nice designs. I am working on a project in collaboration with Chinese contemporary artists. I invite the artists to add their designs to the leather bags produced by my company. As a designer, the field in which I work automatically takes me to various exhibitions and shows, and enables me to meet designers and artists. Take the Dong+ Space in Sanlitun as an example; I met its owner by chance. I have had my bags displayed there since a few months ago, when the owner opened a shop for independent designers to exhibit their works.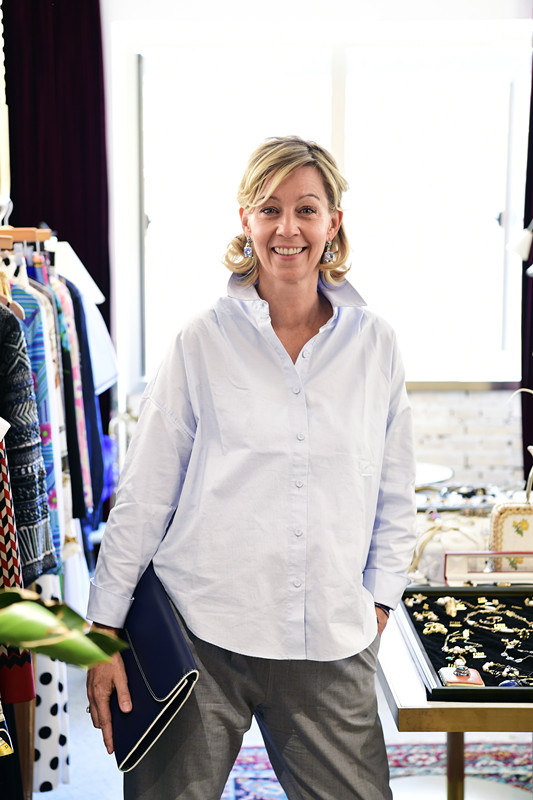 Daniela Gaschen [Women of China/Fan Wenjun]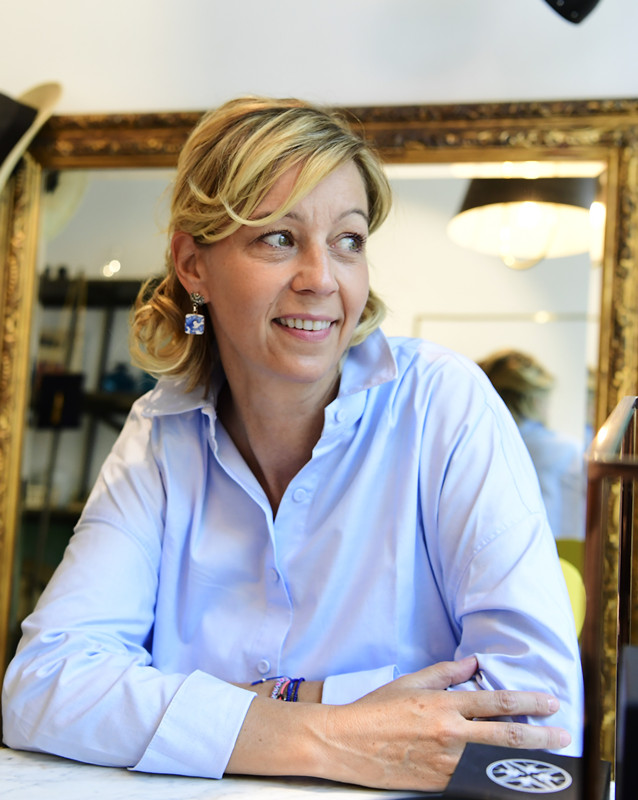 Daniela Gaschen [Women of China/Fan Wenjun]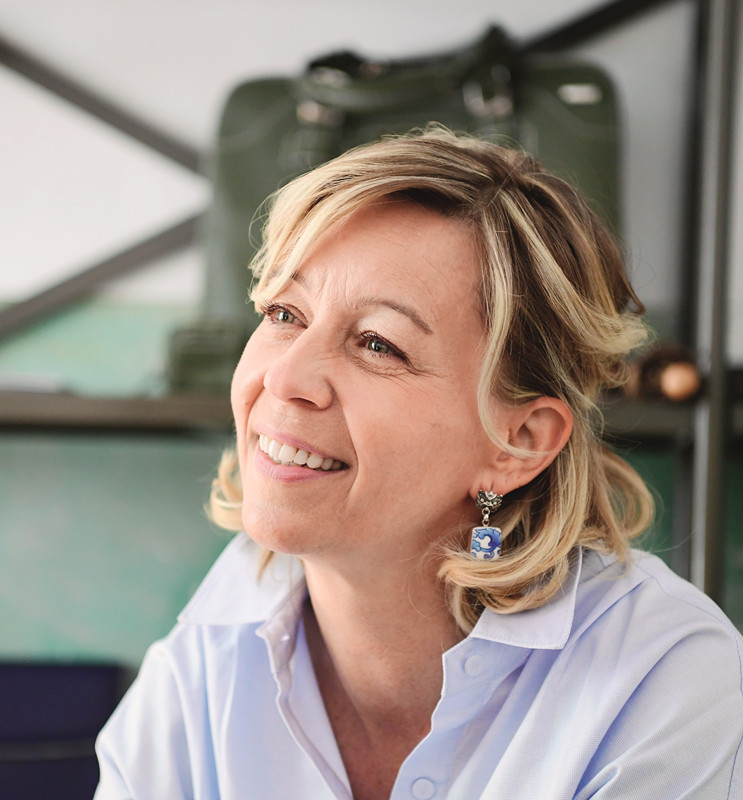 Daniela Gaschen [Women of China/Fan Wenjun]
(Source: Women of China English Monthly September 2017 Issue)
Please understand that womenofchina.cn,a non-profit, information-communication website, cannot reach every writer before using articles and images. For copyright issues, please contact us by emailing: website@womenofchina.cn. The articles published and opinions expressed on this website represent the opinions of writers and are not necessarily shared by womenofchina.cn.

Comments