Playing Her Role
By
Ye Shan
February 21, 2017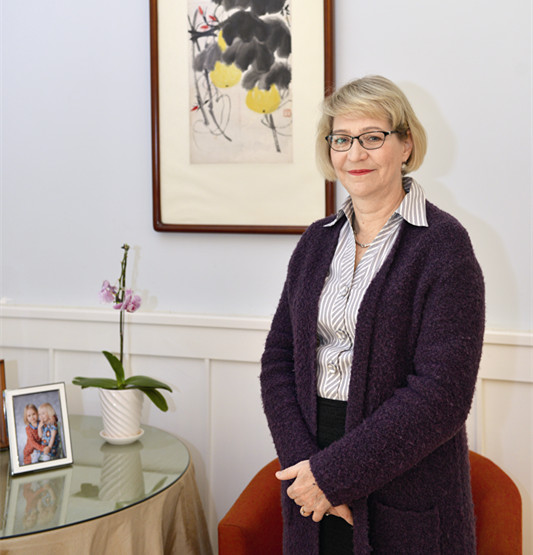 Marja Rislakki [Women of China/Zhang Jiamin]
Finland was one of the first of the Western countries to establish diplomatic relations with the People's Republic of China in 1950. Almost half of the ambassadors appointed by Finland to countries around the world are female. Marja Rislakki, who assumed her post as the ambassador of Finland to China in September 2015, is one of those women. In Rislakki's opinion, being an ambassador helps her increase the public's awareness of the importance of involving women in diplomatic communications and people-to-people exchanges.
The following is Women of China (WOC)'s recent interview with Rislakki, in question-and-answer format:
Q/WOC A/Marja Rislakki
Q: Has Finland achieved a good gender balance in terms of the people who work as diplomats for your country?
A: Almost half of the ambassadors Finland has appointed to countries around the world are females. I consider myself the representative of my country in China, and gender is not an issue.
But of course, being a female ambassador helps increase the public's awareness — especially in countries, which do not have many female ambassadors — the importance of involving women into diplomacy.
In fact, Finland is considered one of the top countries in terms of having a good gender balance in politics. A lot of women work in our parliament and government organs. We also have more and more women entering leadership positions of big companies.
Q: UN Women and the Finnish Embassy cohosted a seminar in Beijing on November 3, 2016, during which panelists discussed the challenges faced by single mothers and their children in China. What was your impression of that event?
A: The empowerment of women and gender issues represent one of the priorities of the Finnish foreign policies. Finland has always been a big supporter of UN Women. We know the organization (UN Women) plays an important role in enhancing women's empowerment. I believe we are stronger if we work in collaboration with UN Women.
The seminar our embassy organized, at my residence in Beijing, highlighted "the empowerment of single mothers," a topic we had chosen with UN Women. Before this event, we collaborated with UN Women to organize for example a workshop on the empowerment of disabled women. Talking about the seminar in November, I was surprised and happy about the level of dialogue among panelists, including quite a few outstanding Chinese women. I think we will continue this kind of cooperation with UN Women in the future.
Q: Please tell our readers about one or two of the remarkable China-Finland exchange activities in which you have participated.
A: Shortly before I came to China, as the ambassador of Finland, the city of Helsinki, (which is) a sister city of Beijing, hosted a cultural festival that highlighted Chinese culture. We had more Chinese artists, than ever before, invited to Helsinki to show the locals the charm of traditional Chinese music, opera and other forms of art. In May 2015, Finnish artists from Helsinki were invited to China (by the city of Beijing) and they gave wonderful performances at Xidan Square and at my residence in Beijing. These cultural festivals were a good example of people-to-people exchanges, which I believed represented an important link of our bilateral communications.
The other example involved two high-level visits of political leaders. Zhang Dejiang, Chairperson of the Standing Committee of the National People's Congress of China, visited Finland in September last year. Zhang's visit was considered a part of the commemoration for celebrating the 60th anniversary since legislative bodies in Finland and China started communications in 1956.
In November 2015, Maria Lohela, the Speaker of Finland's Parliament, visited Beijing to celebrate the 65th anniversary of the establishment of diplomatic relations between the two countries. The two visits were important events for enhancing the communications between our political leaders. I was happy that I took part in both events.
Q: Finland is renowned for its marvelous landscapes, especially the beautiful aurora borealis. What measures have been taken by Finland to attract Chinese tourists?
A: Finland is geographically very well situated in northern Europe. It is the closest European country to China. Five cities in China have direct flights to Finland. In 2016, National Geographic magazine listed Finland as one of the 10 countries people ought to visit in 2017. Alibaba Group also chose Finland as one of the countries, in northern Europe, that it would promote in 2017.
In 2016, the government of Finland opened 13 new visa-application centers in cities across China to facilitate visa-application procedures for Chinese people. I think this measure will help Chinese get access to our country more easily.
Personally, I would like to recommend a place that Chinese visitors may not know very well. Finland is a country that has thousands of lakes. We have a lake district worth visiting. Of course, Helsinki, our capital, is also worth visiting. The city hosts colorful cultural events every year. Beautiful nature, clean air and pure water are the things of Finland that we want more and more Chinese to appreciate.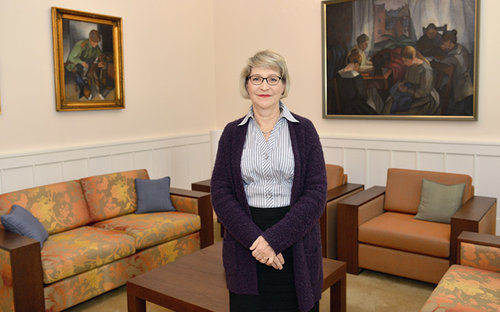 Marja Rislakki [Women of China/Zhang Jiamin]
(Source: Women of China English Monthly February 2017 Issue)
Please understand that womenofchina.cn,a non-profit, information-communication website, cannot reach every writer before using articles and images. For copyright issues, please contact us by emailing: website@womenofchina.cn. The articles published and opinions expressed on this website represent the opinions of writers and are not necessarily shared by womenofchina.cn.

Comments