Busy, and Colorful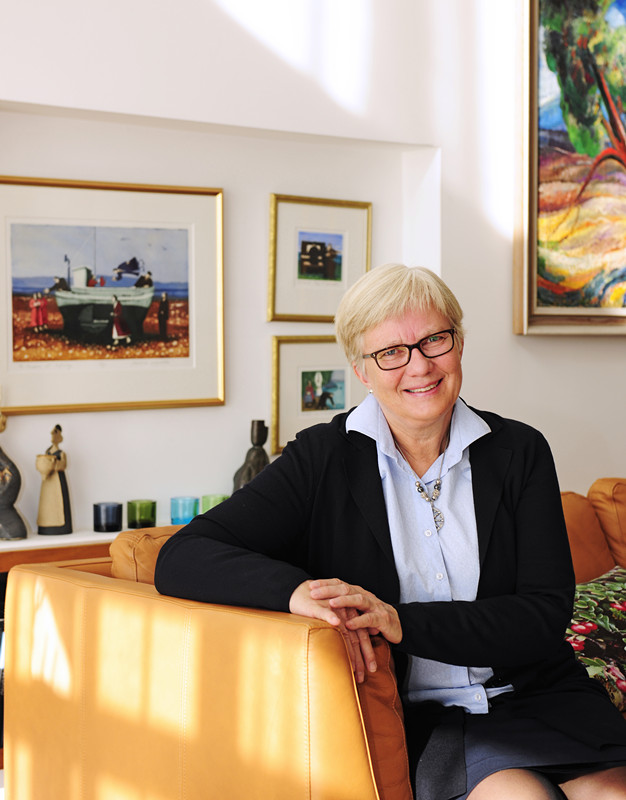 Birgit Nyborg works as a translator, and she is the wife of Iceland's ambassador to China, Stefan Skjaldarson. [Women of China/Fan Wenjun]
Birgit Nyborg works as a translator, and she is the wife of Iceland's ambassador to China, Stefan Skjaldarson, who assumed his post three and a half years ago. Nyborg says living abroad is offering her an opportunity to broaden her horizons. She likes to learn about Chinese culture, visit museums and galleries and learn to play mahjong. For her, the diplomatic life is busy and colorful.
The following is an interview, in question-and-answer format, that Women of China (WOC) conducted with Nyborg:
WOC: Please share with our readers some of your experiences and impressions of China since you moved to Beijing with your husband, Iceland's ambassador to China, in 2013.
Nyborg: It is difficult to sum up my impression of contemporary China in a few words, as the country is so big, so complex and diverse. Before my husband and I moved to Beijing, during the summer of 2013, I had visited the city twice. My first visit took place in 2006, and it was a holiday trip to China. Therefore, I had already gotten an impression of the modern part of Beijing, with the city's skyscrapers and highways; and for a person coming from Iceland, the mere size of the city was overwhelming, as much as the city's vast development, which has taken place in such short time.
I appreciate very much the many beautiful parks in Beijing, which play an important role in enriching people's lives in the city. I also enjoy seeing thousands of blooming roses along the highways in the spring.
My husband and I have had many opportunities to get out of Beijing and visit other parts of this fascinating country. I think the development in infrastructure is remarkable, especially manifested by the high-speed trains, and the rapidly developing highways and airports across the country.
I am very fond of landscapes and nature and spending time outdoors. One of my favorite places is the Great Wall. I never get tired of visiting it, as it is such a magical place.
It has been a wonderful experience to visit the southern and southwestern regions of China. I will especially mention our three-day cruise on the magnificent Yangtze river last spring, and the cruise on the lovely Li River in Guilin. I will also mention a wonderful visit to the majestic Mount Emei.
Being fond of porcelain, my trips to the famous "porcelain city," Jingdezhen have been very enjoyable. The last trip was in October 2016, when we attended the opening of the Scandinavian Art Center in that city.
WOC: Last year, China and Iceland celebrated the 45th anniversary of the establishment of diplomatic relations. Did you participate in some events that marked this anniversary?
Nyborg: The 45th anniversary gave both countries a great opportunity to highlight the strong and positive relationship between Iceland and China.
During our years in China, there has been a remarkable development in tourism. At the Embassy of Iceland, the number of visas issued to Chinese visitors has increased by 50-70 percent during the last few years. Now, we expect the total number of Chinese tourists visiting Iceland in 2017 will reach 100,000. That number may not be impressive by Chinese standards, but compared with the 330,000 inhabitants of Iceland, this is a great number of visitors.
Iceland attracts tourists from around the world, including China, with our beautiful nature, with clean air and water and also the open, sparsely populated areas. We are very happy that so many Chinese tourists find our country worth visiting. Iceland is a country rich in geothermal energy and has long experience in using the hot water in our swimming pools, to heat our houses and to produce electricity. Icelandic experts have assisted in making efficient use of geothermal energy in China. Last year, we also marked the 10th anniversary of the launch of the largest collaboration project — so far — between Iceland and China, in the field of developing geothermal resources in China.
The Embassy of Iceland hosted an artistic photo exhibition in a gallery in the charming 798 Art District, in Beijing, in December 2016, with works of an Icelandic photographer. In Iceland, there was also an exhibition that highlighted the development of China-Iceland diplomatic relations during the past 45 years.
Iceland is also a country where you will find a great love for literature. This passion has its roots back to the 9th century, when the country was inhabited, and its poets have produced wonderful sagas, novels and poems ever since. It is a pleasure for me to mention that the Chinese "21st Century Best Foreign Novels Award" for the year 2016 was given to an Icelandic author, named Einar Már Guðmundsson, and his book Hundadagar (Dog Days) has been translated into Chinese.
WOC: As March 8 is approaching, what will be your message for International Women's Day?
Nyborg: The International Women's Day, on March 8, will be celebrated by women all over the world. This day focuses on promoting equal rights and possibilities for women and men in our society. We should always aim at improving the living conditions for all people; but on this special day, however, women's lives are the center of attention. In Iceland, this issue has great importance, and in many areas we have achieved much, but it takes time to get good results. My opinion is that to work for better education is very important for women around the world. Education is the basis for all personal progress. Whether people live in cities or rural areas, it is equally important to improve the education they receive.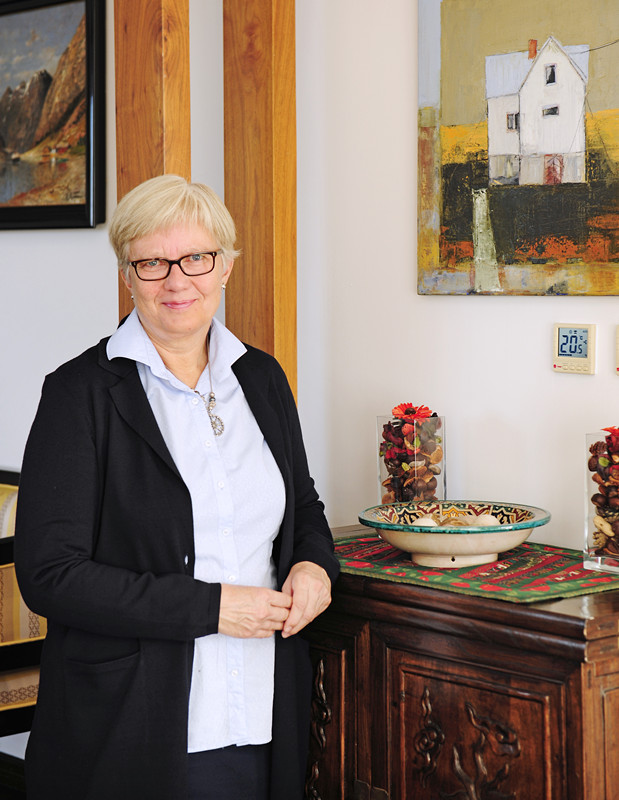 Birgit Nyborg works as a translator, and she is the wife of Iceland's ambassador to China, Stefan Skjaldarson. [Women of China/Fan Wenjun]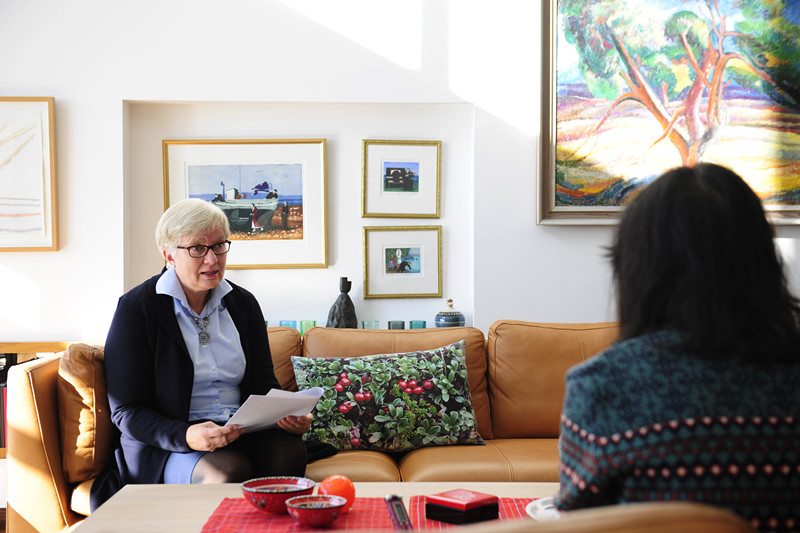 Birgit Nyborg (L) works as a translator, and she is the wife of Iceland's ambassador to China, Stefan Skjaldarson. [Women of China/Fan Wenjun]
(Source: Women of China English Monthly March 2017 Issue)
Please understand that womenofchina.cn,a non-profit, information-communication website, cannot reach every writer before using articles and images. For copyright issues, please contact us by emailing: website@womenofchina.cn. The articles published and opinions expressed on this website represent the opinions of writers and are not necessarily shared by womenofchina.cn.

Comments