Memories 'Far from Home'
By
He Qiuju
November 11, 2016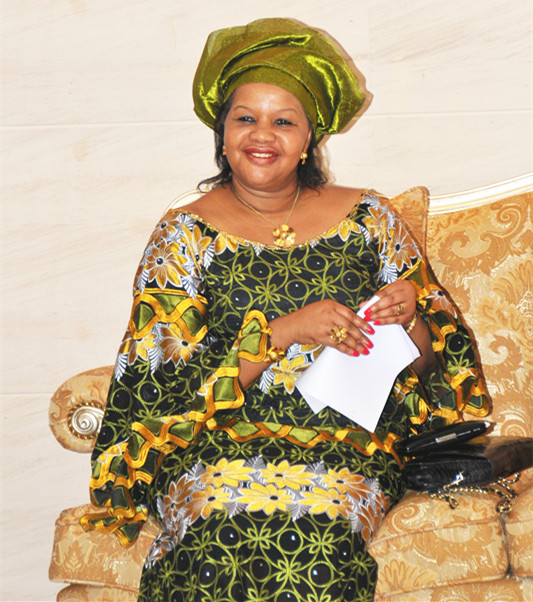 Sophie Apithy [Women of China English Monthly]
"Travel enables people to have open minds. A person who travels a lot will see and learn many things. Discovering a country not only means discovering the wealth that country possesses; more importantly, it's about discovering the unique culture that country has," Sophie Apithy told Women of China (WOC) a short time before she left China with her husband, Sedozan Apithy, in late October. Sedozan became Benin's ambassador to China in August 2007, and he held that post until mid-October 2016. The Apithys spent almost a decade working and living in the country, which once seemed "far from home" for Sophie.
Q/WOC A/Sophie
Q: Please share with our readers your impression of China.
A: Almost 10 years ago, I never thought about the possibility of one day living here (in China). Although I had traveled a lot with my husband before 2007, and we had visited the United States and countries in Europe, the continent of Asia had never been our destination.
However, I developed an interest in Chinese culture and traditions before I settled down in this country. In particular, I was impressed by the traditional Chinese dress known as "qipao" (cheongsam). After I began living in China, I developed another interest, in the Chinese language, a language pronounced with different tones. We also have different tones in the Beninese language.
I used to chair the Group of African Ambassadors' Spouses (GAAS). Our group worked closely with the All-China Women's Federation. The collaboration gave me opportunities to work with devoted and incredible people, from all segments of society, and, thus, I gained rich experiences during my life in China.
Q: We know Benin is a beautiful country located on the western coast of Africa. Tell us something about the people in your home country, and especially about women in Benin.
A: African women, especially Beninese, like to wear traditional clothes. The women usually complete their attire by putting on a kind of cap, which makes them look elegant. But not many people know … Beninese men like to wear their traditional hats too. That kind of hat is known as Gobi. There are different ways of wearing Gobi; it depends on the occasion whether a man will put his hat toward the front or the back, or toward the right or the left.
Women in Benin play active roles in the development of our country. However, women and girls have to cope with challenges stemming from their lack of equality (with men) in education. They have to find ways to earn more incomes for themselves and their families.
Q: Did you experience culture shock in China?
A: In Benin, a woman changes her last name to be same with that of her husband after the woman is married. But in China, women do not change their family name. In Africa, a man doesn't have to purchase a house if he wants to get married; it's up to him to choose whether to leave his parents' house and move into his own house. It is not our tradition for a married man to live with his in-laws. In China, I notice several generations of a family can live under the same roof. It's common for parents, and even grandparents, to live with their children and grandchildren. I think that's Chinese people's way of strengthening their families' ties.
I still remember when I first arrived in China, I was surprised that people liked to drink hot water. Now, I understand drinking hot water is good for one's health. I am amazed by the tea culture in China. I am fascinated by various kinds of tea, and those delicately made containers. Nowadays, I drink tea on a daily basis.
In my opinion, it is a tradition rooted in Chinese people's lives to offer gifts to their relatives and friends. They believe it is their pleasure to make others happy.
During some of the dinners our embassy hosted in Beijing, I noticed the Chinese people's habit of "ganbei" (make a toast). The gesture went beyond a simple action of lifting one's glass; those people moved from table to table, and they used "ganbei" as an opportunity to communicate with others and show their friendliness, consideration and respect. "Ganbei" gave them the chance to express things they had not managed to say before; they also took the chance to apologize for their imperfections, make compliments, and, thus, get closer to each other.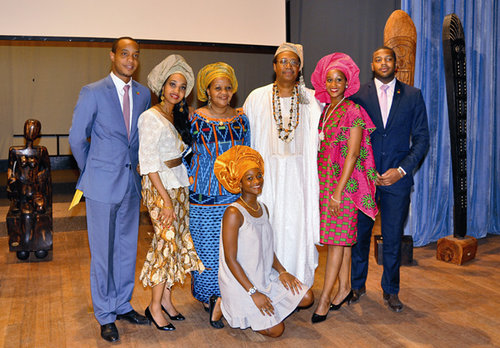 Sophie Apithy (L3 Back) [Women of China English Monthly]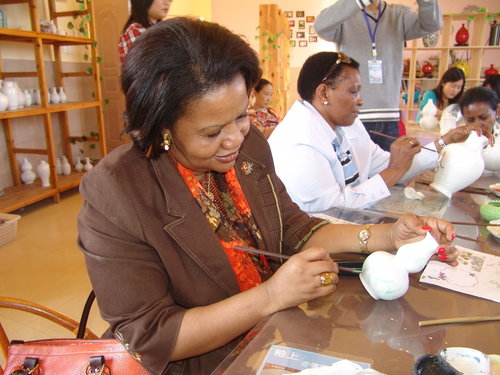 Sophie Apithy (L) [Women of China/He Qiuju]
Sophie Apithy (L) [Women of China/He Qiuju]
(Source: Women of China English Monthly November 2016 Issue)
Please understand that womenofchina.cn,a non-profit, information-communication website, cannot reach every writer before using articles and images. For copyright issues, please contact us by emailing: website@womenofchina.cn. The articles published and opinions expressed on this website represent the opinions of writers and are not necessarily shared by womenofchina.cn.

Comments