Great 'Source' of Inspiration
By
He Qiuju
September 1, 2016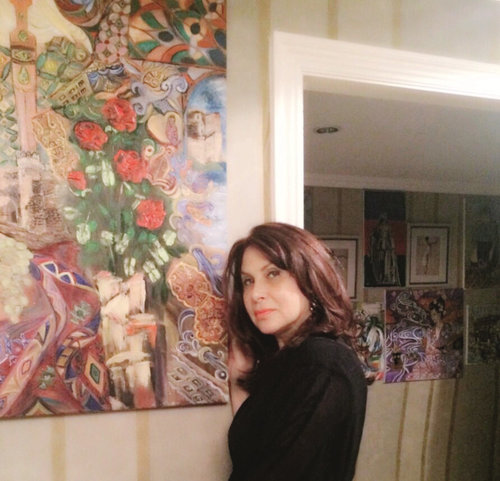 Naila Gandilova [Women of China English Monthly]
Naila Gandilova began living in China in 2012, after her husband, Latif Gandilov, assumed his post as Azerbaijan's ambassador to China. Gandilova has since visited many places in China. The beautiful landscapes and lovely people she has seen in this great, oriental country have inspired her to paint. "For me, creating a painting is like composing a melody. I am grateful that I am living in China, a land that offers me a great 'source' of inspiration, so I can keep painting," says Gandilova. During a recent interview with Women of China (WOC), Gandilova talked about her impression of both China and its people.
Q/WOC A/Gandilova
Q: An album of more than 100 of your paintings has been published in China. Now, you are preparing to hold a solo exhibition in China. Why do you express your love for China in your paintings?
A: Before I relocated to China in 2012, with my husband, I had heard a lot about this grand and mysterious country. I had read books and reports about China and Chinese people. But I have to say, it was not until I began living in this country, four years ago, that I started to truly understand China, and its marvelous culture and art. I believe every country has its own characteristics, colors and tastes.
When I cannot find the proper words to express my feelings about a place, I pick up a brush and pigments … China has impressed me with its mixture of lifestyles — from North to South, from East to West, and from urban to rural areas. I think China is a country that is becoming more and more interesting. Given the diversity of landscapes and people across this country, I find painting is a way to directly reflect my emotions while I am living in China. Besides painting, I have also developed an interest in writing. I write poems in the Russian language. It's also a way to record my wonderful experiences in China.
Q: What is your impression of Chinese women? Do differences exist between women in China and women from your home country?
A: Human beings, in general, share the need to pursue happiness, make friends and obtain (information) that encourages them to have a positive attitude in their lives. I think Chinese women do very well in meeting those needs. Chinese women give me a special feeling. Even though they look soft and gentle, I believe they have very strong hearts.
Azerbaijani women also play active roles in our society. Mehriban Aliyeva, our first lady, is a decent example of Azerbaijani women. A member of our parliament, Aliyeva gets involved in charity work both in our country and abroad. She promotes the development of culture and education. She is also the president of Heydar Aliyev Foundation. As a national leader of Azerbaijan, she helps launch a wide range of campaigns to promote Azerbaijan's cultural heritage to people around the world.
Q: As the wife of Azerbaijan's ambassador, you have made an effort to help Chinese people learn about your country. Please tell our readers something about Azerbaijan.
A: Azerbaijan and China have things in common. For example, our people are also warmhearted. Baku, the capital of the Republic of Azerbaijan, is like Beijing; Baku is also an old city with ancient history. Azerbaijan is located in an area that connects Europe and Asia. My husband mentioned in an interview with China.com.cn that building an "economic belt" along the Silk Road would advance friendly exchanges among countries along this road. The tourism industry in Azerbaijan has developed rapidly in recent years. Now, we have direct flights between Beijing and Baku. Even though I am living in Beijing, I feel my home country is never far from me. I like to paint to record my life in China, because those paintings contain my precious memories. I have brought my "fruits of life" to China. Two of my four children have studied in universities in Beijing. I believe my four children and two grandchildren will continue our family's mission of tying a knot between Azerbaijan and China, and I hope close ties between our countries will continue to strengthen, year by year.
Message for WOC Readers:
I want to tell your readers to help preserve the wonderful, millenary history of this country, by not destroying the ancient (relics), but by (promoting) new and innovative developments (of the country). I also want them to share ancestral values, and to remind future generations that family is the foundation of society. The youngsters need to be prepared for an increasingly competitive world, but they won't shake the firm foundation of their family structures. We are born with nothing, and we will leave the world with nothing. There are endless things we can learn and share with each other during a lifetime: Love, knowledge, honesty, integrity, loyalty, kindness, education, spirituality …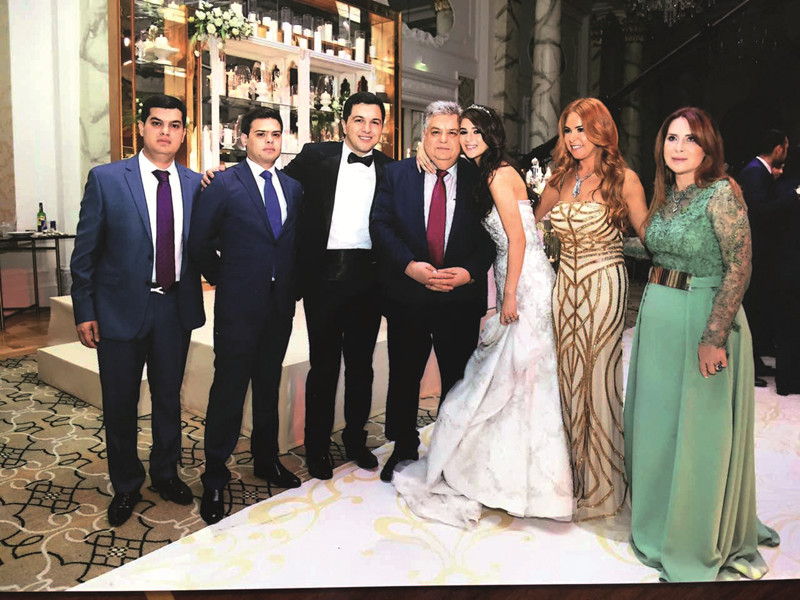 Attending her daughter's wedding [Women of China English Monthly]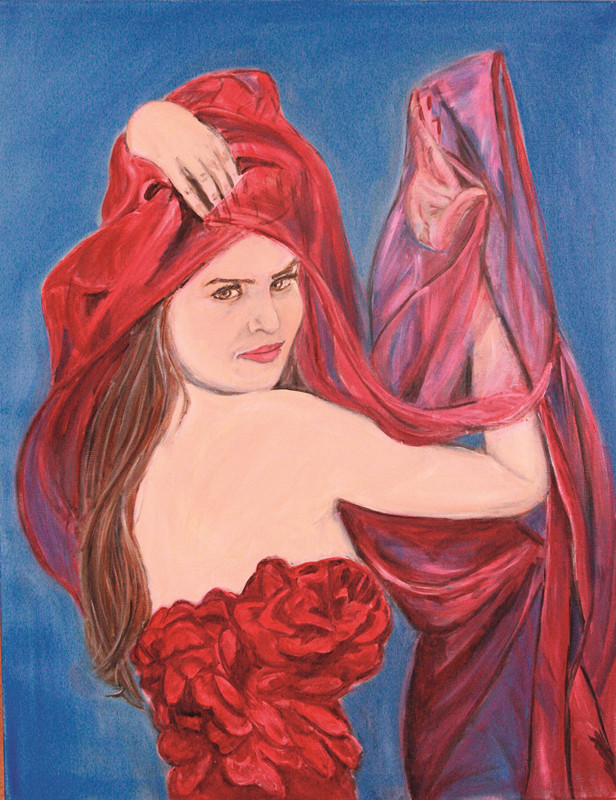 A painting by Naila Gandilova [Women of China English Monthly]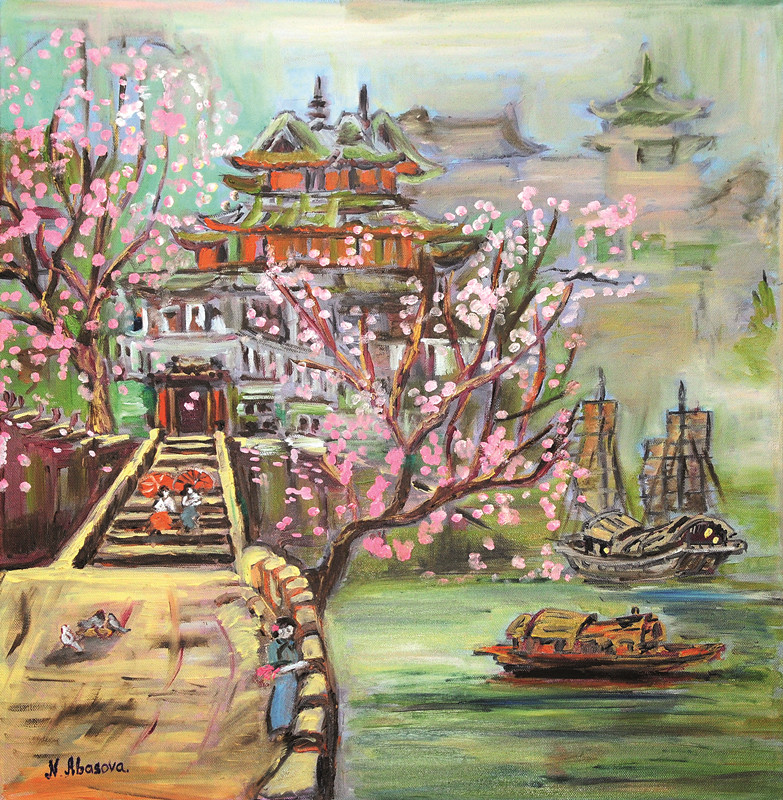 A painting by Naila Gandilova [Women of China English Monthly]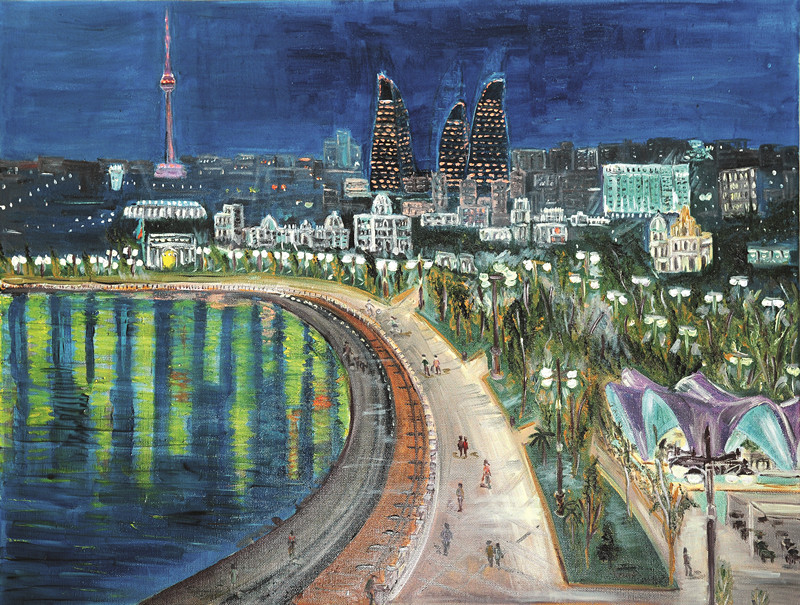 A painting by Naila Gandilova [Women of China English Monthly]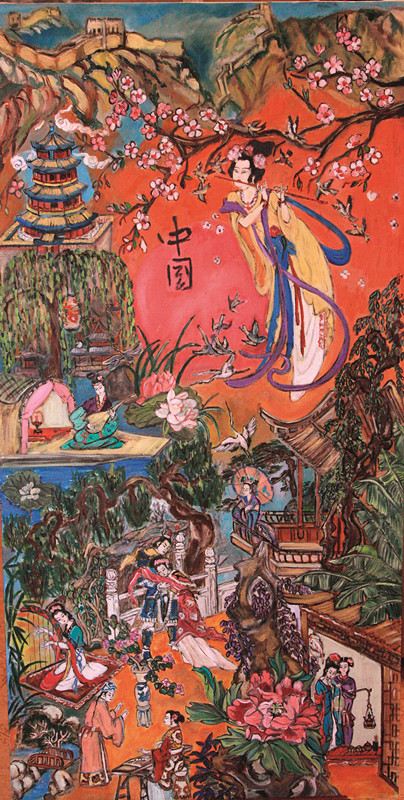 A painting by Naila Gandilova [Women of China English Monthly]
(Source: Women of China English Monthly September 2016 Issue)
Please understand that womenofchina.cn,a non-profit, information-communication website, cannot reach every writer before using articles and images. For copyright issues, please contact us by emailing: website@womenofchina.cn. The articles published and opinions expressed on this website represent the opinions of writers and are not necessarily shared by womenofchina.cn.

Comments