Photographer Records 40 Yrs of Family Memories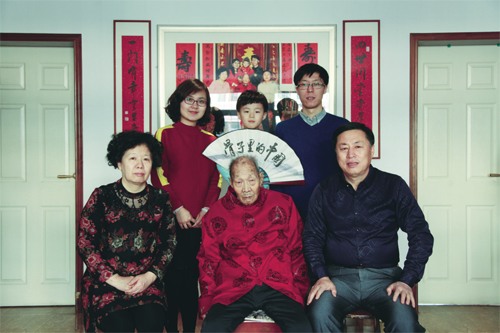 Liu Fenglin's family [Cnwomen.cn]
A photographer in north China's Shanxi province has been recording the life of his family during the past 40 years to reminisce over their precious memories and share their legacy for the next generation.
Liu Fenglin is the chief videographer of Shanxi Radio and TV Station. He has been engaged in this field for over 40 years.
In 1978, Liu joined the Art Photography Learning Interest Group at middle school. From then on, he shifted his focus to his family and took the first family photo of his father, his sister and himself; his mother had already sadly passed away.
In 1986, Liu took a photo of his girlfriend in front of the Energy Monument at the Taiyuan Railway Station Square. The iconic sculpture was demolished eight years later, and has since become a part of people's memory of that era.
The same year, his girlfriend became his wife and they held a traditional Chinese wedding, something that was seen as extremely grand at that time. This occasion also froze the memory of their generation.
A full range of things from their daily lives were captured in Liu's shots, including an old Phoenix branded bicycle, telephone, beeper, one-child certificate, food coupon and clothing coupon, which has served to maintain a detailed record of both the growth of the family and the changes of the time.
In September 2015, at commemoration of the 70th Anniversary of the Victory of the Chinese People's War of Resistance against Japan and the World War against Fascism, Liu's 91-year-old father was awarded a medal for his contribution to China's victory. Liu took a photo of his father saluting happily while wearing the medal.
In 2016, Liu held a solo photography exhibition on the theme of "Home·30 Years", displaying his family photo albums in six sections to reveal the ordinary life and the social development of the changing times.
Among the exhibits, a photo of an honor certificate presented by Shanxi Women's Federation during the Great Leap Forward campaign in November 1958 stands out. It was Liu's mother Zhang Huaihe who received the commendation for her contribution to industrial and agricultural production in 1958, accelerating the construction of socialism and striving for transition into a communist society. Liu still keeps the photo as a tribute to her mother.
In 1997, Liu was selected by Shanxi TV to take the position of reporter, choreographer, cameraman and chief photographer. Despite receiving multiple China News Awards, he is still striving hard on the frontline.
His son Liu Jinxin followed in his footsteps and has now become a backbone of the station.
"My father was an anti-war veteran and never surrendered in the face of difficulties. After my mother's death, he raised us on his own. His optimism and determination is the most valuable asset to our family," said Liu.
(Source: Cnwomen.cn/ Translated and edited by Women of China)
Please understand that womenofchina.cn,a non-profit, information-communication website, cannot reach every writer before using articles and images. For copyright issues, please contact us by emailing: website@womenofchina.cn. The articles published and opinions expressed on this website represent the opinions of writers and are not necessarily shared by womenofchina.cn.

Comments