Leaders of Overseas Women's Institutions and Organizations Extend Congratulations on Success of 20th CPC National Congress
By
Ye Shan
November 18, 2022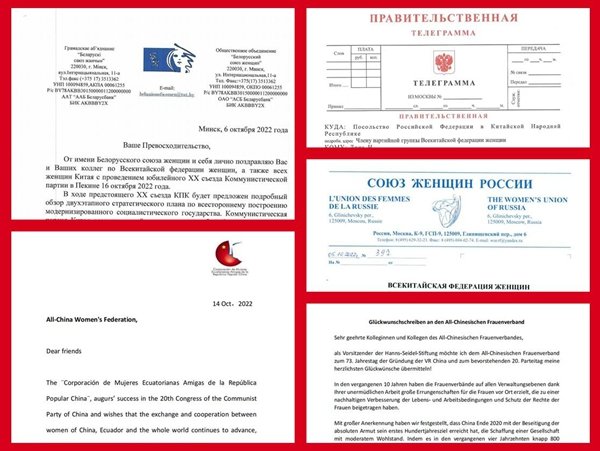 During the 20th National Congress of the Communist Party of China (CPC), held in Beijing from October 16-22, 2022, the All-China Women's Federation (ACWF) received letters and messages from women's institutions and organizations from around the world, in which they extended congratulations on the success of the 20th CPC National Congress and expressed the sincere common wish that China will achieve more splendid progress under the leadership of Chinese President Xi Jinping.
Those who sent letters or messages included: Zamira Akbagysheva, President of the Congress of Women of Kyrgyz Republic; Ing Kantha Phavi, Minister of Women's Affairs of Cambodia; D. Sarengerel, President of the Social Democracy Mongolian Women's Association; Thet Thet Zin, President of the Myanmar Women's Affairs Federation; the Department of Women's Affairs of Soka Gakkai, from Japan; Yamada Syoko, President of the Gunma Women's Federation of Japan; Hilolby Kurbonzoda, Head of the Committee on Women and Family Affairs of Tajikistan; Ha Thi Nga, President of the Vietnam Women's Union; Mabel Chinomona, Secretary of the Women's League of Zimbabwe African National Union-Patriotic Front; the African National Congress Women's League; Olga Shpilevskaya, Chairperson of the Belarusian Women's Union; Ekaterina Lakhova, Chairperson of the Women's Union of Russia; Miriam Chávez, President of the Ecuador Women's Association of Friendship with China; Markus Ferber, President of German foundation Hanns Seidel Stiftung; Svetlana Orlova, the auditor of the Accounts Chamber of the Russian Federation; and, the Commonwealth Society in Beijing.
In their letters or messages, they highly praised Chinese President Xi Jinping as leader of a great party and leader of a great nation. They spoke of China's great achievements, which have caught the world's attention. They said President Xi is a true leader of the world, because he is leading a great country, promoting efforts to build a community with a shared future for mankind, and because he has made unique contributions to advancing the development of the Belt and Road Initiative (BRI). They said the CPC has reached a higher level, in terms of guaranteeing China's economic and social progress and prosperity, and meanwhile, safeguarding the well-being of the Chinese people.
China has become a leader of socialism in the 21st century. During the past 40 years, approximately 800 million people across China have been lifted out of absolute poverty; China has attained the poverty-reduction target under the UN 2030 Agenda for Sustainable Development, 10 years ahead of schedule, and China has contributed to over 70 percent of global poverty reduction. China has also finished building a moderately prosperous society in all respects, thus completing the country's First Centenary Goal. The great achievements made by China have astonished the world, they added.
Those who sent letters or messages also spoke highly of the significance of the 20th CPC National Congress. They believe the CPC will lead Chinese in achieving new glory. They said the 20th CPC National Congress marked a milestone in China's continuous progress along a path of peaceful development. They believe firmly, under CPC's leadership, the Party, nation and people of China will make greater achievements in the future, complete successfully the Second Centenary Goal, and build China into a great modern socialist country that is prosperous, strong, democratic, culturally advanced, harmonious, and beautiful.
They also expressed wishes the 20th CPC National Congress will result in the country's successive achievements, formulate programs of action and overarching policies to fulfill development goals on the path of progress in the new era, and will meet new expectations of the Chinese people. They said the congress clarified the orientation of China's State strategy and drew a constructive blueprint for China to reach sustainable development in the future. China always gives top priority to the well-being of the people, adheres to the building of society in which every citizen can live a happy life, and the country works hard to narrow the gap of incomes and helps its people make common wealth. In this regard, China has found an answer to meet the expectations of progressive people from around the world, and China will surely reach new and greater development.
What's more, they expressed in the letters or messages their hope to learn from China's good practices, deepen friendly exchanges and cooperation, and promote world peace and stability together. They said while facing various challenges, including the ongoing COVID-19 pandemic and frequent occurrence of natural disasters, all countries should make efforts to overcome difficulties and create a promising future for people, families and children of all nations. The proposal to build a community with a shared future for mankind, raised by China, has set a lofty goal for people from around the world. They said they hoped to learn from China's experiences, theories and relevant practices, as well as the country's basic principle of implementing systematic reform. They also hoped to enhance mutual respect, trust and benefits among various countries, advance people-to-people connectivity, and improve the well-being of mankind and common development.
They praised the ACWF for its long-term efforts and contributions to advance women's development, gender equality and safeguard women and children's rights and interests. They expressed their willingness to continue their cooperation with the ACWF in aspects such as combating discrimination against women. They hoped to work with the ACWF to help raise women's social status, promote gender equality and make new contributions to maintain economic stability and peaceful development globally.
(Women of China English Monthly)
Please understand that womenofchina.cn,a non-profit, information-communication website, cannot reach every writer before using articles and images. For copyright issues, please contact us by emailing: website@womenofchina.cn. The articles published and opinions expressed on this website represent the opinions of writers and are not necessarily shared by womenofchina.cn.

Comments