Women Promotes Lahu Culture, Helps Villagers Achieve Prosperity by Singing, Dancing
By
Xie Lin
October 30, 2022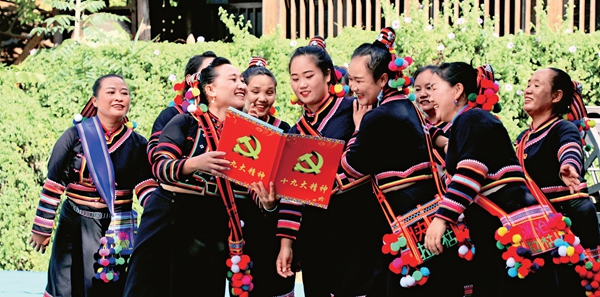 Li Naluo, a talented singer and an ethnic Lahu woman in Southwest China's Yunnan Province, has led locals in realizing their dreams of overcoming poverty and achieving prosperity, through singing and dancing, under the leadership of the Communist Party of China (CPC). Li is a delegate to the 20th CPC National Congress and a member (responsible for publicity) of the general Party branch of Laodabao, a village in Lancang Lahu Autonomous County, Pu'er City, in Yunnan. She is also vice-president of Laodabao Happy Lahu Performing Arts Company, which has the express purpose of presenting Lahu intangible cultural heritage to people, both at home and abroad.
Happy Lahu People
The Lahu people, members of one of the oldest ethnic groups in China, are natural singers and dancers. When night arrives, they dance to music around the bonfire. Lusheng, a traditional Chinese free-reed instrument, is often used to express their happiness, and their yearning for a better life.
Laodabao, a community of Lahu people, was once an impoverished village, and its connection to the outside world was a narrow road that wound around the sides of the mountains. Li's family has lived in the ancient village for generations. Her father, Li Shikai, was a quick learner, and he was able to learn how to play virtually any musical instrument. Once he became hooked on guitar, he managed to buy one, and under his influence, the villagers also developed the hobby of playing guitar.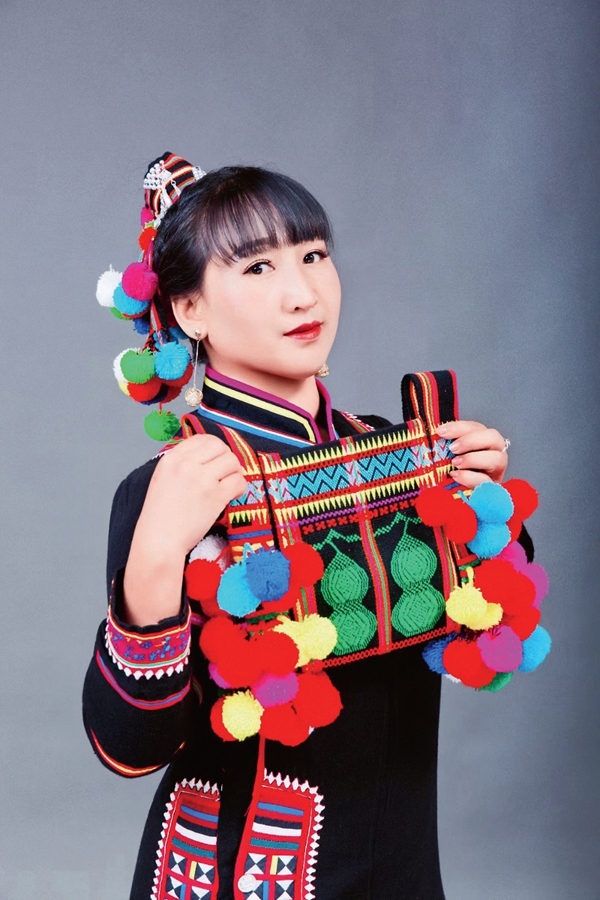 As a child, Li was immersed in the rhythm of ethnic music and the sound of a wooden guitar. She learned to play guitar when she was 13; three years later, she began to write songs. At 18, she wrote the song, Happy Life of Lahu People, which was popular in the village.
Grateful for the Party is another popular song written by Li. Some of the lyrics are: "There were no roads in my village when I was a child, but now the roads are at my door. I burnt pine wood oil to light the house at night, now every house has electric lights. There are many things deep in our hearts, everyone will remember and never forget. We feel grateful for the Party, and we will follow the Party forever." All of the villagers love the song, as it articulates their sentiment.
Performing Outside the Mountains
In 2005, Happy Life of Lahu People was featured in a music video and broadcast on China Central Television (CCTV). With the local government's support, many of the Lahu people, from Laodabao, were able to perform ethnic songs and dance on CCTV. They played a wooden guitar, and they danced to the charming folk songs. For the first time, the mystery of the Lahu culture was unveiled to people outside of the ethnic group.
"We like to sing Lahu songs outside of the mountains," Li says. In 2013, Li and the villagers established Laodabao Happy Lahu Performing Arts Company, the first performing arts company founded by farmers in Pu'er. All of the villagers are shareholders in the company. Li is vice-president. Li leads the villagers in writing folk songs, and in rehearsing and performing Happy Life of Lahu People. Li is also responsible for booking shows for the song and dance team throughout China.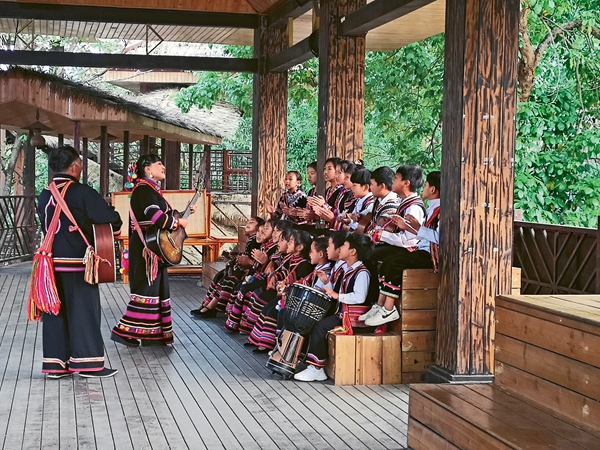 During one performance, in Lancang Lahu Autonomous County, Li's original song, Not Willing to Part with You, deeply touched the audience. The viewers cheered, and many of them posed for photos with Li and the other performers after the show. Li and the other performers showed their hospitality and invited the audience to visit their village, "Welcome to Laodabao Village!"
Li says, "Villagers who participate in performances will get their payments." The farmers, who earned a living by growing crops and raising poultry and livestock, have become dazzling stars on the stage. Everyone is now filled with happiness, and with the confidence they will have a prosperous life in the future.
The Lahu people's songs, which are unique, are welcomed by audiences throughout Yunnan. The songs have even been performed at the National Center for the Performing Arts, in Beijing. The Lahu people now have opportunities to leave the mountains and perform in other regions of the country. Such experiences enrich their lives, and increase their incomes.
More Prosperous Homeland
Performing throughout the country is an opportunity to see more of the world. However, performing in their own village is what the villagers prefer, because home is where their dreams begin. Moreover, they can earn extra income by performing in the village, but without affecting their farm work.
In recent years, the villagers have improved the village's environment, and they have opened inns, which have attracted tourists, who want to experience Lahu culture, watch performances and taste Lahu cuisine.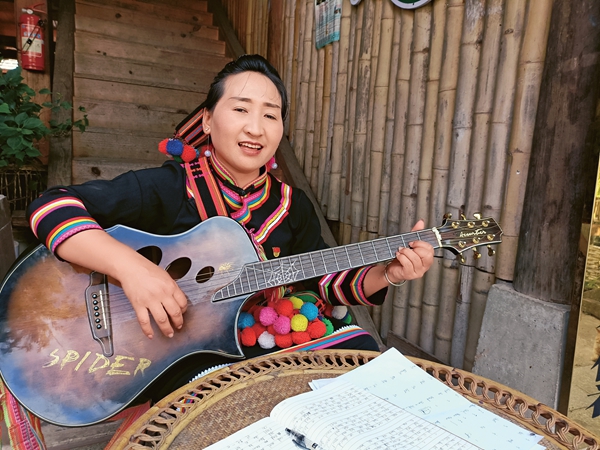 Li Yulan used to be a migrant worker in East China's Zhejiang Province. She is now a host during performances in the village. She also runs a home stay. "Li Naluo is a capable and caring woman. She is good at farm work, and she teaches us how to play guitar, and to sing and dance, in her spare time," Li Yulan says.
"We should develop ecotourism, which combines planting, breeding and performances of the arts, to attract tourists and increase income," Li Naluo says.
She has become adept at using government policies to the village's advantage. Several preferential policies — addressing poverty alleviation, cultural tourism and building beautiful rural areas — have been implemented by the local government. Many of those policies address the reality of Laodabao's conditions. "We live in a good era. We can earn a better life through dancing and singing. We feel grateful for the Party," some of the villagers say.
Laodabao, now a prosperous village famous for Lahu music, has been listed among the first national demonstration villages for intangible cultural heritage protection.
Preserving Intangible Cultural Heritage
Many foreigners have visited Laodabao, and they have enjoyed singing and dancing with the villagers. Some even said they became hooked on the village's unique cultural charms. They have helped spread the ethnic group's intangible cultural heritage to the world since they left the village.
Throughout the long course of history, the Lahu people did not have a written language, but they accumulated a rich and colorful oral intangible cultural heritage. Li Naluo hopes to make her own contribution to the inheritance and development of the Lahu culture.
For example, the Lahu lusheng dance, a traditional folk dance of the Lahu people, was added to the list of the national intangible cultural heritage project in 2008. Lahu people worship gourds; so, they put five bamboo tubes through the gourds to make lusheng.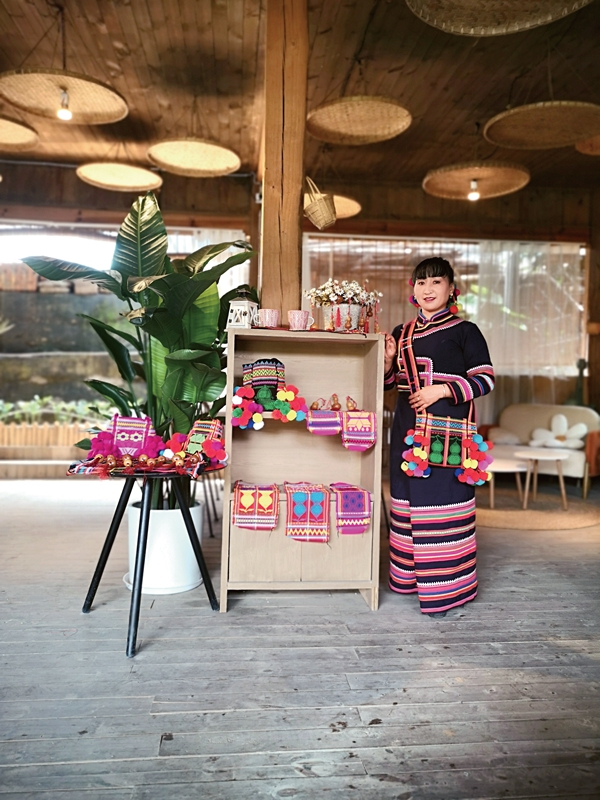 During harvest season and traditional festivals, people gather to sing and dance. Men blow into lusheng while the women dance around them, in a circle, to celebrate the harvest, and to express their wishes for peace and prosperity for the coming year.
Li Naluo's father, Li Shikai, is a national-level inheritor of Lahu lusheng dance. She learned the dance from her father, and she also learned the history and culture behind the dance from her father.
Li Naluo's daughter is an undergraduate at Yunnan Normal University, where she is majoring in vocal music. Li Naluo's son, who will write the college-entrance examination next year, hopes to enroll in the Central Conservatory of Music, in Beijing. In Li Naluo's family, the intangible cultural heritage of the Lahu ethnic group has been passed down from generation to generation.
"Children in the village now have more opportunities to go out and see the world. I hope they can understand their own culture and history," Li Naluo says. She is a part-time teacher in a primary school, where she teaches guitar, singing and lusheng dance.
Mupamipa is an epic song of the Lahu people. The song has been handed down from generation to generation. As it has long been considered a masterpiece of oral literature, the song was added to the list of China's national intangible cultural heritage in 2006.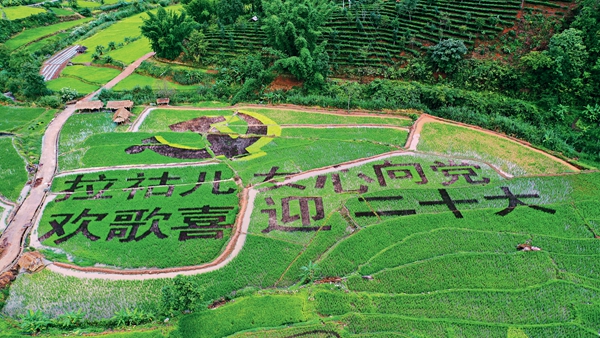 Li Naluo translated the song from the Lahu language into Mandarin, and she organized villagers to create a song and dance show based on the song.
The villagers built an inheritance hall, a viewing platform and a stage for performing arts for traditional folk activities. With the local government's support, Li Naluo and the villagers have been building a large-scale exhibition and training base to facilitate the inheritance of Lahu culture.
The ethnic group's rich cultural heritage is also embedded in the Lahu's exquisite costumes. Most of the Lahu women's clothes are made with black cloth, and decorated with various patterns. The contrasting colors add to the beauty of the clothes. Li Naluo established a craft cooperative, and she has led Lahu women in making traditional crafts. She plans to add modern designs to the traditional crafts, and she plans to establish social-media accounts to promote the crafts.
Li Naluo has received widespread acknowledgement for her wholehearted devotion to and love for the Lahu culture and its people, and also for her contributions to the village's development. For her efforts, she has received many titles and awards, such as the National Poverty Alleviation Award and March 8th Red-Banner Holder of Yunnan. She also was elected a delegate to both the 18th and 20th CPC national congresses.
Li Naluo says she will continue singing about the happy lives of the Lahu people, and she vows to continue promoting Lahu culture and heritage — with love and passion.
Photos Supplied by Zhou Qingqing and Interviewee
(Women of China English Monthly October 2022 issue)
Please understand that womenofchina.cn,a non-profit, information-communication website, cannot reach every writer before using articles and images. For copyright issues, please contact us by emailing: website@womenofchina.cn. The articles published and opinions expressed on this website represent the opinions of writers and are not necessarily shared by womenofchina.cn.

Comments