Marine Scientist Pursues Dream by Studying Coral
By
Zhang Jiamin
October 10, 2022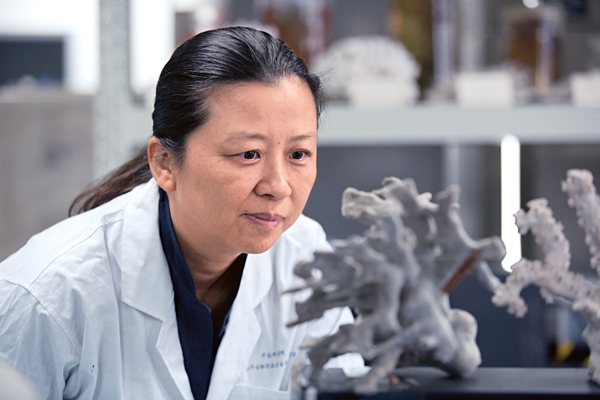 Coral reefs have been referred to as "tropical rainforests of the sea" or "the drive of marine life." Today, however, coral reefs worldwide are facing the threat of decline. To help regain the diversity of marine species, scientist Huang Hui and her team have worked for more than two decades in the South China Sea. They have planted 120,000-plus corals, over a combined 200,000-plus square meters of the ocean floor. Colorful corals are adding vigor to the submarine world. Huang became the first female scientist in China to specialize in the recovery of coral reefs.
Interest in Coral
Huang is a researcher with the South China Sea Institute of Oceanology (SCSIO), under the Chinese Academy of Sciences (CAS). She supervises PhD students, and she heads a CAS tropical marine organism laboratory. She is the only coordinator from East Asia who works with the Global Coral Reef Monitoring Network (GCRMN), and she is a member of the committee of the Asia-Pacific Coral Reef Society. Huang's other titles include head of the coral reef branch of the Pacific Society of China (PSC), consultant on the State's aquatic wildlife protection, and member of the Endangered Species Scientific Commission of the People's Republic of China.
Before Huang completed her postgraduate studies, and as she was about to graduate from SCSIO, in 1996, she met Zou Renlin, who would eventually have a significant influence on Huang's choice of career. Zou was a pioneer, the person who began the earliest studies on coral reef ecology in China (back to the 1970s). Zou noticed Huang was passionate about the protection of marine ecology. He led Huang, whom he treated as his "final student," to conduct research on China's coral reef resources. During her studies and research, Huang realized there were many difficulties to overcome, in order to better protect coral reefs in China.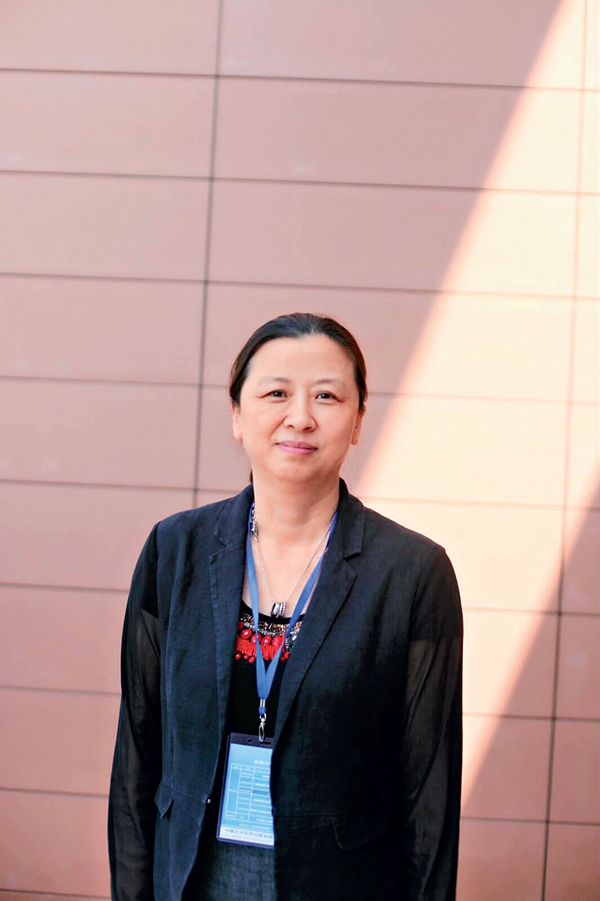 In 1998, Huang was dispatched to work with the National Natural Science Foundation of China, for six months. During that period, she was impressed by many top-level scientists, who had dedicated themselves to marine scientific research. Although researching coral was not popular, Huang made up her mind to focus on coral for her PhD studies. "I long for freedom. I like to work in the wild and get close to nature. The studies on coral fit me perfectly," Huang recalls.
When Huang attended the 10th International Coral Reef Symposium (ICRS), in 2004, she found she was the only participant from the Chinese mainland. She decided she would expand academic communications with experts and scholars from other countries and regions. Facing the severe decline of coral reefs, both at home and abroad, Huang has led her team in researching coral reproductive biology and restoration ecology. Her team has explored coral restoration techniques, has applied for 30-plus patents, and has grasped the reproduction process of more than 20 types of the coral species commonly distributed in China's sea areas.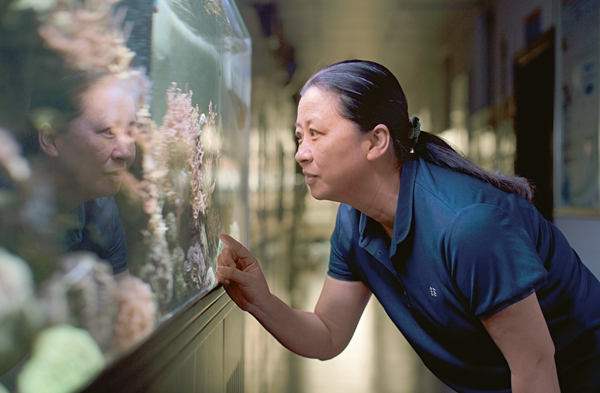 Given her persistence in studying coral, Huang has led her team in planting coral on more than 200,000 square meters of sea floor. She has had more than 10 books and more than 200 academic essays published. She has received several awards, including the Guangdong scientific and technological progress first prize and CAS outstanding scientific and technological achievements (in groups). She has also been named a leading talent in State ecological and environmental protection. In June 2019, Huang was named "China's Marine Personnel."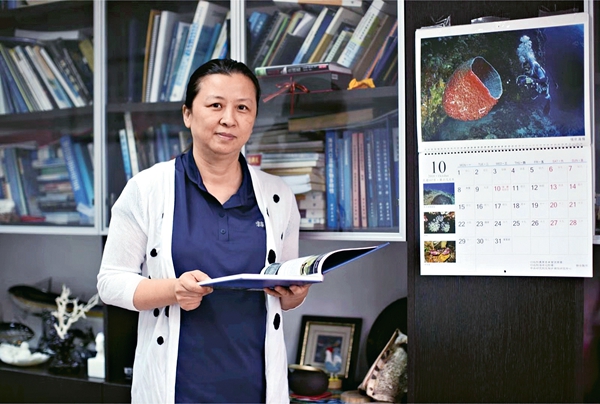 Be Brave, and Explore
"When I close my eyes, I can still remember the beautiful scene — with clear water and numerous corals," Huang says, as she recalls the first time, in 2002, that she dove into the ocean to see the "tropical rainforests of the sea." In recent years, however, large areas of coral reefs have been declining. Huang and her team have since been on a hard journey of "afforesting" the sea floor.
In 2005, Huang led her team in researching the marine environment in China's coastal waters. The team visited Southeast China's Fujian Province, South China's Guangdong Province, and Xisha and Nansha Islands, in the South China Sea. They carried equipment, weighing up to 25 kilograms, as they dove into the sea. They sometimes dove four times a day, each time staying underwater one to two hours. For every dive, one member stayed on the boat in case an emergency arose. Despite various challenges and difficulties, Huang chose to be brave, and to explore the submarine world. Today, in her 50s, Huang still dives to conduct research.
Influenced by Huang, her team has shown great dedication to studying corals. The team has recorded more than 400 coral species discovered in China, including 33 newly recorded species. Publications about coral reef species off the Nansha and Xisha Islands, and in Sanya (in South China's Hainan Province), have been compiled. Huang also wrote the chapter about China in the GCRMN report on the Status of Coral Reefs of the World.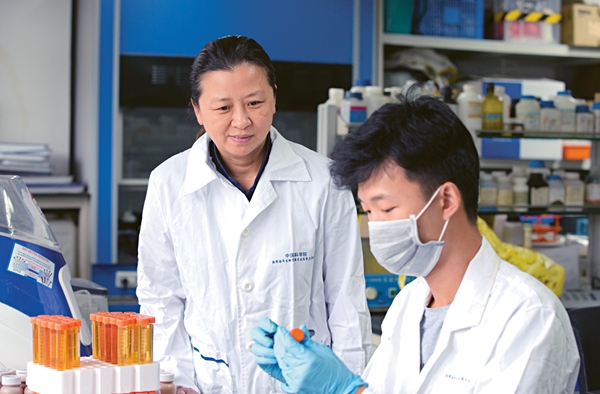 'Afforestation' Underwater
In 2009, Huang and her team began developing coral reproductive and coral reef restoration techniques. Huang's plan had two parts: Spreading coral larvae in the sea areas suitable for coral to survive; and second, transplanting living coral fragments to the sea areas, which had previously been damaged.
March is the coral reproduction season. Since corals release gamete bundles containing both eggs and sperm generally in the evening, Huang and her teammates often stayed underwater at night, so they could better grasp the reproductive regulation of coral, and so they could take oosperm (fertilized eggs) back to their lab to complete artificial cultivation.
Huang compares coral to her children. She cares about every step of their growth — from the selection of reproduction, to cultivation, and then to transplantation. Huang works underwater, regardless if it is during daytime or at night. She often spends several hours observing coral, so she can better understand their patterns of sexual reproduction. To date, Huang's team has developed sexual reproduction and cultivation techniques to help more than 20 types of coral species to grow. They have also explored a variety of artificial cultivation methods based on the different reef substrate types to help coral fragments grow. They are building a "home" on the sea floor to facilitate the growth of corals. In fact, the team has completed special "afforestation" underwater, by transplanting corals on more than 200,000 square meters of sea floor in the South China Sea. Huang's dedication to coral reproduction has won her a nickname, "coral Mom," given by her colleagues.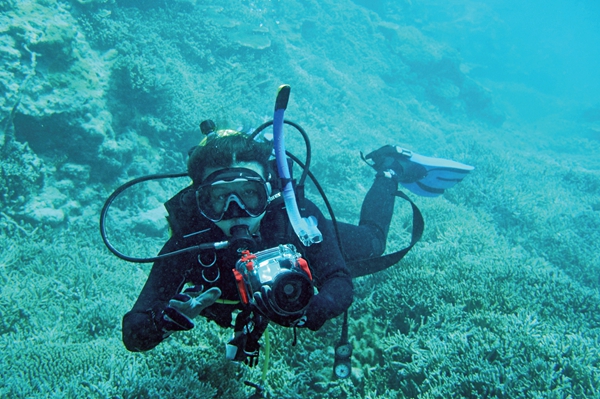 Attracting 'Coral Fans'
In addition to scientific research, Huang's team participates in public activities to attract attention to coral reef sciences. The team advocates the establishment and improvement of a coral reef nature reserve. They have helped draft and amend laws and regulations to protect and manage coral reefs. In 2018, Huang's team established PSC's coral reef branch, and they called on scientific research institutes, government departments and the social sector to help advance coral reef protection and education.
Huang and her teammates, in collaboration with marine environmental protection organizations, give lectures to students and residents in communities and/or fishing villages. They introduce China's coral reef resources and protection; in particular, they help children develop an interest in coral. They give lectures online — via livestreaming and/or short videos — to attract what they call "coral fans," so ordinary people will understand the importance of protecting corals, the oceans and marine ecology in general.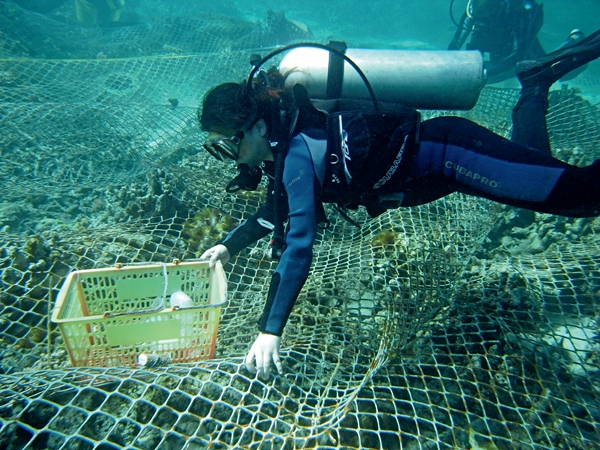 Huang says more and more young people are joining in the protection and recovery work of marine ecology. Still, she notes, people need to know more about marine species. She hopes more people will come to realize the protection of marine ecology is crucial to the existence of human beings.
Photos Supplied by SCSIO
(Women of China English Monthly September 2022 issue)
Please understand that womenofchina.cn,a non-profit, information-communication website, cannot reach every writer before using articles and images. For copyright issues, please contact us by emailing: website@womenofchina.cn. The articles published and opinions expressed on this website represent the opinions of writers and are not necessarily shared by womenofchina.cn.

Comments