Woman Delegate | Liu Guizhen: Rural Delegate Wears Many Hats Serving Villagers
By
Sun Ruisheng and Hou Liqiang
September 28, 2022
Editor's Note: A total of 2,296 delegates have been elected to attend the upcoming 20th National Congress of the Communist Party of China (CPC). The delegates, covering a broad spectrum, are all outstanding CPC members and have made remarkable achievements in their work. Liu Guizhen is one of them.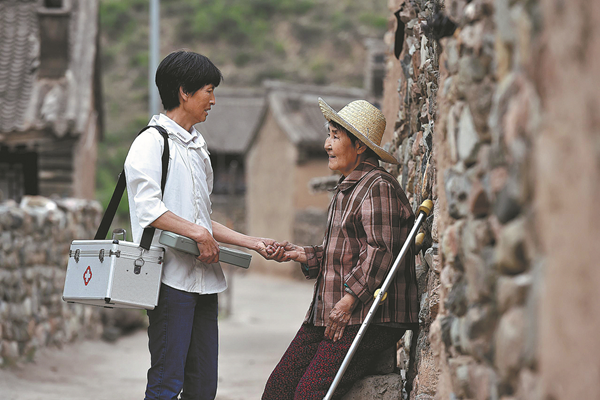 Liu Guizhen greets a villager and inquires about her health in a village of Daixian County, Shanxi Province, in June 2017. [Xinhua/Zhan Yan]
Liu Guizhen, 60, who is short and thin and wears her hair closely cropped, has a wrinkled face that often breaks out into smiles.
She is often seen with a medical kit in her village of Duanjiawan, in Daixian County, Shanxi Province, where she has worked as a village doctor since 1978.
It is her longest-held position in her home area surrounded by mountains, but not the only one. Liu is taking on another role, in Beijing, roughly 400 kilometers from her village.
She was a village teacher for almost three decades starting 1988. Since 1996, she has served as village Party secretary. In 2017, she started a cooperative and became an entrepreneur.
This year, Liu was elected as a delegate to the 20th National Congress of the Communist Party of China.
She became a village doctor in 1978, when she decided to take the college entrance examination. But she gave up on continuing her studies because of her father, who was the village Party secretary.
Back then, the village had no doctor. It was not unusual that ailing villagers saw their condition worsen because they had no timely access to medical care. Liu's father was looking for someone to participate in a government-organized training program to address that problem.
"My father said: 'You are the only one in the village who has been to high school. Who else can I turn to except you?'", she recalled.
It was not easy for Liu to become a doctor. After following the training program, she bought a number of books to continue studying by herself. In the beginning, she often consulted with professionals.
Since her very first day as a doctor, she has insisted on charging patients only for the cost of the medicines, though she often had to trudge along rugged mountain roads in rain or snow to reach them.
She even gives the medicine free of charge to patients facing economic hardship.
In 2006, when the government promoted community-level medical and healthcare services in rural China, many villagers refused to pay the annual 10 yuan fee for the service — less than the $1.30 by the current exchange rate. Liu paid it for these villagers without telling them.
A decade after Liu set out on her career as a doctor, she ran into a scenario similar to the one in 1978.
In 1988, the only teacher in Duanjiawan primary school left, and classes in the school stopped for two months. No one in the village was as qualified as Liu to take up the post, so she stepped forward again.
In 1996, the ever-growing recognition among the residents of her contribution to the remote village brought another role. She was elected Party secretary.
To make a living, the villagers traditionally grew corn, millet and potatoes. After research she conducted with the aim of addressing the poverty in the village, it occurred to her that they would be much better off financially if they switched to growing pine trees.
Liu found it difficult, however, to change villagers' mindset and conventional ideas. Many worried they would lose money if they set out in a business that was strange to them.
Liu and her husband decided they would be the first and planted pine tree seedlings in their 200-square-meter plots. Just two years later, they sold the saplings for 75,000 yuan. The profit they gained from planting trees was almost 100 times that from the traditional crops in the plots.
Many villagers soon followed their lead. In addition to pine trees, they also planted picea asperata — another spruce — and poplars. This transition brought yet more work Liu's way because villagers often sought her advice when they had problems cultivating seedlings.
She even lent money to poverty-stricken families to help them get started in the business. By 2017, when Liu started a cooperative dedicated to the saplings business, villagers had planted approximately 6.7 hectares of tree seedlings. The business helped raise the per capita net income in the village beyond 10,000 yuan by the end of 2020.
Liu has been looking forward to serving as a delegate to the 20th National Congress of the CPC.
"I'm just an ordinary person from a valley in the mountains doing some simple things," she said.
Liu said she would like to take the chance to convey the voice of the people in the villages and to devote herself to improving the teaching environment in rural schools and the living conditions of villagers.
"I never regret having stayed in the village, and I will continue to serve the villagers wholeheartedly for the rest of my life."
Xinhua contributed to the story.
(Source: China Daily/Xinhua)
Please understand that womenofchina.cn,a non-profit, information-communication website, cannot reach every writer before using articles and images. For copyright issues, please contact us by emailing: website@womenofchina.cn. The articles published and opinions expressed on this website represent the opinions of writers and are not necessarily shared by womenofchina.cn.

Comments