Woman Delegate | Lu Shengmei: Fulfilling Pledge to Help Rural Residents Improve Health
Editor's Note: A total of 2,296 delegates have been elected to attend the upcoming 20th National Congress of the Communist Party of China (CPC). The delegates, covering a broad spectrum, are all outstanding CPC members and have made remarkable achievements in their work. Lu Shengmei is one of them.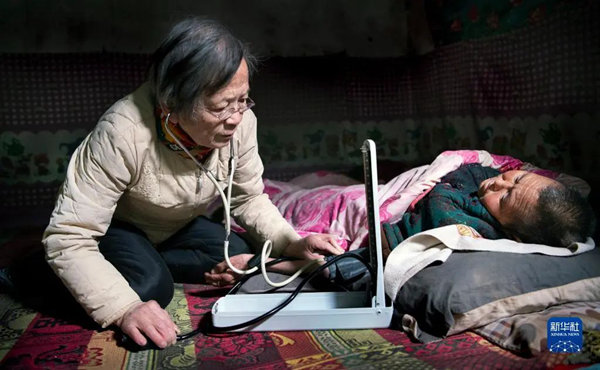 Lu Shengmei (L) provides free medical treatment to a villager on January 18, 2021. [Xinhua/Tao Ming]
Over the past five decades, Lu Shengmei, former vice-president and director of the department of pediatrics of Jiaxian People's Hospital, has devoted her life to helping residents in Jiaxian (a county in Yulin, a city in Northwest China's Shaanxi Province) improve their health.
Lu arrived in Jiaxian to work at Jiaxian People's Hospital in 1968, after graduating from a medical college in Beijing.
In 1969, Lu submitted her application for Party membership. In her application, she vowed to devote all of her efforts to promoting the Party's cause and make continuous efforts to help Jiaxian's residents improve their health over the following 50 years. Despite all of the hardships and difficulties she has encountered, Lu has tried her best to fulfill her promise.
In 1983, Lu proposed the establishment of the department of pediatrics in Jiaxian People's Hospital. She was named the department's director. Lu made it a rule that doctors within the department should help patients save money on their treatment costs. Lu also encouraged doctors to care for and help impoverished patients.
In 1999, Lu retired from the hospital. However, she still faithfully performs her duty as a doctor. Over the past 20 years, she has provided free medical consultations to more than 100,000 residents.
By December 2018, Lu had already fulfilled her promise to help Jiaxian's residents improve their health over five decades, but she has not slowed down since; in fact, she has continued to work hard for people's well-being. In 2019, she accepted the hospital's invitation to help provide free medical consultations to residents every week.
In May 2016, she also established a group of volunteers, composed of seniors, to help residents solve difficulties in their lives. Inspired by Lu, many of the residents have joined the group.
Given her outstanding achievements, the All-China Women's Federation named Lu a National March 8 Red-banner Holder in February 2021. Four months later, the CPC Central Committee named her a National Outstanding Party Member.
As a delegate to the upcoming 20th CPC National Congress, Lu feels a great sense of responsibility. "I will learn about the urgent needs of the people, and continue to contribute to the building of pediatrics in medical institutions at the primary level and to the improvement of their medical services," said Lu.
(Source: China Women's News, Economic Daily and Women of China English Monthly)
Please understand that womenofchina.cn,a non-profit, information-communication website, cannot reach every writer before using articles and images. For copyright issues, please contact us by emailing: website@womenofchina.cn. The articles published and opinions expressed on this website represent the opinions of writers and are not necessarily shared by womenofchina.cn.

Comments